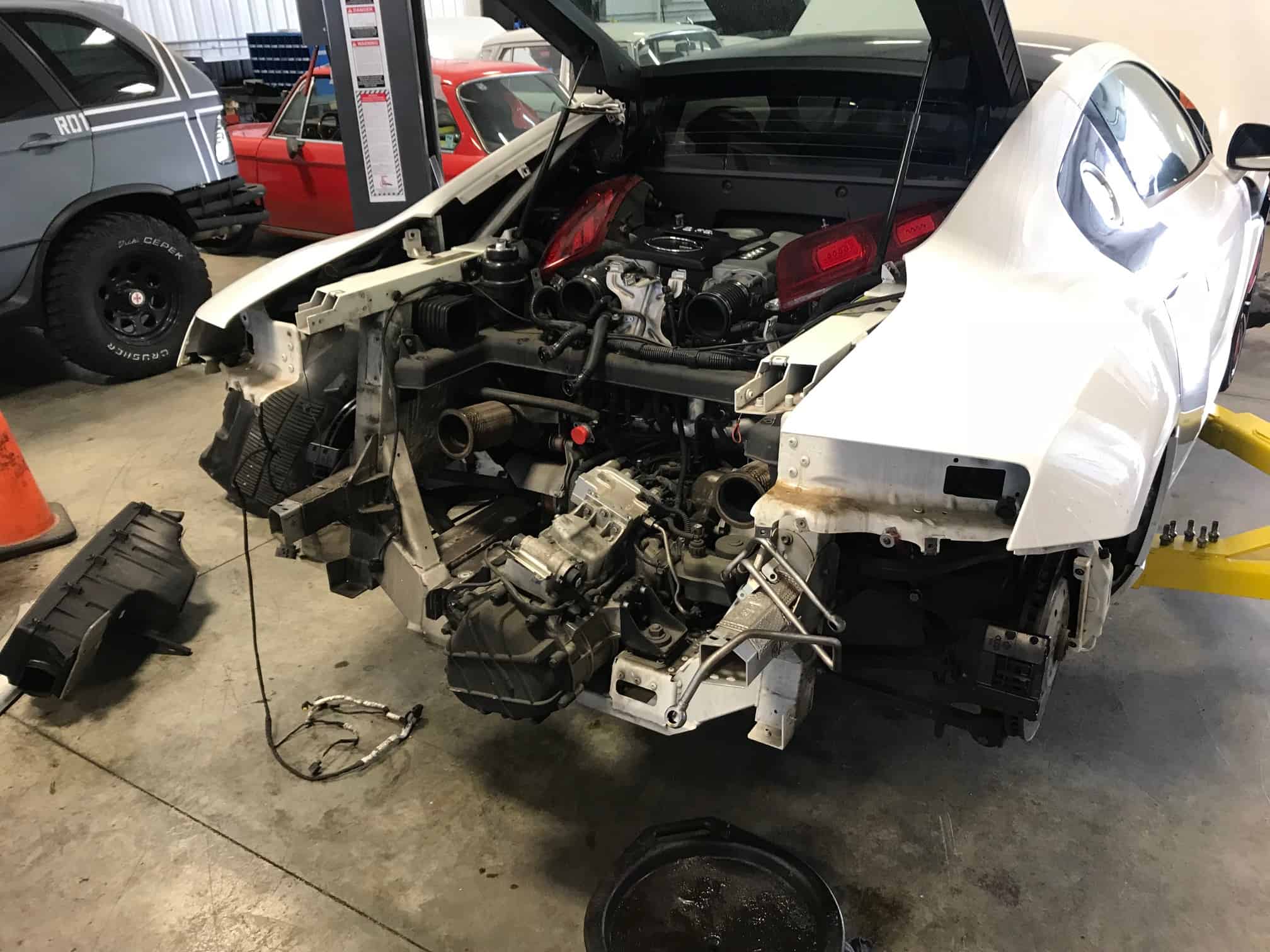 22 Sep

Audi R8 Clutch Replacement; what's important when it comes time?

This Audi R8 recently purchased by a good client of ours, initially came to us because the owner wasn't a fan of the aftermarket exhaust that came installed on the vehicle. Since he had just purchased the vehicle we performed our comprehensive digital inspection and found a rather costly issue. One of the more common big exotic jobs done by Fluid MotorUnion's mechanics here in Naperville has to be the Audi R8 Clutch Replacement. The R-Tronic clutch wear reading was under 20% and although still driving ok, to save the owner a massive amount of money, we suggested that the exhaust and clutch be replaced at the same time. This way the job wouldn't have to be done shorty here in the future, and likely saving him the trouble of having to be towed in on a flatbed!

While this customer wasn't getting clutch slip just yet, knowing just when to replace it can be a matter of wasting valuable miles or being broken down because the clutch sees too much slip to activate. R-Tronic Audi R8 Clutch Replacement life is really quite varied and it all depends on how the owner drove it, equally as much as mileage and time. Our Mechanics at Fluid MotorUnion in Naperville have noticed that people have very very different life expectancy when it comes to their R8 clutch life. Aggressive drives who frequent the track might see replacement before 10k miles while conservative owners might go as high as 40-60K miles before replacement.

So you probably think that replacing the exhaust was the easier part. Just take the bumper off, unbolt the foam crash protector, dismount the exhaust, and whala! The Transmission is exposed and just pop it off,  perform the Audi R8 Clutch Replacement, Boom! All done…Nope!

Any Mid-engine chassis is usually unbelievable time consuming for even the most experienced mechanic to access the transaxle for removal. At Fluid MotorUnion we believe when it comes to exotic service and repair care in disassembly separates the masters from the apprentices. Many expensive clips, bolts, and fasteners are used to hold everything in place. Utmost care is needed to not mix, lose, or break these often delicate, and numerous parts. But before you can even get to the point of dismounting the bumper, exhaust, and trans, you often spend 30-45min securing the vehicle to properly fit the lift arms underneath!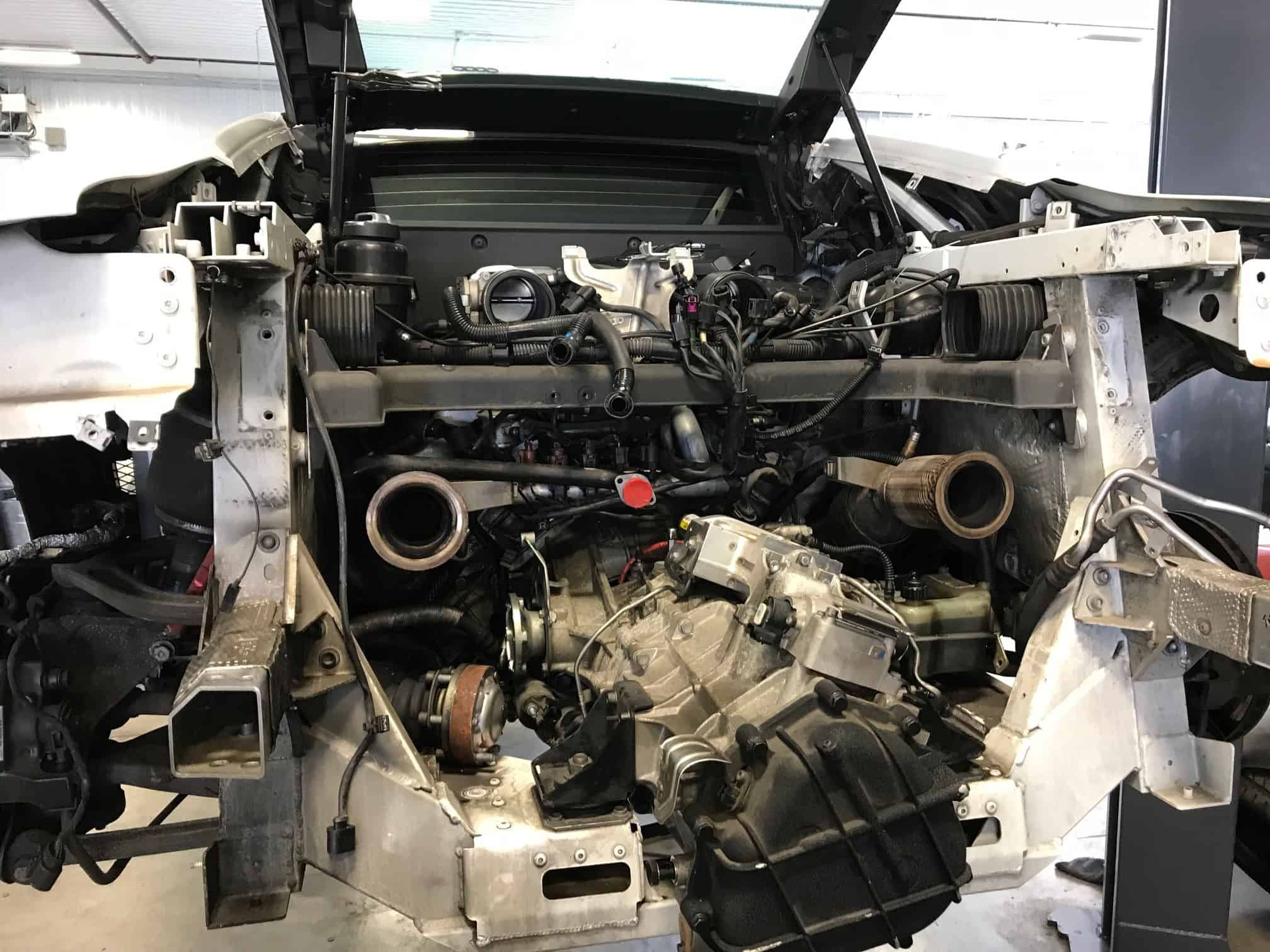 Getting the panels off without breaking plastic tabs requires great patience and caution, as the rear of these vehicles has heat-cycled plastics to be more brittle than new. Even once the vehicles apart and ready to go back together, having the tools to teach in the new clutch and bleed the hydraulic actuator system properly is critical. The specified order of actuation can be the difference between a clutch that fails in a few thousand miles or lasts longer than you own the vehicle.
The biggest problem with exotic car ownership is knowing who to trust when it comes to your Audi's service and repair. Most Audi dealerships can have labor rates above $185/ hour, and while many independent repair shops can handle the passenger vehicles, your R8 is an exotic deserving of utmost care and expertise! This may leave you thinking that the dealership service department might be the only option for your Audi R8 Clutch Replacement. Luckily, our trained mechanics here in Naperville, are equipped to handle just about any repair request for your Audi for 35% less than the dealer! We work on other exotics as well. Check out this blog post on a Lamborghini Gallardo clutch replacement.
If you're worried it may be time for your Audi R8 Clutch Replacement, exhaust upgrade, or any other service and maintenance for your Audi, reach out to us at 630-305-3054, or contact us through email at blog@fluidmotorunion.com. We are conveniently located in Naperville just a short drive from I88 in the Chicago Metropolitan suburbs