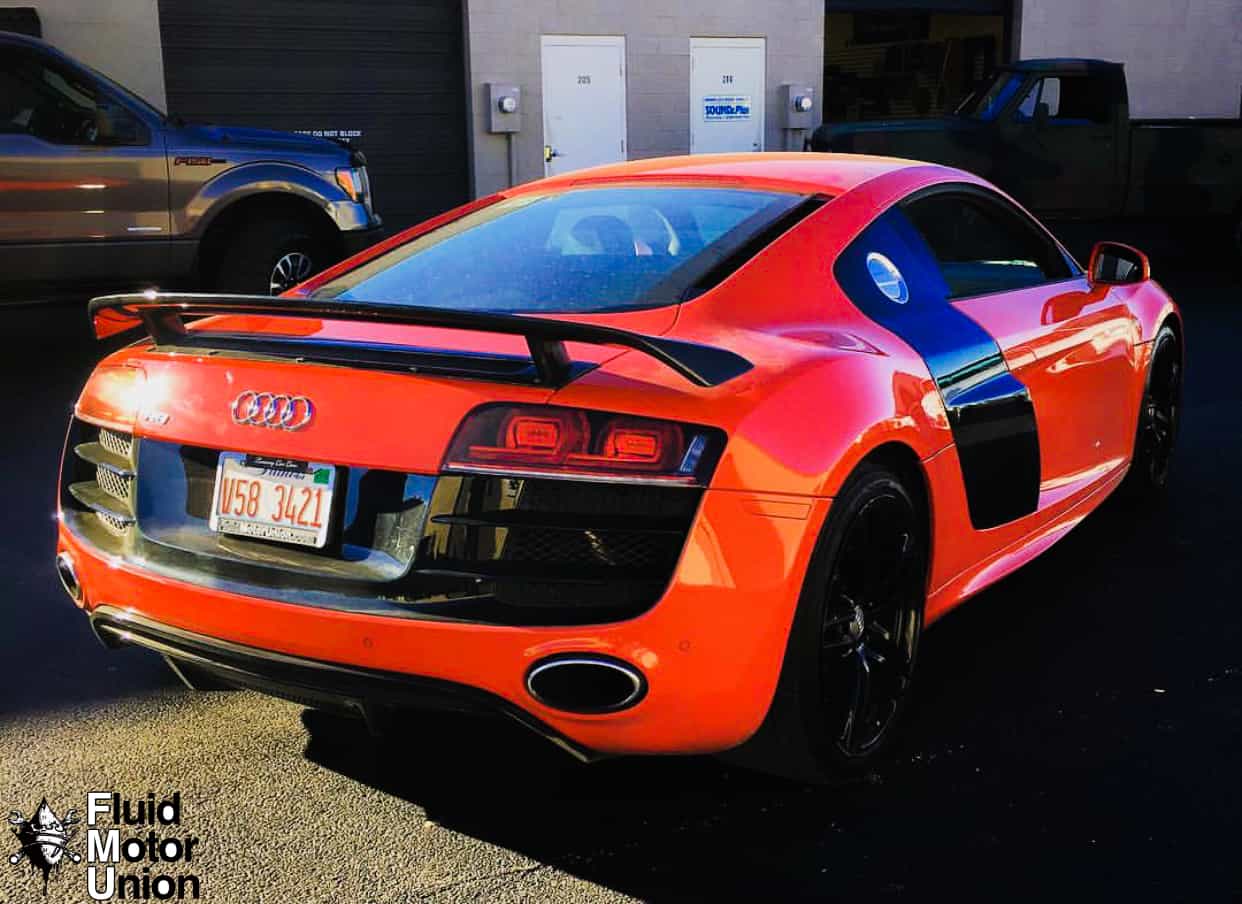 26 Sep

Audi R8 Carbon Fiber installation: Our Pro's add GT Wing & Side blade

This blog covers an Audi R8 Carbon Fiber installation of the side blade and GT Wing for those who want to make their vehicle stand out.

With the strongly accentuated rear end, the Audi R8 is known for its broad and squat presence on the road. The cabin of the Audi R8 is pushed far forward – a typical feature of a mid-engined sports car, and as such a visual cue linking it to the race car of the same name. Taking its underpinnings from the VAG owned Lamborghini Gallardo, the characteristic design cues of the vehicle are dictated by the placement of the engine behind the cockpit. Behind the cabin, positioned in front of the rear axle, is the V10 engine that is also shared with the Gallardo, a sculptured piece of engineering visible through large glass covers designed to showcase the heart of the supercar. The placement of the engine behind the driver's position is typical in mid-engine race cars to achieve optimal dynamics, as it allows for ideal weight distribution. 44 percent of the R8's weight is located to the front and the remaining 56 percent of the weight goes to the rear. The car's body is highly compact in appearance. The front end and the curved roofline are drawn in a sweeping arc; a line which is immediately recognizable as a two-seat exotic but, still an Audi.

So with all this "design in engineering", who would want to improve on this?
We get a lot of R8's that come through for simple service or bigger jobs like clutch replacement. This Audi R8 is an exercise in personalizing an already beautiful vehicle. We had already powder coated the wheels and had built a custom exhaust, but this customer wasn't quite finished. To top the aggressive sounds and wheels, this customer opted to put the body color matched blades, or side vents, back to carbon fiber finish. The blades had to be stripped back down to raw carbon and re-gel coated. For the rear, a carbon R8 GT wing built by Mode Carbon adds downforce for increased stability.

Looking to change the look of your vehicle? If you are around the Chicago area suburbs of Naperville, Warrenville, Aurora, Burr Ridge, or Wheaton, and are looking to make your vehicle more unique, don't hesitate to reach out! Whether it's like this Audi R8 Carbon Fiber installation, or changing the color of your wheels with powder coating,  we can make your dreams a reality. Visit us at our new location at Iron Gate Motor Plaza, 2108 W Ferry Rd in Naperville!