18 Jun

Zak Attack

Zak's been running around the shop, working on various projects throughout the course of the day thus far. Let's see what he's up to.

At the tail end of last week, we had a black Lamborghini Gallardo roll back into the shop. He was the car that we featured on the Gallardo Oil Change DIY from a few months back. This time, he's in for a misfire diagnosis, along with some body work. As a result, we've spent a few hours disassembling everything necessary to tackle all the work at once. His front bumper cracked pretty badly, so we'll be replacing that for him, which means we had to take off the front end. It's always interesting seeing the parts of a Gallardo that you normally wouldn't; even behind the front bumper, you can see just how much is going on within the spaces provided.

On the back end, we removed the rear bumper to have better access to portions of the exhaust system, which may be the reason for the misfires. We're currently diagnosing fully, but we'll give you more as soon as we ascertain it. For now, take a look at the OEM Gallardo exhaust. Those mufflers are massive; they're practically large enough to store small animals in. Find any other points on the OEM system that could use a bit of "improvement" ? We sure can.

Once the Gallardo was placed in the body shop with the panels removed, Zak moved over to fabrication, where he utilized the plasma cutter on some aluminum. Not only is the plasma cutter really fun to watch, it's also going to help streamline our metal operations; we're currently separating our usable aluminum blocks from the leftover scraps. Any time this machine is running, you can expect some very nice visuals.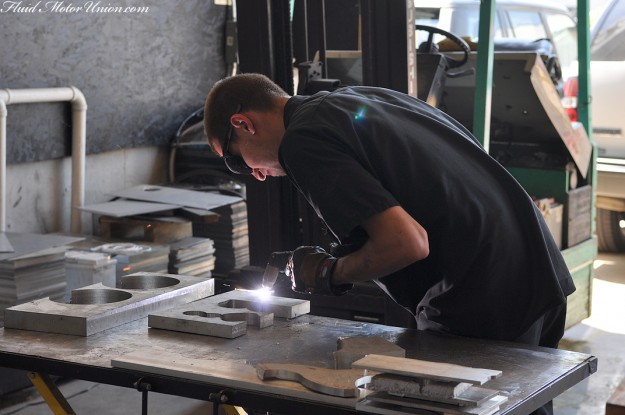 With the aluminum all separated out, Zak moved farther up the fabrication ramp and back to the LS-WRX swap. Currently, he and Craig are plotting out the design of the long-tube headers we'll be custom fabbing for this job. The orange blocks you see there emulate the diameter of the primaries, so we're able to plot out exactly how the runners will fit between the big V8 and the Subaru's engine bay and various components therein. These building blocks allow us to measure twice (or however many times we need) and cut only once. We have the merge collectors in place underneath the car, so it's just a matter of connecting the dots and recreating it with stainless steel. As always, once the beads are being laid on the stainless, we'll have some high-quality welding shots to show you.
Have a great start to your week. We'll be here every day until the weekend returns!