24 Jan

What's In The Box?!?!

Finally. Brad Pitt's greatest movie quote ever has found its way to our blog. And it fits in perfectly with today's pictures, too!

First up, we have this big yellow box in our shop. Why is it here? Does it contain somebody's head? Does it contain a device that we'll need Jack Bauer to defuse? Does it contain Jack Bauer himself? What's in the box?!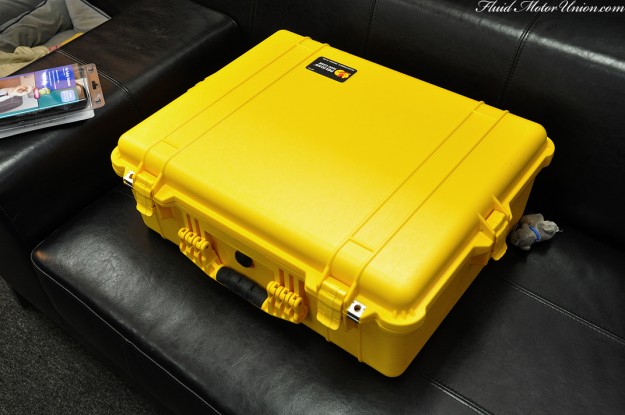 No, it's nothing like that. Although it is something definitely special — it's the factory complete LDAS-32 and LARA system! If you don't know what that is, it's the complete diagnostic setup that Lamborghini's dealerships and factories use for servicing mid-to-late-model Lamborghinis. From the 1996 Diablo to the LP700 Aventador, this system covers it all — e-Gear clutch service, cluster calibration, resyncing the lift system, along with step-by-step instructions for all of those procedures. This is the real, genuine deal — aftermarket systems will rarely be able to accomplish 10% of what the factory system can, and more likely than not the information is based on years-old versions of ECU revisions. By using the same technology you'll find at the dealer, that puts us in a good position to compete for even more Lamborghini work — especially once the owners see the price differential between the two! This kit also works with Volkswagens, Audis and Bentleys, so don't think it's a one-trick pony; quite the opposite, actually. And it came with a fancy little USB dongle, as well. If you have any more questions, or want to talk about getting your Lamborghini in for service, just call the office at 815-230-2900!
Now, we move on to another box. However, you won't be wondering what's inside this one; for this box, you'll get to see us fabricate it from straight sheets of metal, aluminum to be specific. This is for our mysterious build, so we won't be giving too much away, but what we will say is that this box will be responsible for moving air from one place to another without any modifications to the body of the vehicle in that area. Since we want our airflow to be as laminar (smooth) as possible, the inside of the box will feature two velocity stacks that channel air in the correct way. After milling the stack, we welded it to a longer tube; then, we put that assembly on the lathe to smooth down the welds so you can't even see them. Full penetration is required when cleaning up welds like this, otherwise you'll have holes and holes are not very good for this application.
Much like every other box, it will have some flat sides. It will also have a slanted front to account for the hood when it's closed. Boy, this sure is mysterious, isn't it? A car with a hood? They don't make too many of those.
It will also have an inlet that's set at an angle, so the pipe that will run between this box and the box before it (mysterious!!) will have a straight shot, rather than being forced to curve around at unnatural angles.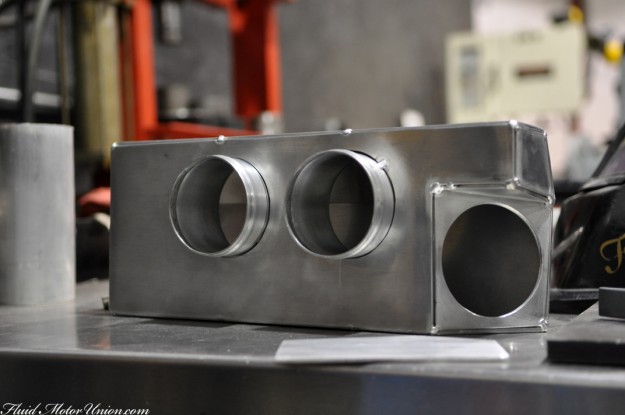 Along with the box itself, we're also making the boost bars that will help hold the mysterious box to the…um…other parts of the car. You see, the box is under a good bit of pressure due to the turbocharger pressurizing the air, which can cause parts to potentially blow off. Silicone boots alone won't hold a box in place, so we need some metal mounts to hold the thing securely in place for the life of the build once it leaves. The bars are similar in construction to the ones we made for the intercooler setup and the water tank. They will be made from billet aluminum on our lathe, then compressed down slightly with the bearing press to create a perfect mating surface for the box. Much like the other parts of this build, the box's boost bars will be welded from the inside to give a cleaner look. The final picture in this post is of the boost bar after it's welded into place.
Friday's almost here! Have a great day and we'll see you tomorrow!