07 Feb

Throwback Thursday 2

Welcome back to another edition of Throwback Thursday, where we show our fans both new and old a little slice of Fluid's history.

We'll be heading back to 2010 today, back when your humble narrator first started snapping pictures, back when we were still growing into our current location on Aero Drive. We shall start with a few projects that have taken on completely different attitudes since we first started heavily documenting the goings-on at Fluid. For starters, did you know that the idea for Project X started with a wholly busted black E53 X5? It's been a long road of changes since then, but this here is the blank slate off which our urban assault vehicle was conceived.

2010 was also the year that we more or less finalized the exterior aesthetics of the DCM3, Dick Cook's former E46 M3 (he now drives Project X as a daily). It's since been sold off to Danny in Texas, who now lives near Seattle. Sadly, the DCM3 was totaled by a distracted driver on their cellphone, but the motor, velocity stacks and all the fun stuff is being transferred to an E46 wagon as we speak. In these shots, though, you can see the OEM+ look was a little more aftermarket thanks to the wheels he used to run. After some deciding, the idea to run an aggressive fitment of the stock wheels was finalized, and the DCM3 began to take shape.

Our Z3M Roadster was still, well, the Roadster. We haven't changed the aesthetics ever since we dropped Roady to the ground on the OEM road stars (rear wheel fitment up front, and rear wheel fitment plus two added inches of width in the rear). This was back when the motor still had the carbon fiber stacks, so it still had plenty of evolution to work through, but at this point the look was all in place. It remains one of our favorite cars to date, and is featured in OJ's wedding picture in our office.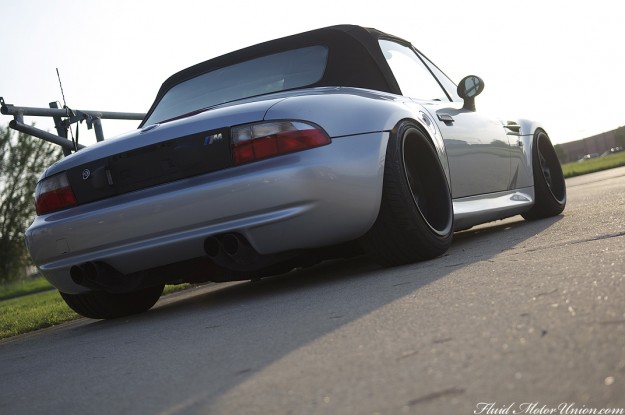 About this time, the heat of summer was still in full effect, but with autumn closing in, owners of seasonally-driven cars started bringing in their rides for pre-storage work. The first one that caught our eye in the fall of 2010 was this Factory 5 Cobra replica. Rep or not, it's still a commanding silhouette that demands both patience and skill from its driver.
Another summer-only beauty that rolled through the shop was this SL55 AMG. Bedecked with some BBS wheels, this roadster looks classy with a slight hint of aggression, the exact opposite of the exhaust note to come from its 5.5L supercharged motor. Whether it's the SL, C, CLK or S, the 5.5L Kompressor motor is a beast with enough power and torque to put a smile across your face and tire marks across the pavement. Can you tell we're pining for the summer? Winter just isn't as much fun.
Finally, much like the stacks on the Roadster in 2010, did you know that the previous rendition of our E90 M3 velocity stacks were also made in-house from carbon fiber? They take on a Medusa-like pattern, which we replaced with the short aluminum stacks in the following calendar year. The sound from this setup, while it wasn't as outright aggressive as the shorty-style stacks, was still a sound to behold. This picture was taken at our first Supercar Saturdays appearance.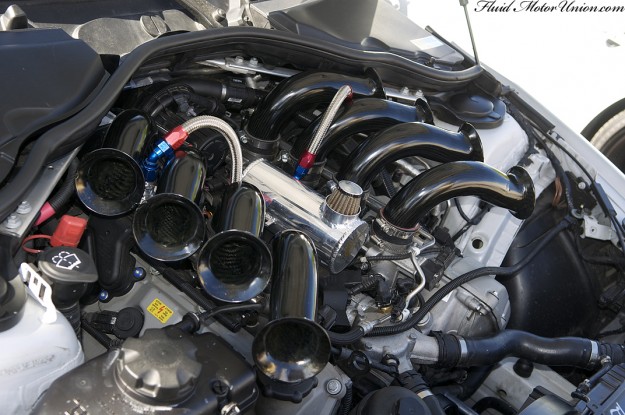 We'll bring this segment back next Thursday, but be sure to come back to the Fluid MotorUnion blog tomorrow for more original content as it takes place in our garage! Have a good day!