03 Nov

The Pride of Pininfarina

Today, Fluid MotorUnion is doing a set of small upgrades for a car that has managed to strike passion into every single one of our hearts — A Maserati Gran Turismo.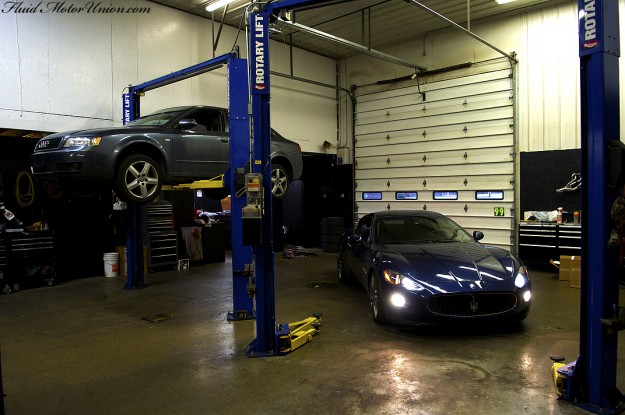 In terms of upgrades, they're relatively tame, but they're a smart first set of upgrades for any car, since they all deal with suspension and brakes. The GT will be getting cross-drilled and slotted rotors added up front (retaining the stock cross-drilled rotors in the rear), brake pads and stainless steel brake lines on all four corners, and firmer springs on all four corners (the struts are threaded from the factory, so ride height can be adjusted with even the stock springs). All of these modifications together will provide for a tighter driving feeling, on top of the enhanced stopping distance and brake pedal feel.
When we speak of the passion that we mentioned earlier, Maserati is one of those brands that can evoke that feeling in just about everybody. For technical gearheads, the car is a quintessential example of the classier side of the Fiat/Ferrari empire. Utilizing their knowledge of V8 engines, this car can definitely haul. Sporting approximately 400 horsepower @ 7000 rpm from 4.2 liters of displacement, the base model Gran Turismo is capable of sprinting to 60 mph in about 5 seconds, with the quarter mile passing by in 14 seconds. It can certainly move, and we'll be damned if it doesn't look like a supermodel while it does so.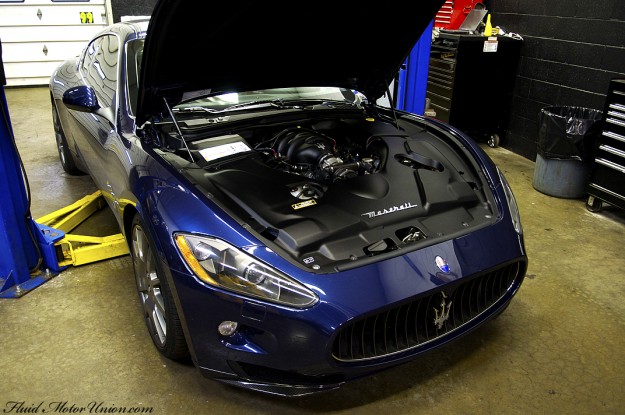 In terms of style, you can definitely tell that this is an Italian car. The front end harbors just enough aggressiveness, with the wide air dam and pointed headlights at the front staring you down like a medieval dragon (because, come on, they totally did exist back then). Following the side of the car, you'll notice its fenders contain just enough flare to widen the stance and showcase this car's need to constantly hug the ground and work the air around itself; that is to say, it's wide, it's low, and it's mean-looking.
The inside of the vehicle provides a more restrained sort of elegance in relation to the exterior. The leather and wood dash accents are pleasing to both look at and be surrounded by. The inclusion of an analog clock in the center stack (just like the Stalwarts of Stuttgart, Porsche) reminds the driver that not everything needs to be digital in this day and age; sometimes, the best things are kept simple. Although that message of simplicity is lost in just how, well, *nice* everything else is. The underbody of the car is covered in a rubberlike lining to prevent environmental damage, and the wheel wells are carpeted for noise reduction. Yes, you saw that correctly, even the wheel wells are carpeted.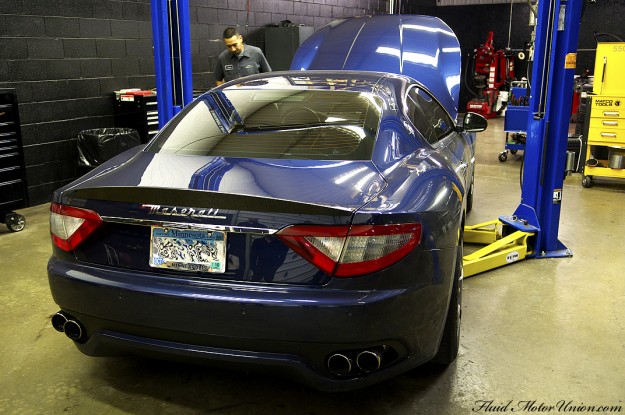 Perhaps we're being just a bit too romantic in regards to this car. But that is the sort of feeling that a properly crafted Italian car can evoke. Just like art, it makes you stand back and take something from it. Sure, it may be a bit too aggressive on the outside for some, but those people will fall over at the sight of the interior. Maserati appeals to those who truly want something that will turn heads. Perhaps this comes from their close relation to Ferrari, whose vehicles never fail to drop jaws.
We'd all love one, sure. But for now, we're just trying to keep our drool off this one.