02 Jan

That Was So 2012

Happy 2013, everybody! We've still got a few bits of 2012 remaining, so let's start off the new year by capping off the old one.

First off, as we promised, Dan's Accent is back on the blog, seeing as how we've finished everything and it's back in the owners' hands. Last time we had it on the blog, the plexiglass hadn't had its protective cover removed, and we hadn't cleaned everything up yet. Once Dan arrived to claim his car, however, we snapped a few pictures as Craig and Dan talked about his new setup and how driving will be affected.

Just as we mentioned, the plexiglass's transparent surface allows anybody to see the AccuAir components directly underneath, and that plexi is held in place by a combination of the tall metal spacers, as well as the aluminum components of the fake floor bookending the plexiglass itself. Everything is tightened down to ensure a lack of vibration and some pretty wicked aesthetics. And there's still tons of room to hold groceries, golf clubs, the bodies of grand jury witnesses, you name it.

If you're wondering what the height settings look like, we've got shots of both the aired-out and the rolling heights. For his rolling height, he should be just about at the same height as he was when static, but when he airs out, the car is as close to the ground as you can get without some serious chassis modification. Here's the Accent aired out: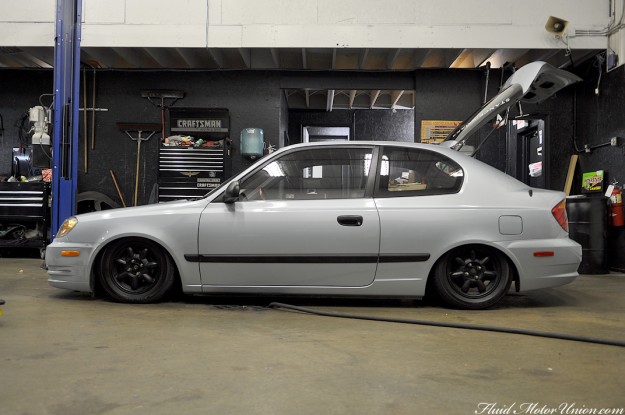 And here is its normal ride height. It also has a "skyjacker" mode for clearing rough road obstacles, which inflates the bags to roughly 90% of their max capacity. At normal ride height, though, he has enough clearance to turn the wheel lock to lock, and shouldn't encounter any problems unless speed bumps come up (but that's what the skyjacker setting is for anyways).
On the whole, Dan came away from picking up his car with a real sense of excitement — not only does he like the air ride idea itself, but he loves the custom fake floor we put together for him. Hopefully we won't see his car for quite some time while he gets a feel for the new suspension and has some fun with it in downtown Chicago, but once that mod bug starts biting, it's tough to get the itch to go away forever…
Briefly moving on to two more 2012-related topics, we've got two builds that will be finishing up in 2013. First is Alex's LS1-swapped blobeye Subaru WRX. With the differential, axles and driveshaft all squared away, the drivetrain portion of the swap is complete. We'll be moving to wiring and all that fun stuff soon, but for now, we have one of our favorite jobs on the docket — exhaust! It's still early in the build, but what we can tell you is that it will be a true dual exhaust, all the way from the headers to the tips, with one x-pipe after the transmission mount to reduce some of the rasp and help promote a clean, aggressive exhaust note. More to come on this soon, but for now here's a little whistle-whetter to start the year off.
Finally, the mysterious turbo build keeps moving forward. As we start working on the connection between the air-to-water intercooler and the airbox, we've got one last picture of the charge piping to show you. With all the welds complete, we test-fit the pipe that goes between the turbocharger housing and the air-to-water intercooler, and since nothing moved during welding, we welded on the blow-off valve, as well. It might not be noticed directly behind the bumper, but it'll definitely be heard when it needs to be. Synapse makes some of the nicest parts for turbo setups, wouldn't you agree?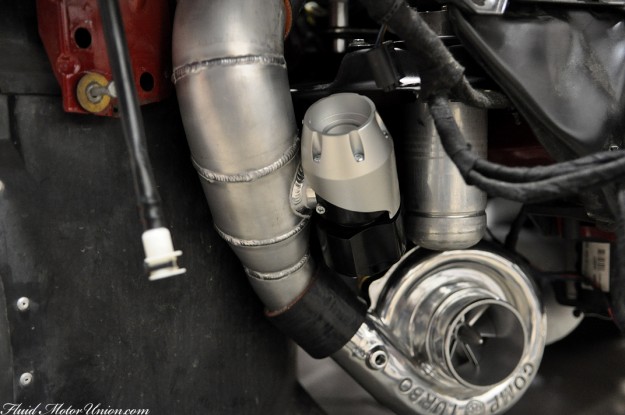 And that's all she wrote for our first blog post of 2013. We hope everybody had a safe and happy weekend, but now it's time to get back to work, so we'll see you back here tomorrow for more FMU activity!