09 May

Supercar Saturdays – May 2011

This past weekend, we sent Andrew the blogger to the first Supercar Saturdays of the year. These are the results of his journey.

[Edit]: Check out our coverage of the June 2011 Supercar Saturdays here.

With the threat of rain looming overhead, your humble narrator headed off to the Arboretum at South Barrington to participate in the first Supercar Saturdays of the year. As the only member of Fluid with no plans for the weekend, I was given the keys to the DCM3 and told to rep Fluid as much as I could. Having been to the September SCS in 2010, I was expecting a decent turnout, with some rare cars and interesting whips pockmarked throughout the parking lots. What I found, however, was more than I would have expected, or could have imagined. Of course, I arrived at the Arboretum without my camera; luckily, Nick from Touge Factory was meeting me there a little later, and he brought it to me, but not before taking a picture of me in action. The best conversations are always conducted with hands in the pockets: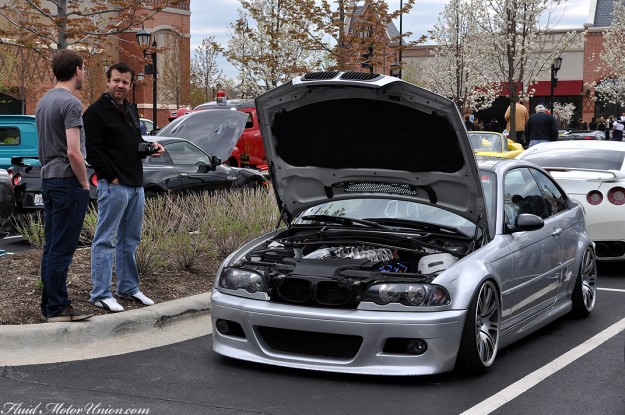 I answered a lot of questions and handed out many cards in the first hour of the meet. Most of these questions, however, were in one of two categories: "What's the point of that much stretch on the tires?" and "Do you guys really run open filters like that all the time?" After receiving the camera from Nick, it was time to skirt away from the M3 for a while and document this meet, which contained some of the most insane cars I've seen in some time. But first, I had to make my way through the Bavarian sector of the meet:
From domestic muscle to exotic carbon fiber wings, everything was represented at this show. Old Mustangs are always a delight to see: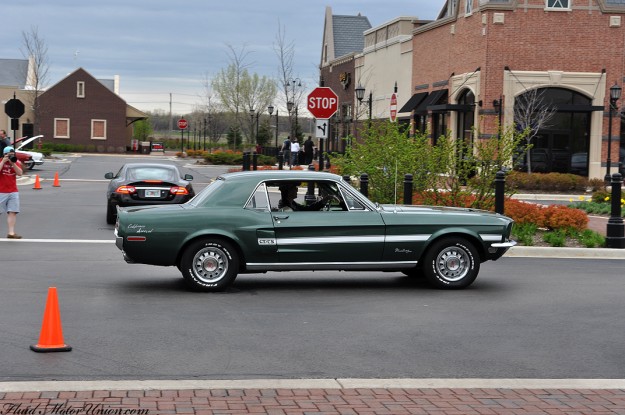 This 68 Lamborghini Espada was, quite possibly, the most interesting car at the meet. And given its age, it was in absolutely spectacular condition:
This Porsche had one hell of a function-driven interior. The mixture of metal, carbon fiber and leather was simply transcendent.
And then we walked over to the Taste of Italy area of the parking lot. I am too busy drooling to type anything else for a little while.
The Ferrari 599 GTO was undoubtedly my favorite car of the entire meet, just because this is one car that I might not ever see again (except for next month's SCS, natch):
And then there was a SuperVeloce. And more drool was spilt onto the asphalt:
The line of Italian supercars generated one serious crowd for the duration of the meet.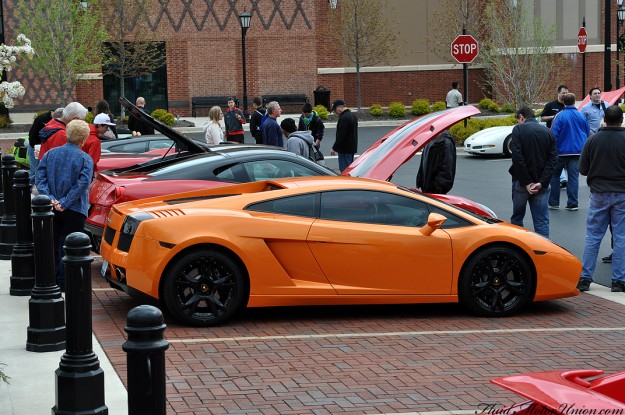 Not entirely sure what this is, but it looks mean as hell.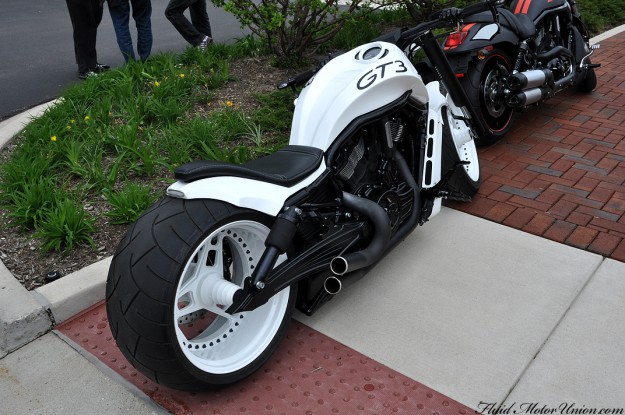 This classic Datsun was a welcome face at the meet, as there weren't very many old Japanese cars there.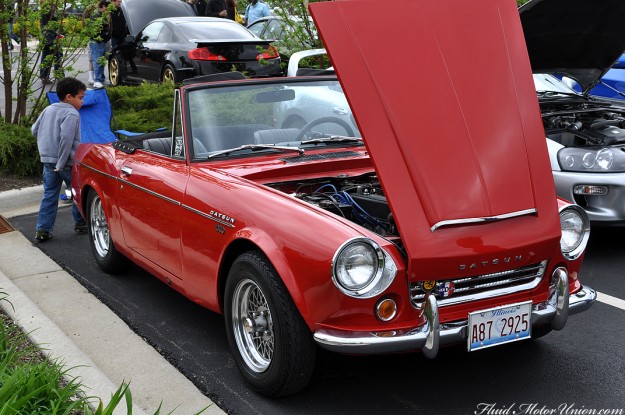 This was a color scheme I hadn't yet seen on a GT3 RS. Truth be told, it looks a lot better than some of the more "look at me" color schemes out there:
This Corvette Sting Ray split-window is the stuff that dreams are made of. To see this car in this good of a condition is not something you'll encounter every day, or maybe ever.
And then there was a Fiat 500 Cinquecento. First one I've actually seen on the road in the states. It's little, but it's definitely poised to give BMW/Mini a run for its money.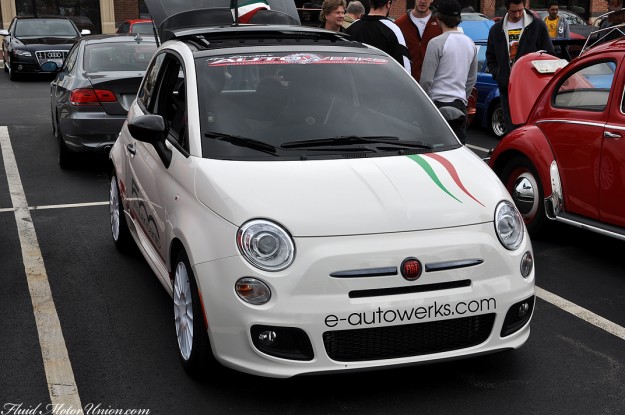 In the British corner, there was an Aston Martin DBS:
This old Starlet was also a welcome sight at the show, complementing the Toyota's OEM restored look with something absolutely bonkers. That widebody kit is, well, wide.
From SCS, Nick in his Civic and I in the M3 headed over to Addison, to check out JDM Chicago's opening meet of the year. The fellows at that meet were much more excited about the M3's stance and stretch, at least from the crowd's worth of "Holy crap, look at that stretch!" comments it received. You know it's a good crowd there when they applaud and smile upon witnessing some loud fender rubbing on an M3 that's maybe a few inches off the ground.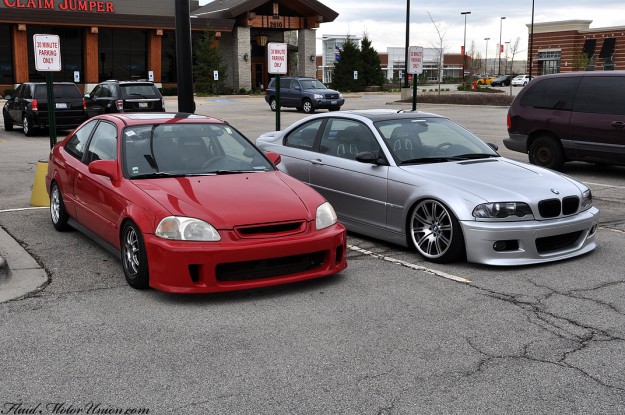 And that was it for the meets of the weekend. But since there was plenty of Saturday sunlight remaining, I had the chance to take some glamour shots on my driveway.