Chicago Rolls Royce Phantom Service – Air Bag Light
The Chicago Rolls Royce Phantom Service market is pretty slim. Luckily Fluid MotorUnion in Naperville has you covered!
First introduced as the "New Phantom" in the 1920's, the Rolls-Royce Phantom has become an icon. A symbol of wealth and success, Rolls-Royce is one of the most extravagant brands in the world. While many don't find these vehicles attractive, I personally think that they're some somehow exude extravagance while being among of the most elegantly designed cars on the market.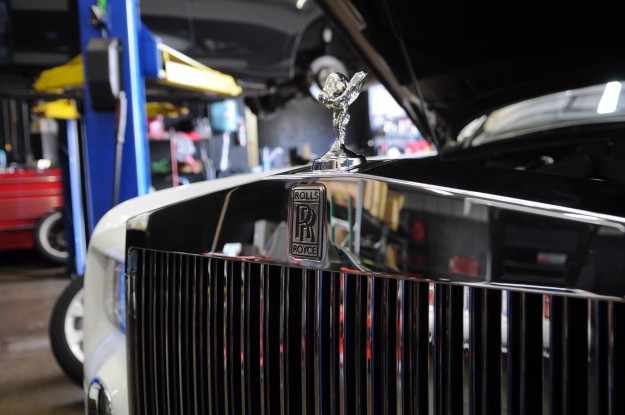 The particular Chicago Rolls Royce Phantom Service that we're discussing today happens to be on the first model introduced during the BMW era. Launched in 2003, this luxury sedan can immediately be identified as a Rolls-Royce by its massive chrome grille and the Spirit of Ecstasy positioned at the front of the hood.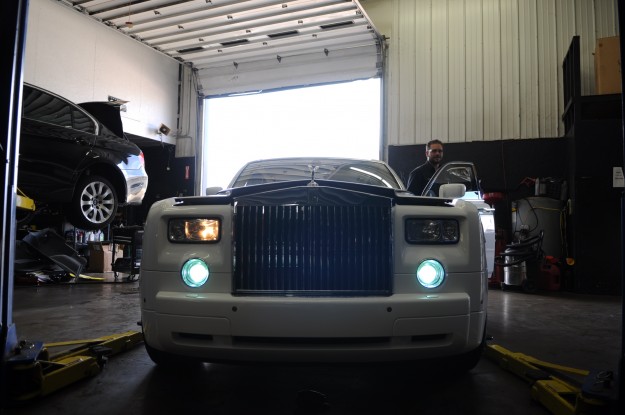 Forunately, this particular example was a very clean car only needing minor servicing. As seen above, the driver side daytime running light was burned out and the airbag light was on for faults currently present. The light warrants a check of the computer system as it's function is to let the customer know there is a malfunction in the Airbag system. At Fluid MotorUnion, we have the ability to scan and diagnosis the electronic systems of this vehicle using our state of the art diagnostic equipment. Usually, the light indicated something has failed and needs replacement, but luckily for this customer, the only thing it needed, was to be reset.
Powered by a 453HP 6.75 Litre V12, the Phantom is not lacking any power to propel its 5,600lb body down the road. Look at the attention to detail in the engine bay; you can tell that nothing is done without reason.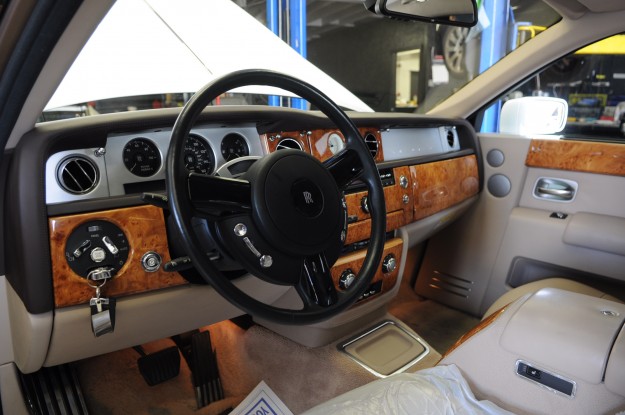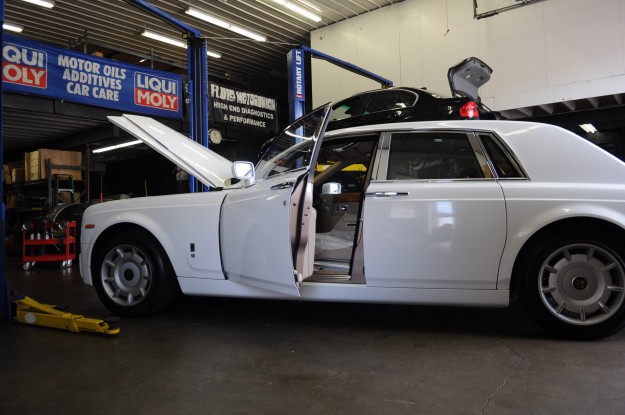 All in all, I still can't believe that this car is 13 years old. The design is absolutely timeless, and it should be. Originally sold for over $300,000 in 2003, used Phantom's can be had for around $100,000 which is about what you'll pay for a new BMW M5. Now I don't know about you but I think I would much rather take the Rolls!