18 May

Restoration Station

Since we haven't done an Education Station in a while, we may as well repurpose the title for other means, such as the one we'll discuss today!

Over in paint and body, we have this little sprite of a car that Jalopnik once referred to as "one of the top ten slowest sports cars of all time." But, as we all know, driving a slow car fast is about as much fun as it gets, and this Porsche 914 is definitely a barrel full of fun. It's tiny, it's light, it's mid-engined and it's got a dogleg-style manual transmission. Drop the T-tops and you've got plenty of sun and plenty of fun. It has arrived in its shop for a full body repair and repaint. The hue will be staying the same, but we'll be patching up the various parts of the car that have succumbed to the horrors of age, namely rust. Before we started the disassembly process, we snapped plenty of shots of the car, taking panel gap size and all the other details of the car into account.

And then the disassembly began! We started at the nose of the car, with the moving headlamp assemblies and everything else between there and the firewall.

We also started removing the main hinged panels, such as the trunk, hood and engine cover, which we've been setting aside for later paint prep.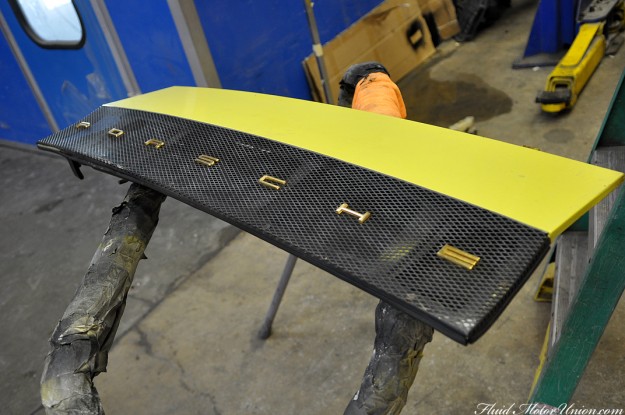 Once the front end was gutted, we turned our attention to the door panels and rockers, which took a little longer to disassemble than the front end. Actually, it's probably about even, based on the number of moving parts contained in each. Window glass is definitely a bit on the fragile side, however, so much caution was exercised.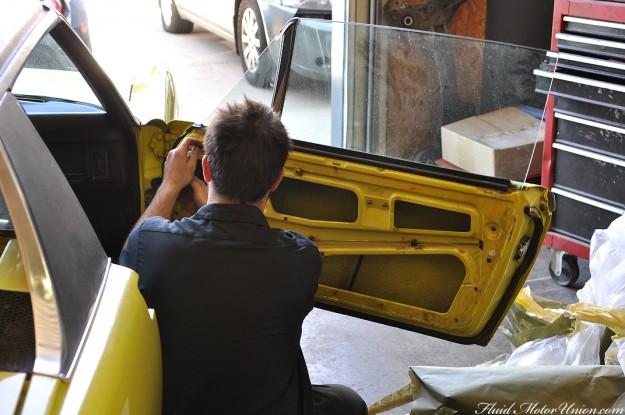 And that's when we found the main locations where rust was having a grand ol' time. There was a bit under the hood near the headlight supports, but this penetrative rust on the rockers is a little more severe. No worries, though; once Ron and Zac get their hands on it, it'll be back to its original glory in no time.
Have a great weekend, and we'll pick back up on this topic next week, along with some brand new content as well!