05 Apr

Regularly Random

What is it about Thursdays that make us put up so many posts of our random goings on? Perhaps it's the beginning creep of weekend envy.

Let's start off with a random box. This arrived from Benen earlier in the day, and it's already being modified for its intended purpose. What is that purpose? We'll tell you…maybe tomorrow. If you've been watching the last week's worth of blog posts, you might be able to draw the parallels and figure it out beforehand.

Over in the body shop, an older-body Infiniti M is getting a JDM Nissan front bumper attached. Initially, it was brought to us with the owner saying it was a simple swap. Well, this isn't our first rodeo, so right away we knew it was going to take more than that. And what do you know, it does. For those who don't know, Japanese and American cars have rather different crash standards (one of the many reasons we didn't get GT-R's until the R35), and as a result their front clips are usually a bit different. There were some definite fitment issues at first — the brackets on the frame didn't match up anywhere near the bumper, and the front frame support on the Infiniti was bowed a bit too far forward, creating issues with the bumper tabs. Thankfully, Ron loves doing custom body work, so with a little bit of elbow grease, bam — not only is fitment spot-on, but the modifications necessary made sure that every safety feature of the Infiniti's frame design remained intact. And then we get to the paint — there's barely any orange peel on the new front bumper, so hopefully the owner doesn't need to take any cross-country trips that could damage the finish!

Over on the dyno, we finished running baseline numbers for Nick Piper's E46 M3, which is in our shop for new differential gearing, some Supersprint headers, a new hood and a custom midsection with electrically-operated cutout valve! He's also getting a tune afterwards to make all the new parts work in harmony, so get excited for some footage and pictures of the forthcoming installations!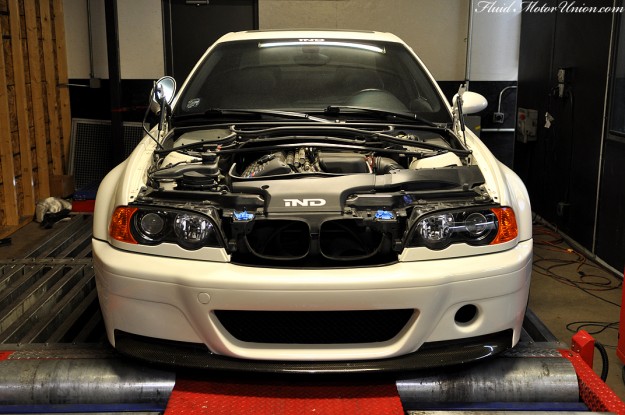 Finally, there's nothing more random than this: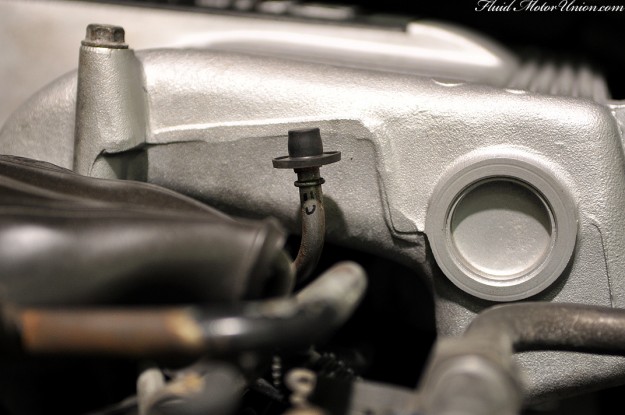 If you can pick out the car (or at least the motor) from that picture alone, you deserve many platitudes.