11 Jul

Qatari Party I: Alpina B6

For those of you who didn't know, OJ was over in Doha, Qatar for about a month. Well, now he's back, and he brought some pictures.

Since OJ's return, we've spent some time arranging the pictures and learning the stories behind them. This Alpina B6 isn't too heavy of a story, so if you're not well-versed in the history of Alpina, we'll give you a bit of background. Starting in the mid-to-late 60's, Alpina turned from a typewriter company into one of BMW's most well-renowned tuners. As their cars kept winning, they kept growing. Eventually, as they stand today, they are recognized as car builders themselves, using BMWs as the base for their Alpina versions, which are branded and registered as Alpina, not BMW. That doesn't make them some sort of impossible maze for a BMW technician, however; Alpina cars can be both bought and serviced at BMW dealerships, and many of the Alpina models share production lines with their regular-flavor BMW counterparts.

There are a few distinctions that set them apart from the typical BMW. First, their focus changes just a bit; Alpina tends to focus itself on three things — luxury, torque and automatic transmissions. Just because it rocks a slushbox doesn't mean it's a slouch, though; the Alpina B6 (based off the 650i) has Alpina's own H1 motor, capable of 493 horsepower to the crank and 520 lb-ft of torque. Some Alpinas also carry their brand's specific blue paint, which proper BMW aficionados can spot a mile down the road, as well as one of their distinctive styles of wheel. Sure, the Alpina B6 is pretty dressed up as it is, but there's always more to pull from those motors. And that's exactly what OJ set out to do, in these pictures taken by Supeesh Pavithran.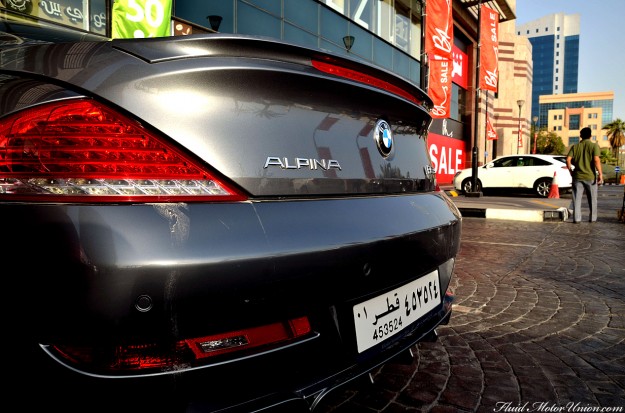 As it turns out, there's still plenty of power to pull from these puppies. The owner was absolutely stoked to get his tune, and has been talking it up ever since. Never hurts to have an Alpina in your court when you start playing ball. And don't get any ideas from this next picture; Hani isn't picking his nose, and OJ's hanging out in the footwell for a totally legitimate reason. On a side note, look at those floor mats! With all the dust and desert in Qatar, we can't imagine how many times those need to be vacuumed in a given day.
OJ's work on the Alpina also brought out a security guard, who seemed pretty interested in what was going on.
Remember how we said one of Alpina's primary foci is luxury? Well, it achieves that with flying colors, and isn't afraid to let you know who's making all these luxurious upgrades. Whomever is in charge of Alpina's brand marketing needs a promotion and a raise — their name is everywhere inside this car, from large to small, it's everywhere. The overrun on the exhaust also softly whispers "Alpina" into the waiting ears of those lucky enough to experience it. Well, probably not that last part, but the detail on the B6 is outstanding.
We'll get right back into Qatari Party II tomorrow, but for now, don't forget about our combination track event and car show, MotorUnion. For more details, click on the link that is this sentence!