27 Nov

PSA Tuesday

We've got two different types of public service announcement for you today, and some pictures that don't really have anything to do with a PSA, as well.

Our first PSA relates to welding. Sometimes — not too often, but sometimes — people will be under the notion that all welding is alike, and that no two shops differ in anything other than price. Well, that's actually quite the incorrect statement. More often than not, but especially when it comes to fabrication and other specialized work, you get what you pay for. This will be rather evident in the shots below, taken from the underside of a BMW that came into the shop some time ago. Yes, those are bolts hidden amongst the slag. We're not sure why. What we *are* sure of, however, is that if you choose to have your rear section connected at Fluid MotorUnion, we'll use inert-gas-backpurged TIG welding to provide you with a strong, thin bead that provides for proper airflow and looks pretty nice, as well.

Yes, that's light coming through open spots in the weld.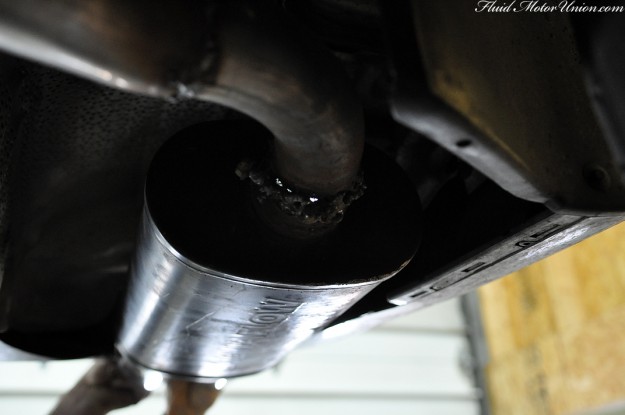 Our next PSA involves keeping up with your vehicle's maintenance. More often than not, European luxury vehicles (the kind we specialize in) are a bit more finicky than your average motor, and falling behind on scheduled maintenance (or even taking it in for a basic fluid check) can spell trouble. Such is the case with this motor, which decided that the oil and coolant shouldn't be separated from each other, since they're true lovers and who are we to judge them for that? Either way, the result came out looking like thickened raw egg yolk. The coolant overflow tank and the radiator didn't seem too pleased by this change, however, and there was a good amount of cleanup involved. Thankfully it didn't cause any major damage, but it could have. With winter coming up, now's a good time to get your car checked out to ensure that nothing wonky is taking place that could manifest as a serious problem once the temperatures dip.
Finally, in non-PSA-related news, the parts we're painting for Dana's Vulcan are coming along superbly! We've already finished the front and rear fenders in gloss black, and now we're doing the same for the remaining parts that didn't go to powdercoating — namely, the calipers, exhaust shroud pieces and the gas tank. They'll be in gloss black as well. After the first coat, everything's looking good. Once we get the powdercoater's parts back, we'll begin the process of reassembly and test-riding to ensure the bike is 110% problem free. If there's one thing that there isn't room for on a bike, aside from a third person, it's error.
It's only Tuesday, so come back to the blog for the next three days to see even more progress on these and other builds!