18 May

Positive Results

No, these positive results aren't the kind that end with phone calls to past significant others. By positive, we mean 'good.'

First up is George's C63. In terms of installed parts, we've added a custom FMU midsection, Evosport pulley, FMU custom oil cooler, Kleeman headers and, just finished yesterday, the FMU custom dyno tune. The dyno tune ended up adding 57.7 horsepower to the wheel, which is a good gain on top of the power already added by the midsection, headers and pulley. Altogether, factoring in the under-rated horsepower values via the Dyno Dynamics dyno and an average amount of drivetrain loss, his C63 is quite close to the 600 bhp mark. And this car is not afraid to let you know that, either. It moves.

Next is Chuck's 1-series. We flashed his non-FMU tune back to stock and removed his blow-off valve so he can get some work done, and when he returns he'll be receiving a FMU custom dyno tune as well; if our gains on the C63 are in any way representative of what will happen with Chuck's car, the gains should be leaps and bounds above his current tune. But only time will tell, and we'll definitely have updates on this soon.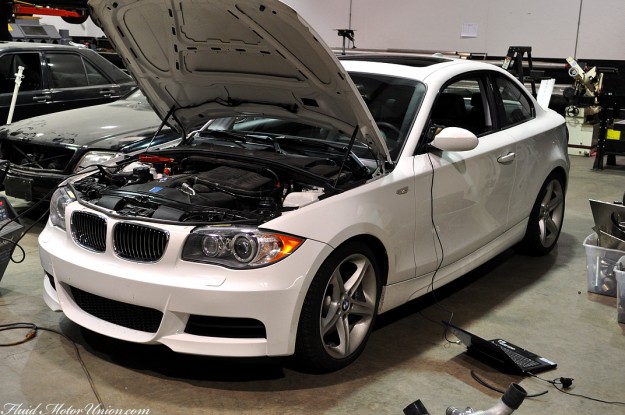 Finally, we return to Jay's M3. It had a fender that needed some work, so Luci's got it in the paint booth. Once this M3's out and dry (along with the weather outside), there will be photos a-plenty. For now, though, the anticipation builds.