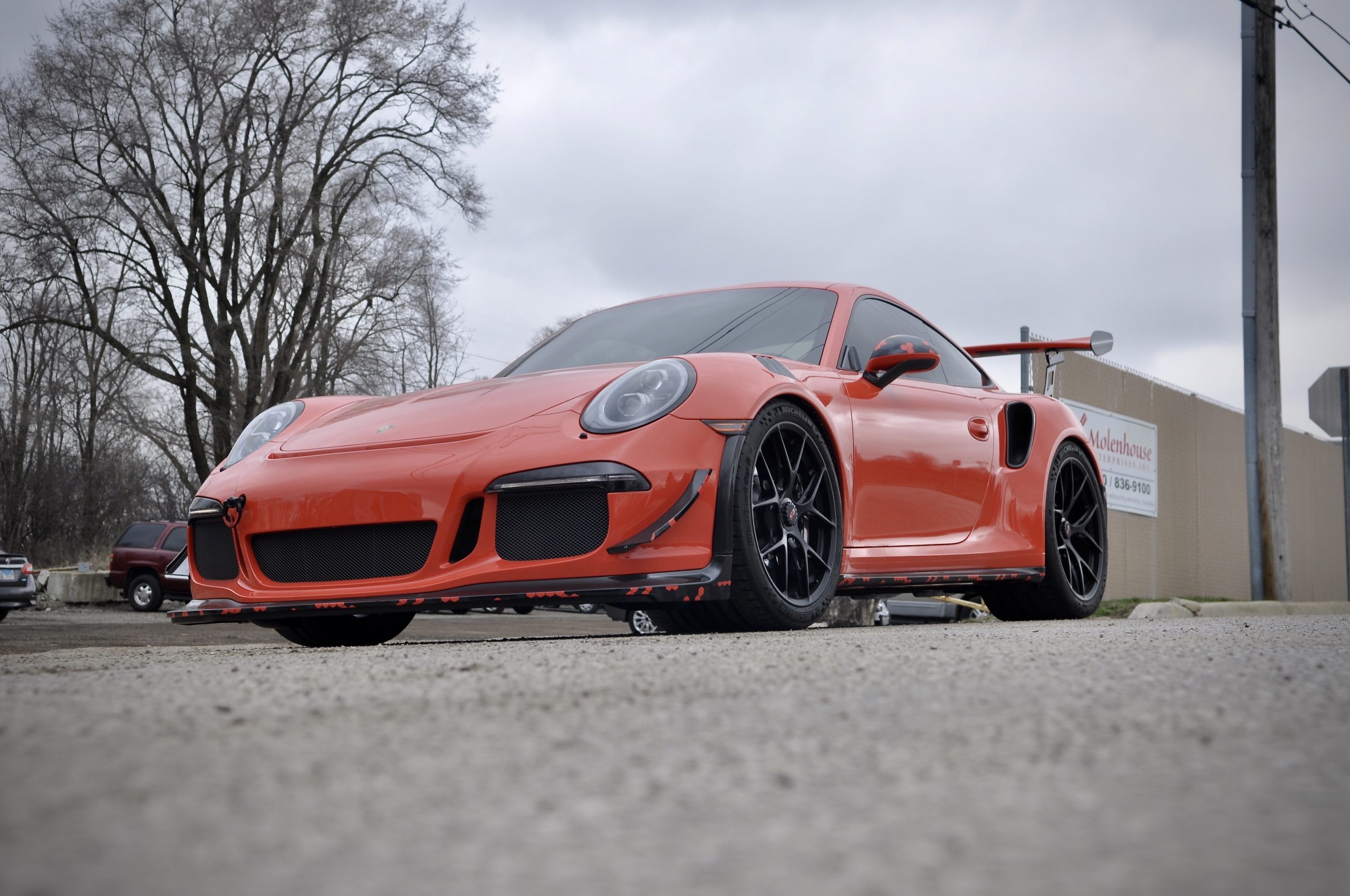 16 Nov

Porsche GT3 RS Mods – Track Car Turned Monster

Porsche GT3 RS Mods might sound like a double negative to some. After all the GT3 RS is Porsche's own take on their already superb performing 911 991, so really, what needs to be modded?Porsche brought the world the new 991 Porsche GT3 RS, it is the lighter, faster, more aerodynamic, and track centric edition of the vehicle. When stacked up against the previous 997 series GT3 and GT3 RS, it absolutely shows it is the ultimate evolution of the GT3 badge. This is a car that was exclusively designed for the racetrack and it makes no excuses about it. In a day and age where every car is turbocharged for peak efficiency, Porsche gives this beast a 4.0 Liter flat 6 heart that revs up to 8,800 RPM and produces 500 naturally aspirated horsepower. Paired with Porsches renowned PDK transmission, this car is as fast as it is loud – and it is really fast. But as per customer request, we were tasked with turning it up to 11.

What would our Porsche GT3 RS Mods list contain? Open racing headers, a custom exhaust, loads of carbon fiber, custom spoiler uprights, and dyno tuning just to list a bit. This Porsche GT3RS is surely the most extreme in every kind of way.

Here is the car before we got to work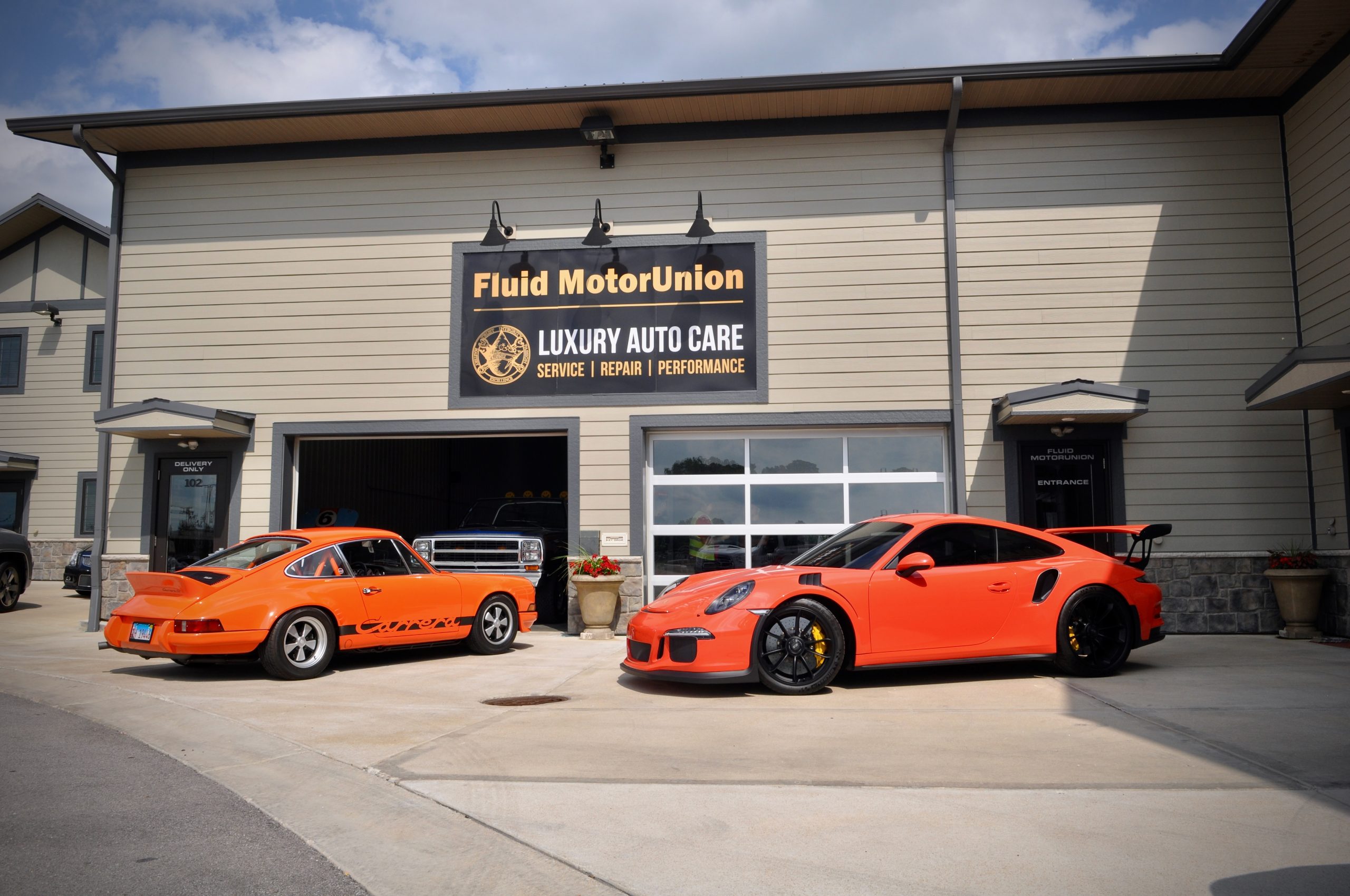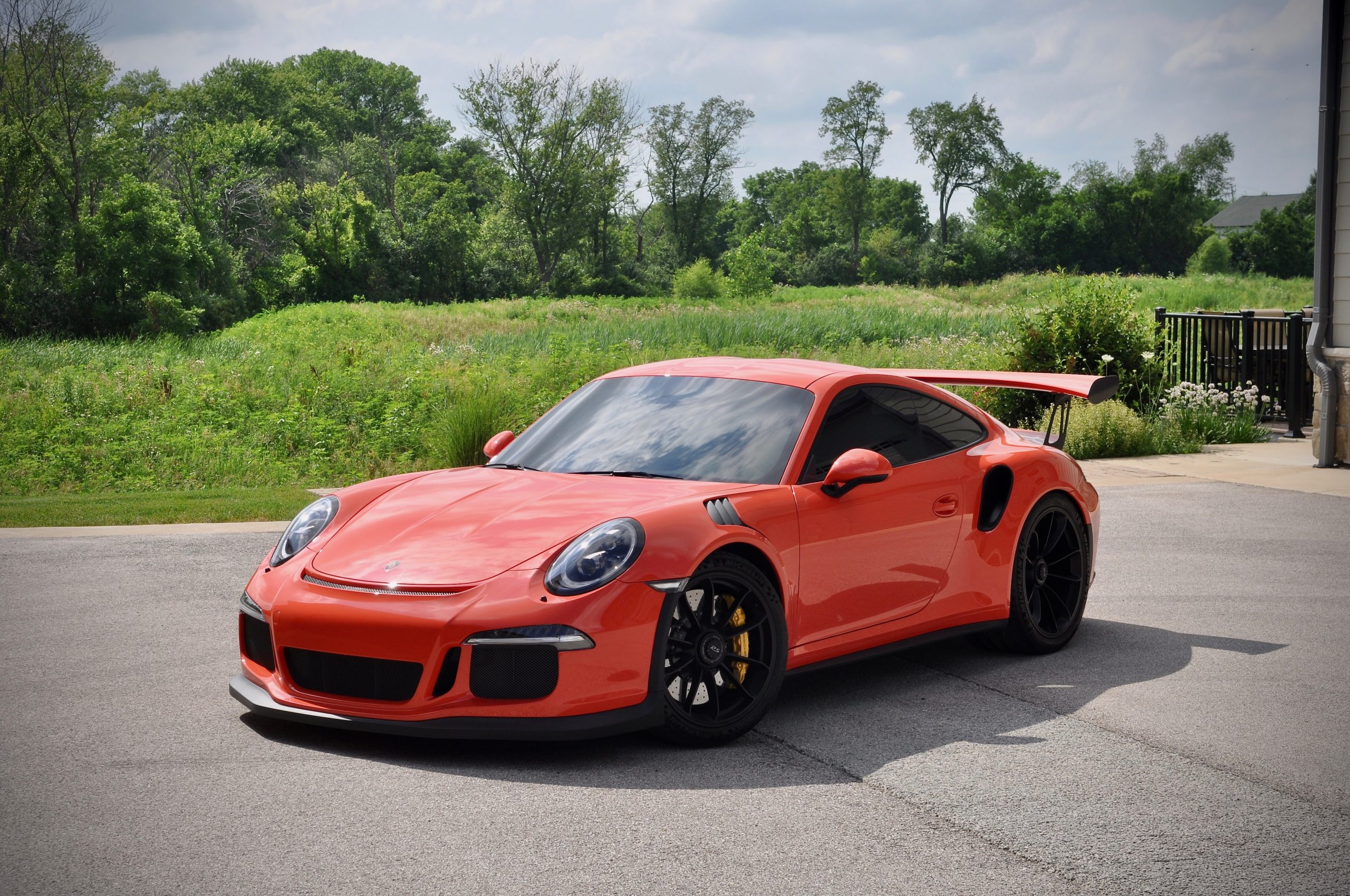 Roll Cage
A car with a racing pedigree such as this wouldn't be taken seriously without proper saftey percautions. So our Porsche GT3 RS Mods list wouldn't be propper if the first step in the build wasn't to make sure this car was going to be safe at high speeds. This meant a custom colored roll cage, painted to match the Lava Orange M2A/H2 color code of the car, and complete with a fire extinguisher!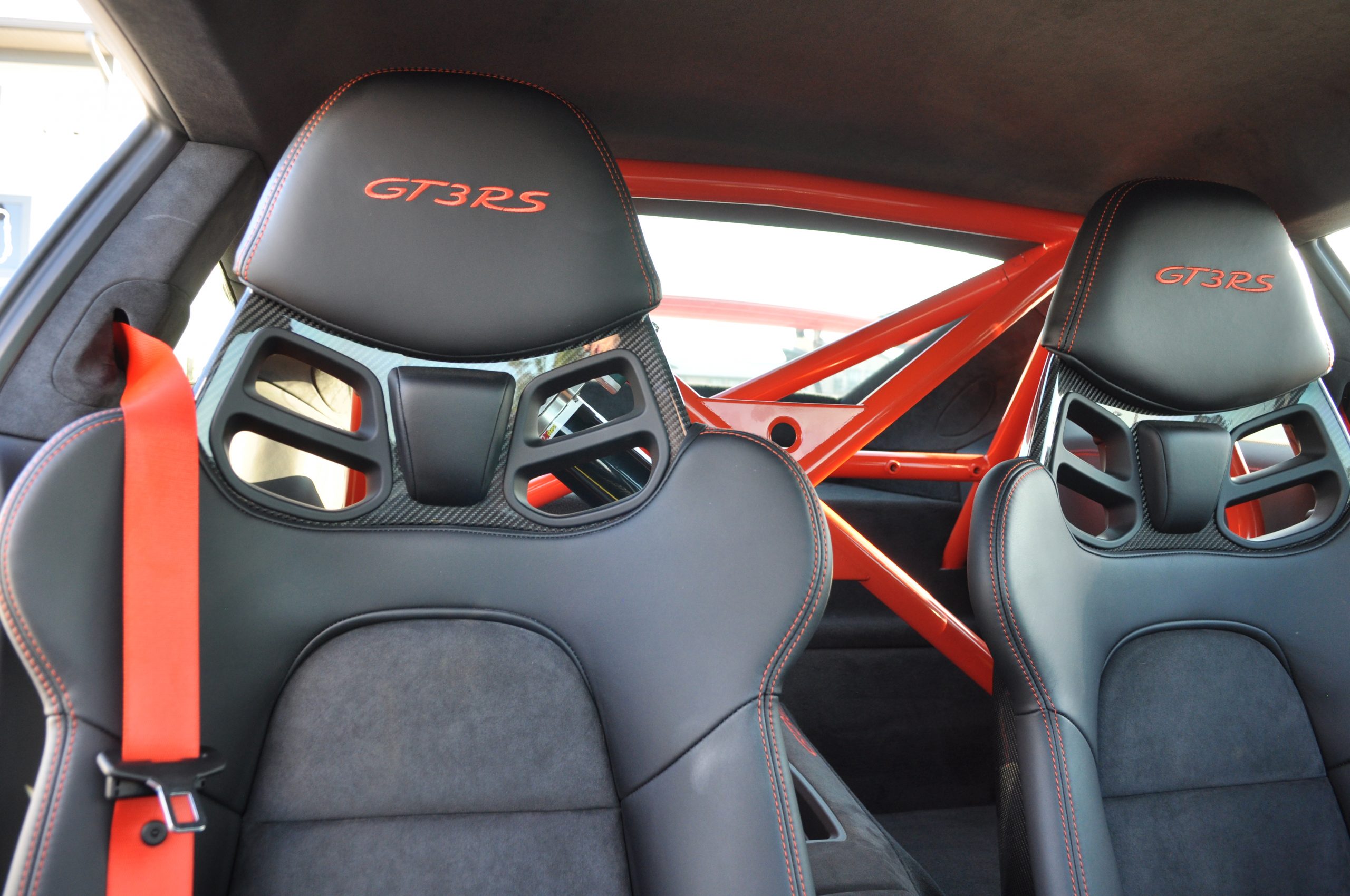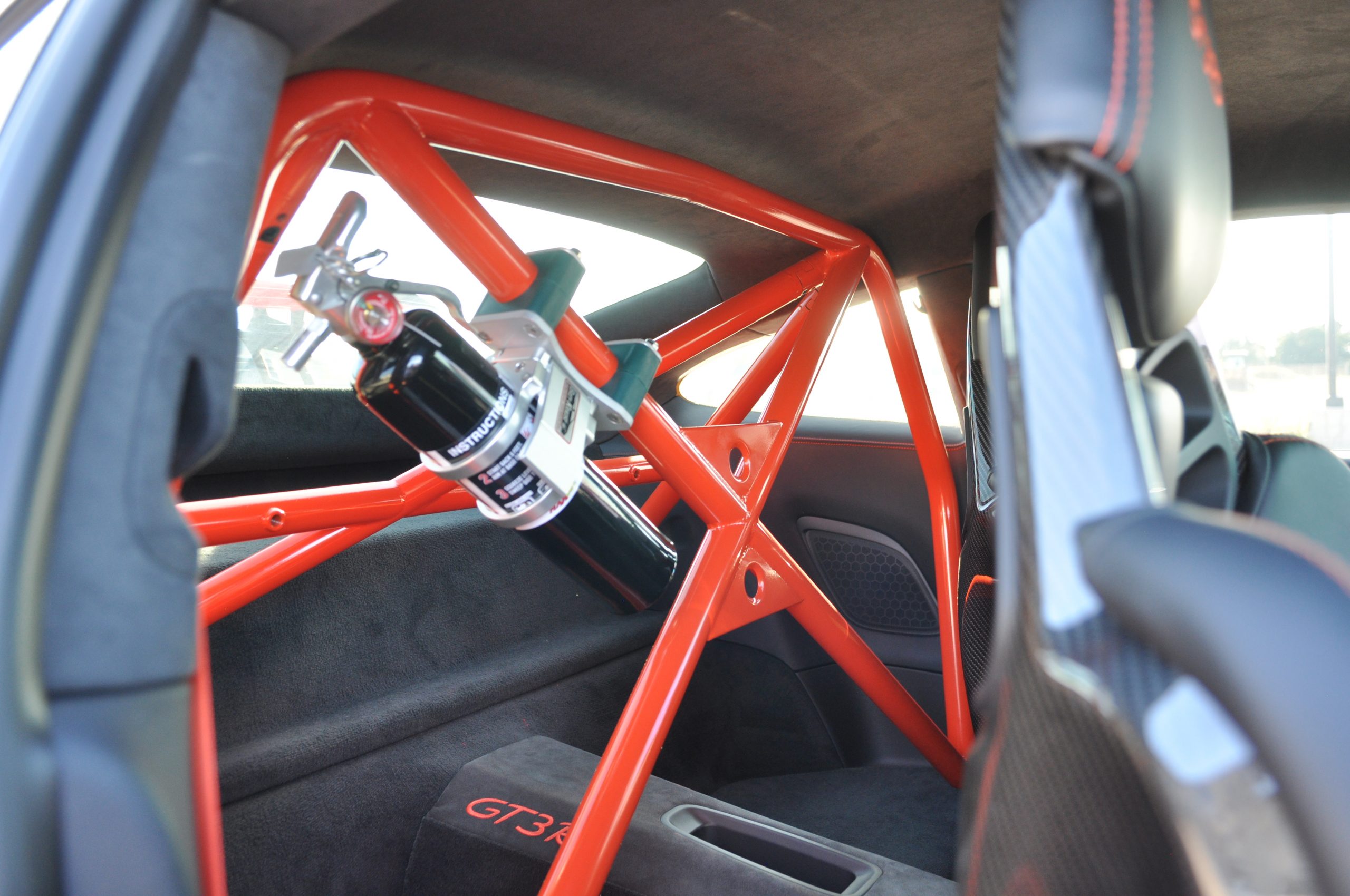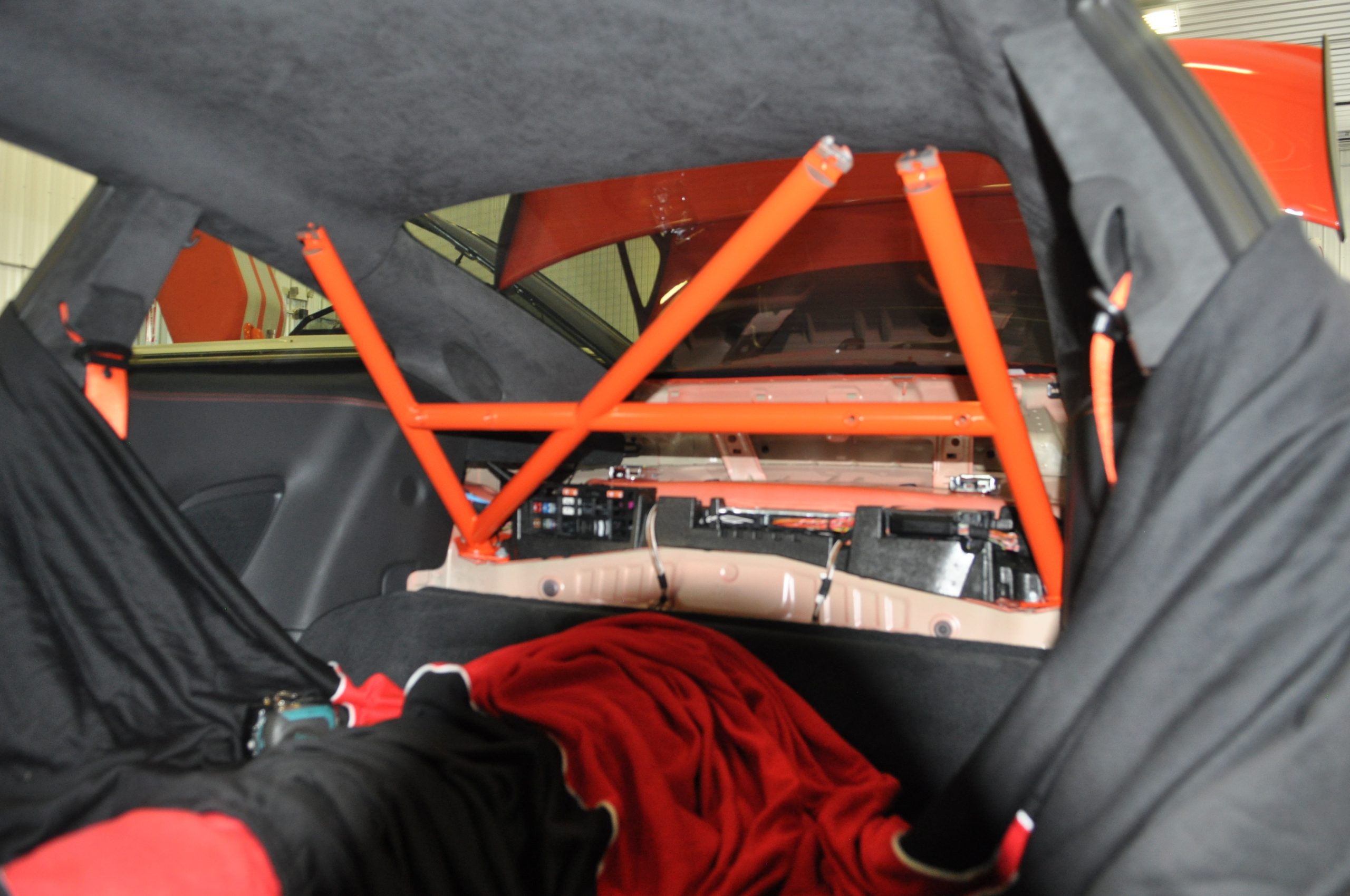 Wheels and Powder Coated Brake Calipers
It's hard to top Porsche's OEM center lock wheels that come equiped on the GT3 but we gave it our best shot. Next up we took care of the new wheels and brake calipers. BBS FIR Porsche centerlock in diamond black were the option of choice and look great. Measuring 20×9 in the front and 20×12 in the back. These wheels weigh 7.9KG and 9.2KG respectively makeing them a touch lighter than the stock wheels. The originally yellow calipers got sent out to be powder coated metallic silver and orange to help tie in the color scheme of the build.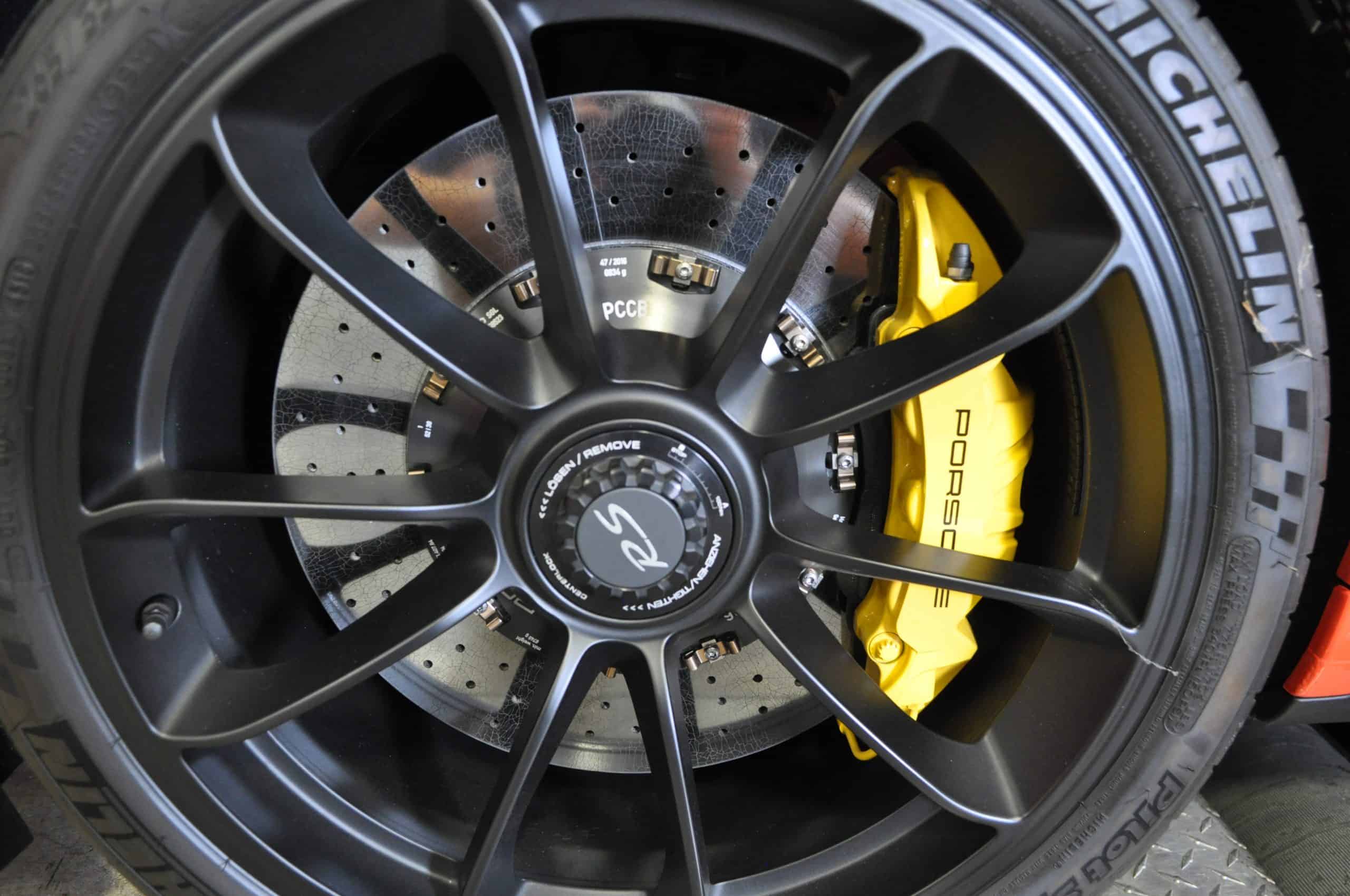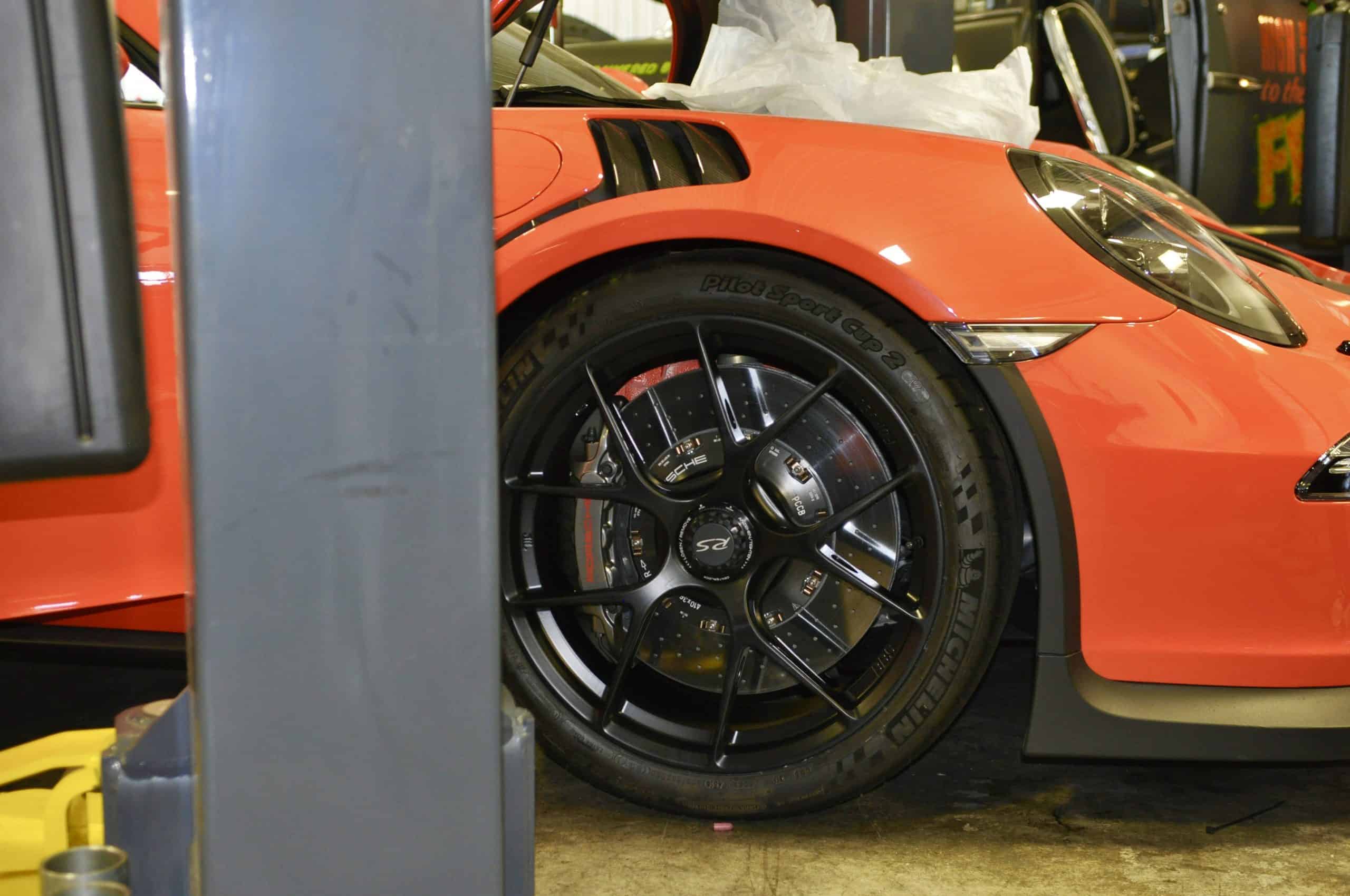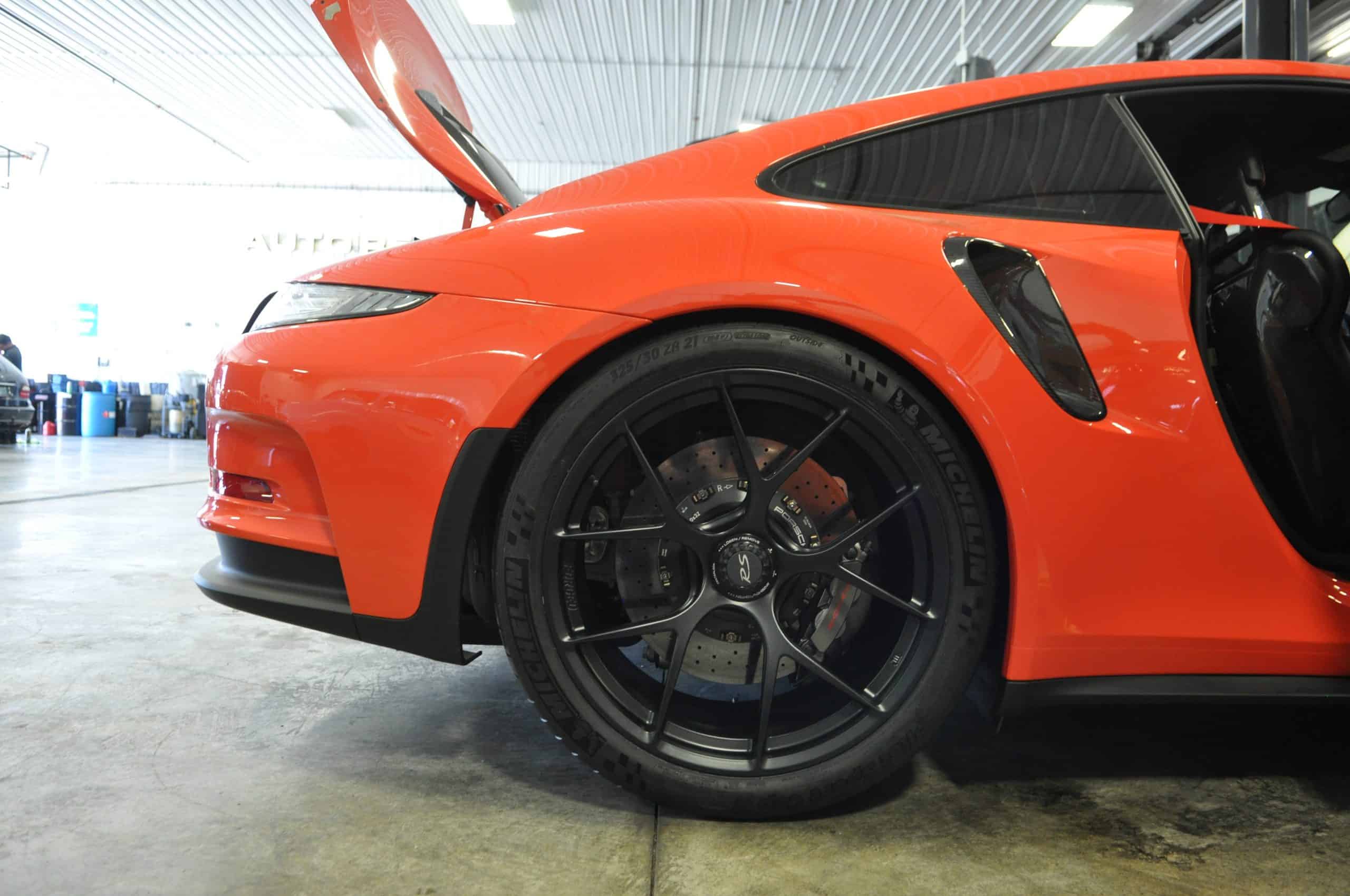 Racing Exhaust
It wouldn't be a build at FMU without some kind of exhaust customization, so sure enough we did a little modifying to the Dundon Motorsports exhaust headers in the form of a cat delete. We also replaced the muffler section and original CMC tips with a custom straight pipe section complete with an x-pipe at the tips. This is easily the loudest, most insane sounding exhaust I have ever heard. This exhaust solicits two reactions from people when it gets fired up – either they run towards it in shock and awe, or they cover their ears in pain and run away from it in terror.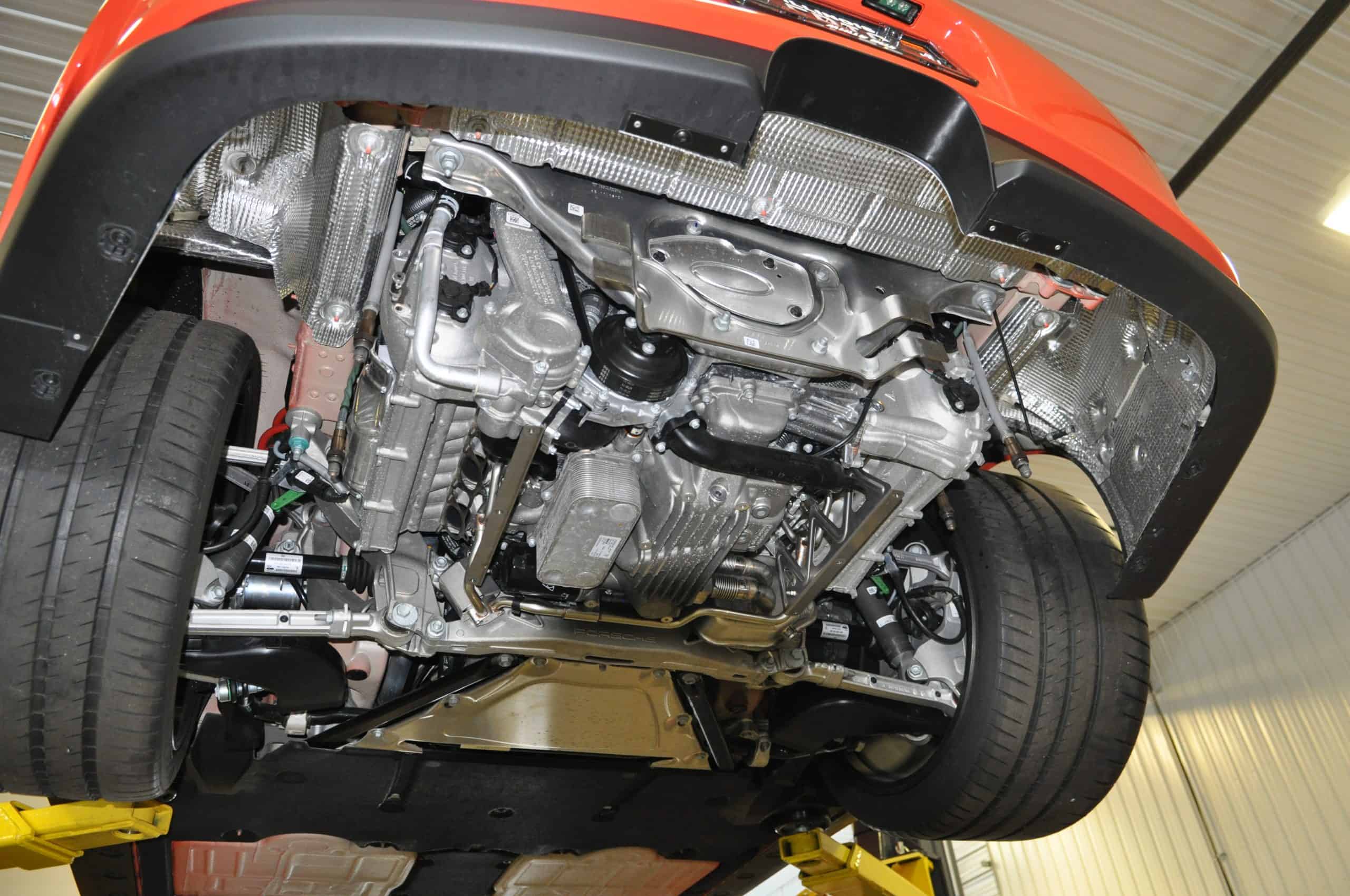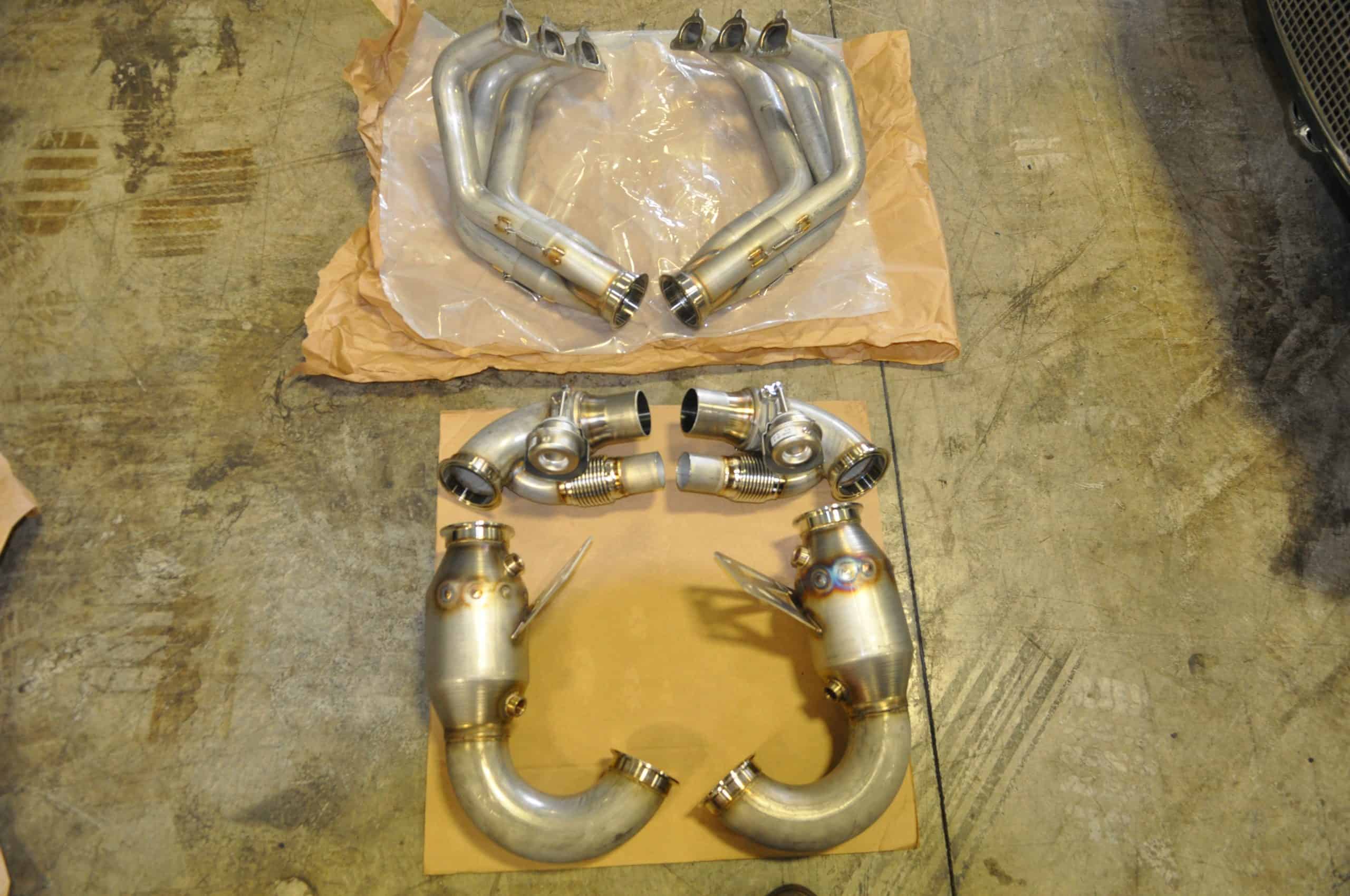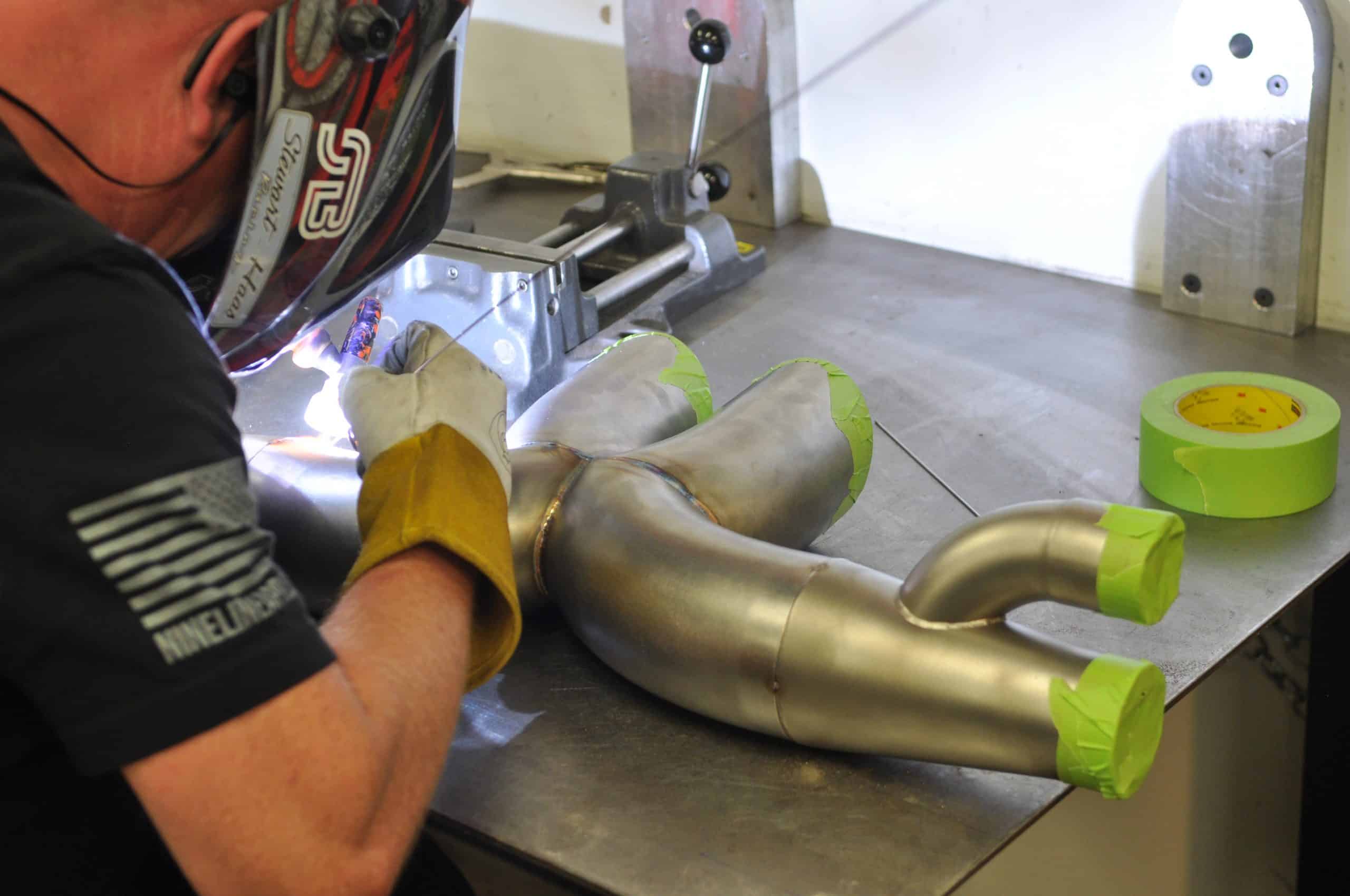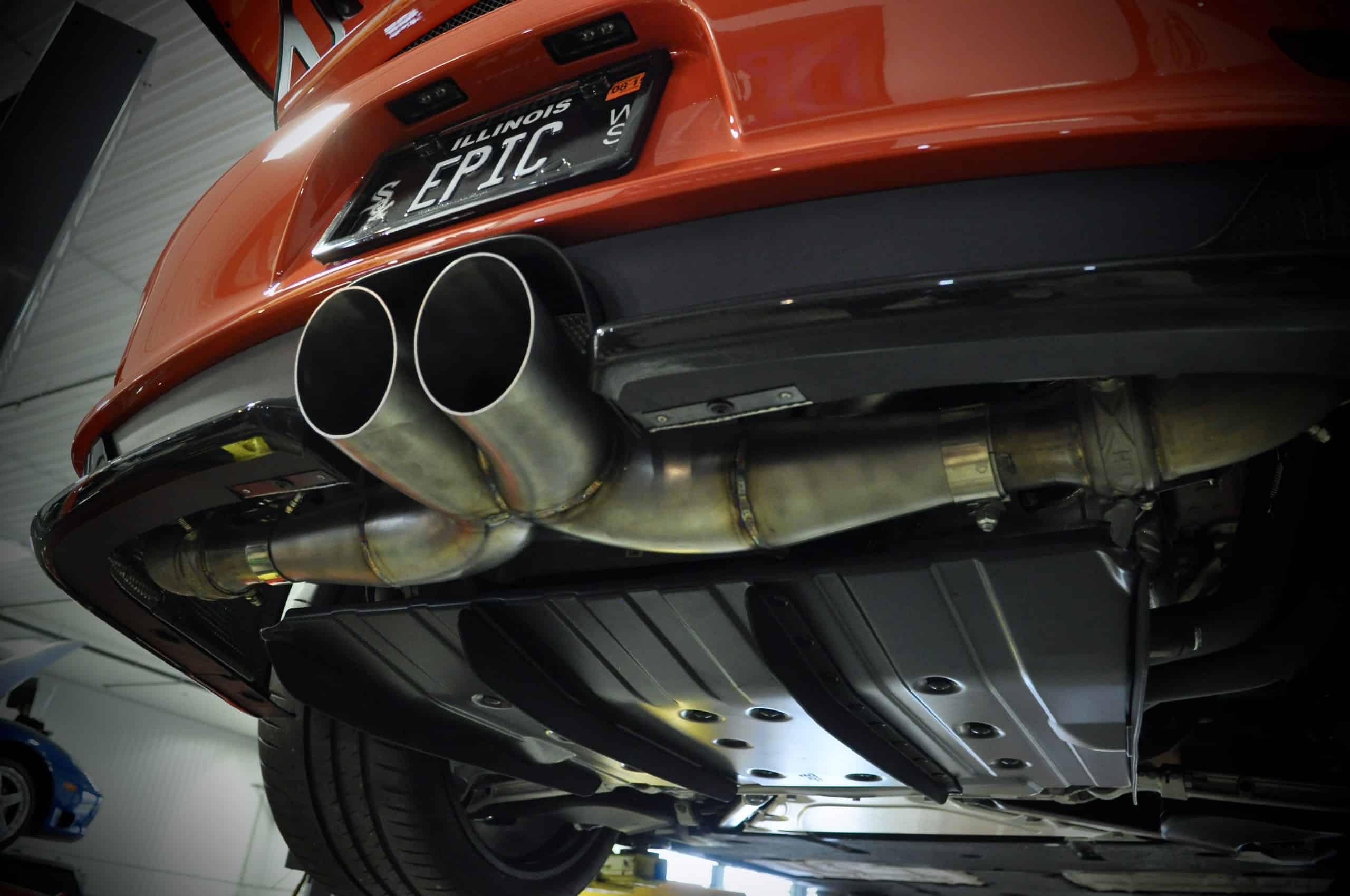 Custom Spoiler Uprights
Our custom adjustable spoiler uprights allow for the rear spoiler to create more or less downforce depending on your application. The uprights are built out of 1/4 inch steel plate to make sure they can support the hundreds of pounds of downforce exerted on the car from the spoiler. We went ahead and powder coated these to match the black wheels but they can be coated in any color, or even coated in carbon fiber. In the last picture below you can see the original upright in comparison with the cut out of our new one.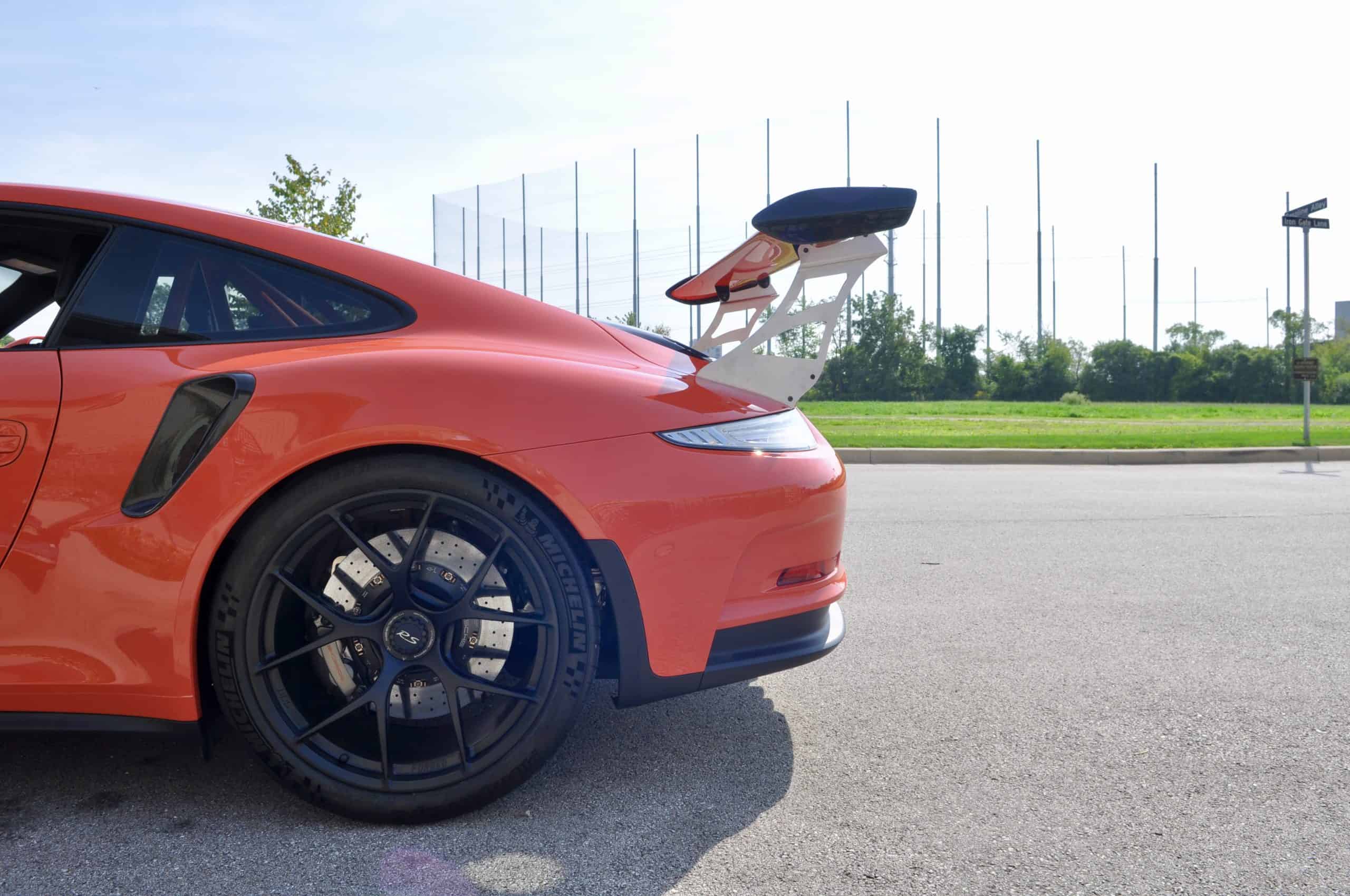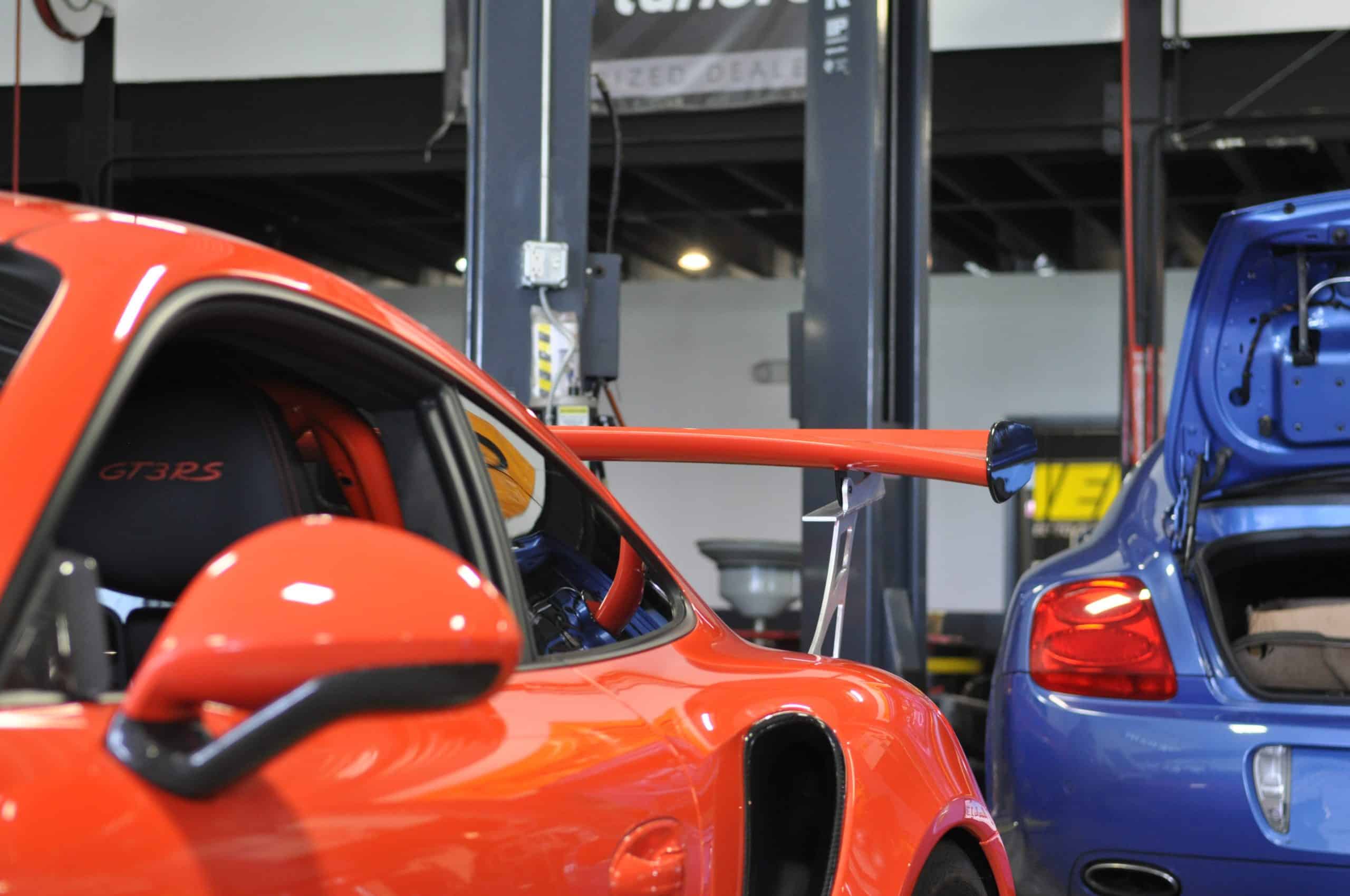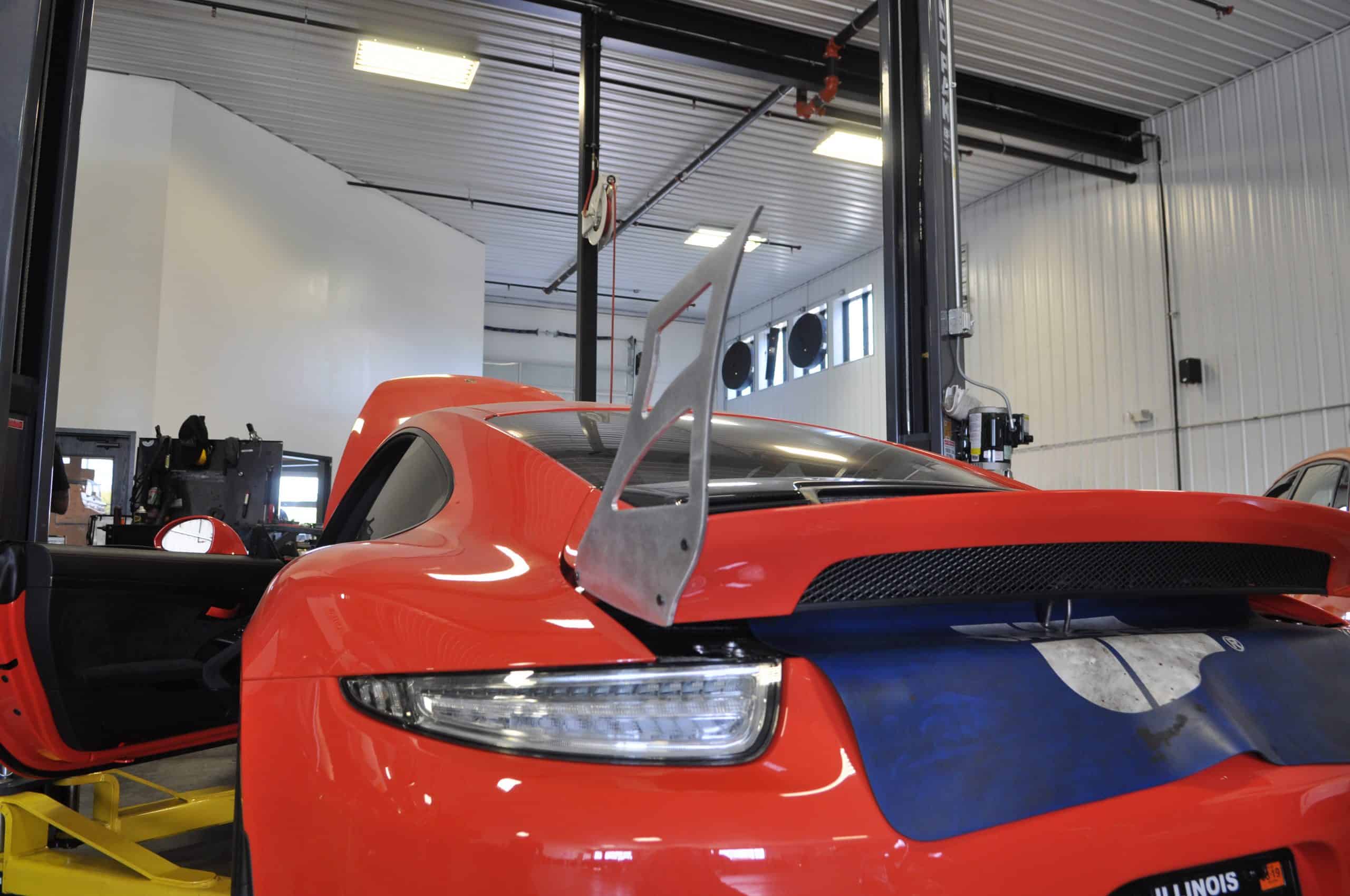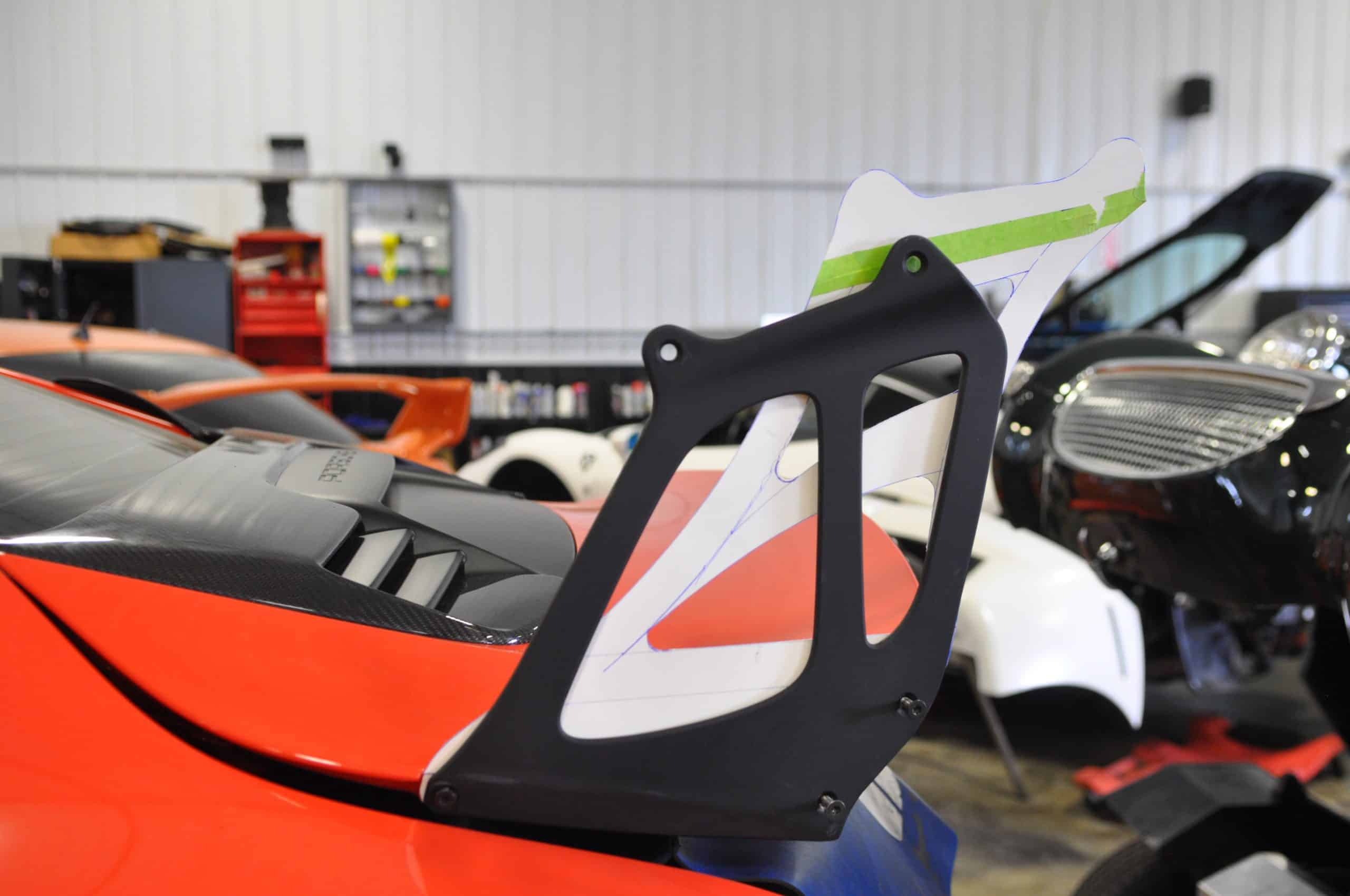 Carbon Fiber Aero and Ground Effects Package
Carbon fiber front lip, front aero kit, sideskirts, air vent flats, mirror guards, air intake guards, rear bumper guard, and spoiler winglets. I mean who doesnt love carbon fiber!? This is essentially every carbon fiber accessory offered for the GT3 RS.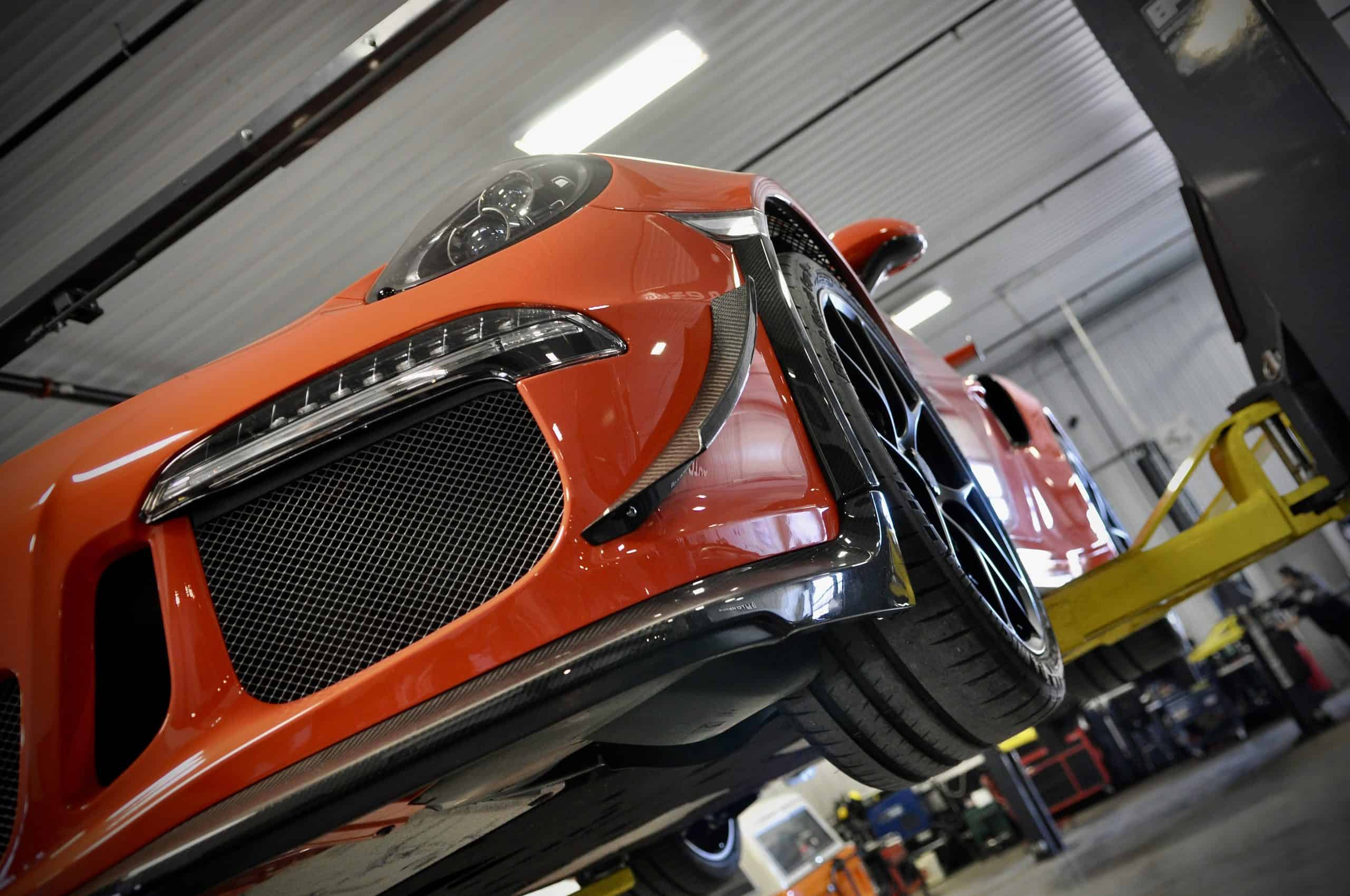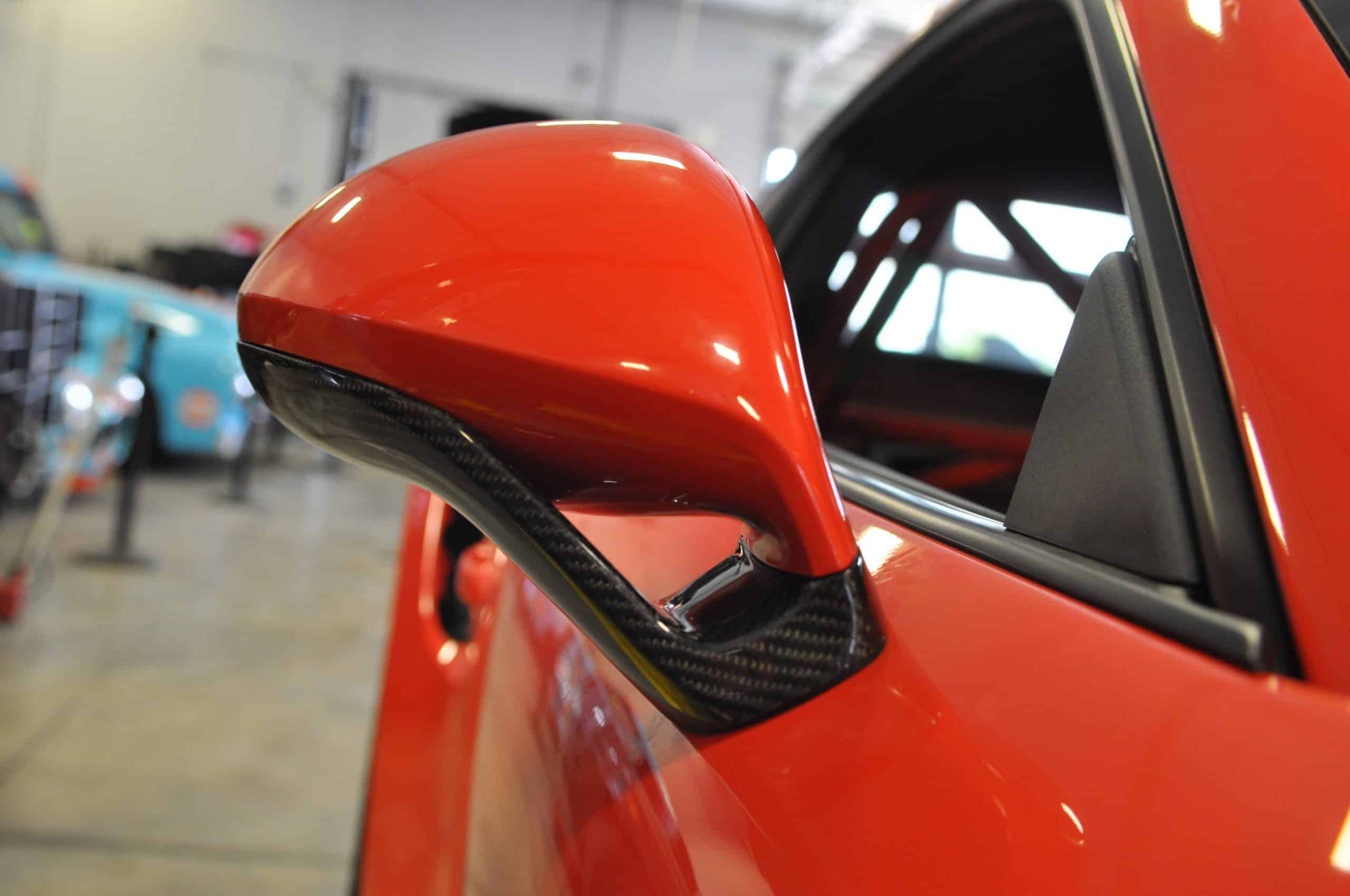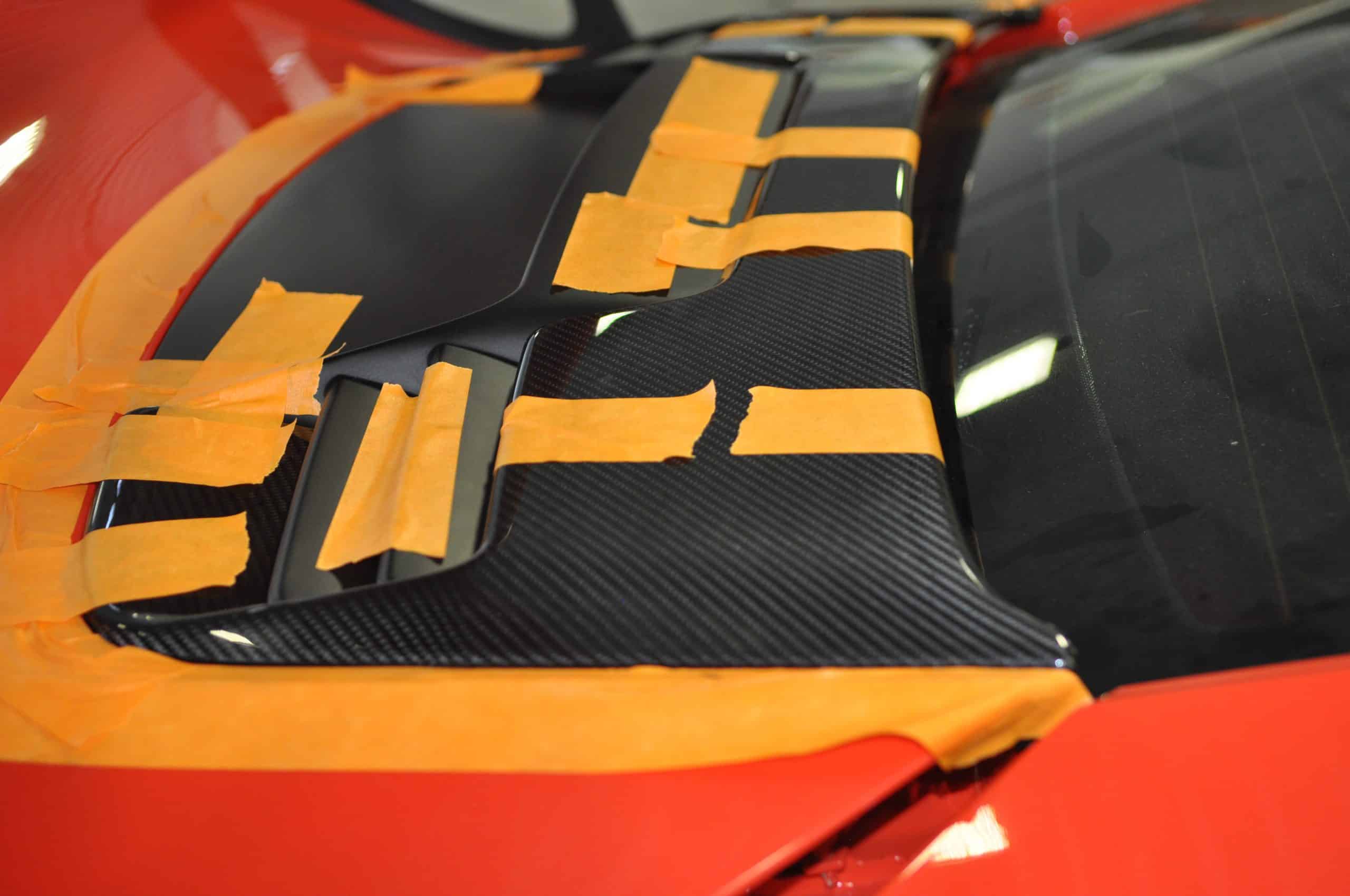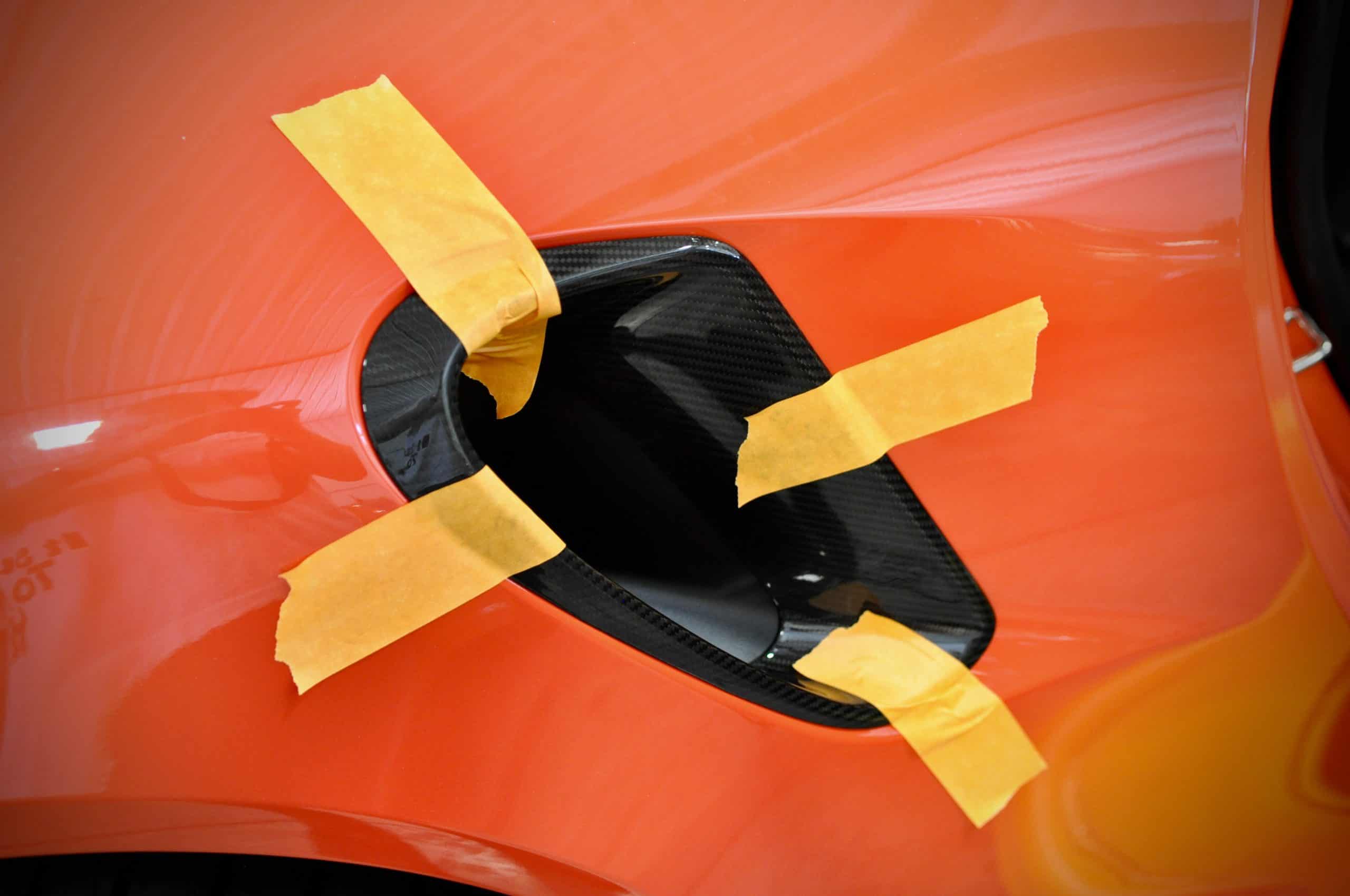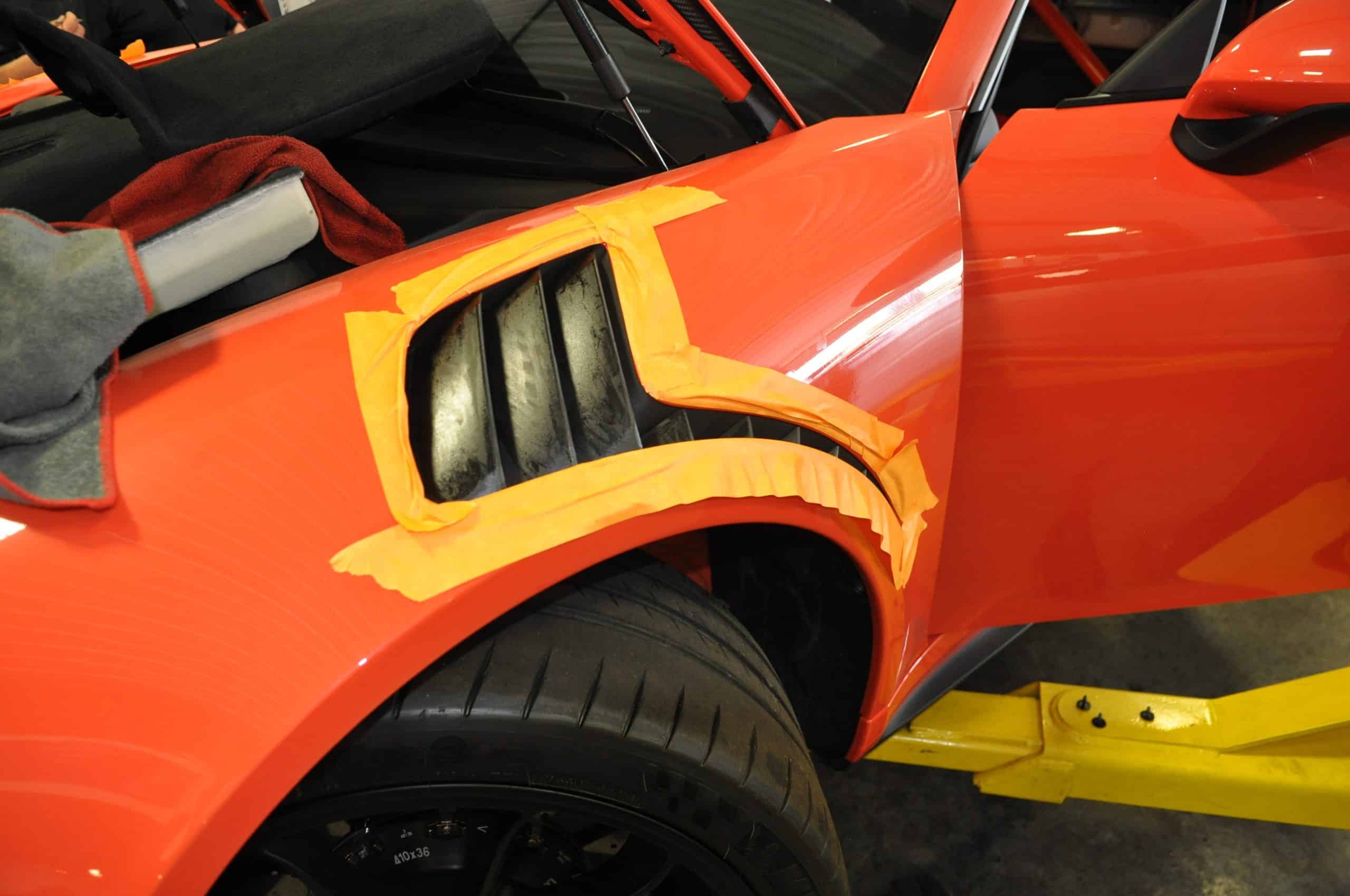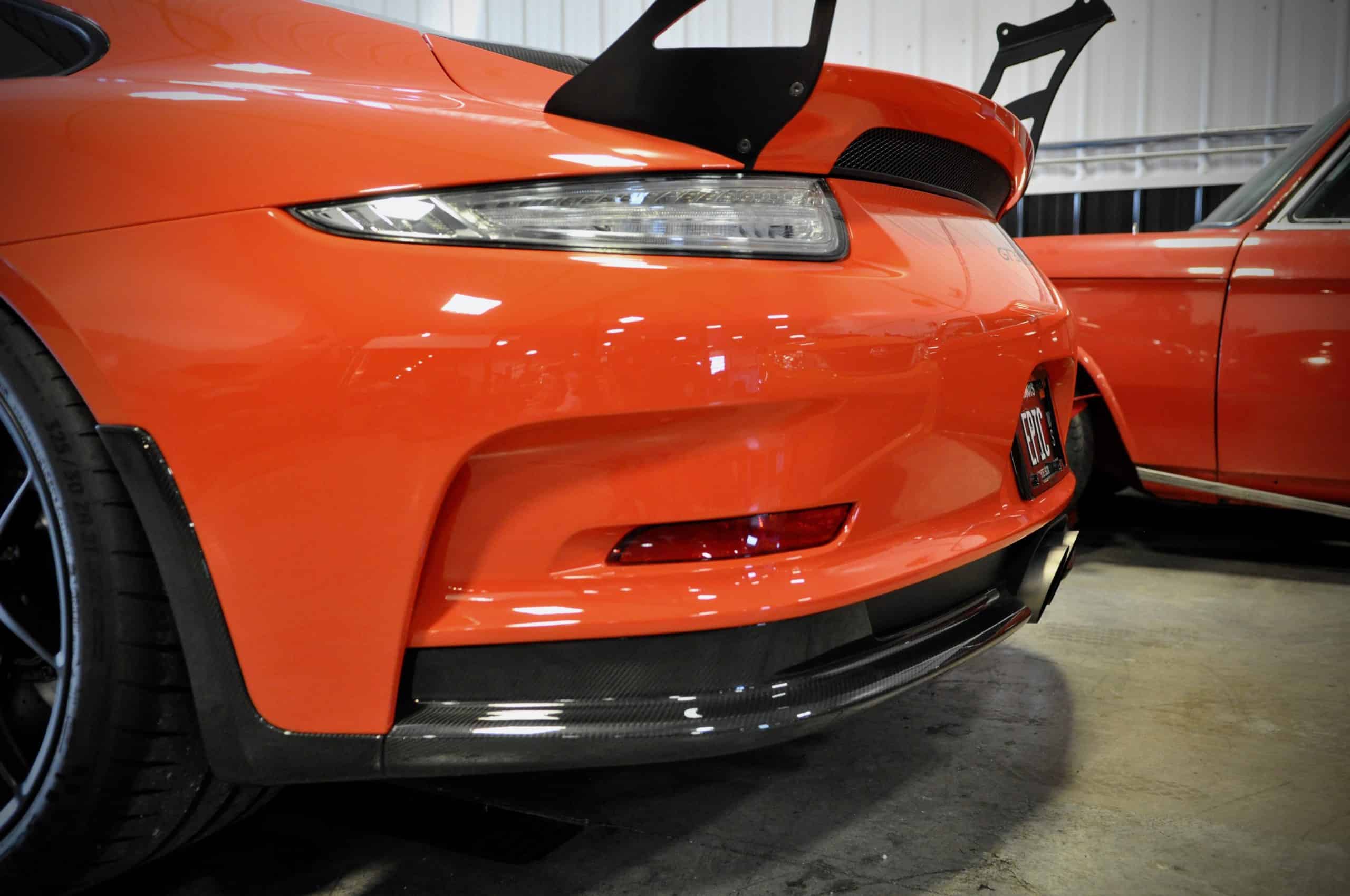 Tune and Dyno
last but not least we strapped the decked out GT3 RS onto our Dyno Dynamics Dynamometer to load up a firework tune from HD Tuning and see what kind of numbers it would throw down. Turns out a firework tune turns this car into a pretty impressive flame thrower. It went from 376.7 WHP to 444.9 WHP which is pretty impressive considering Porsche's claim of 500 HP at the crank out of the naturally aspirated flat 6. Truely Porshce really has these engines maxed out from the factory. Mind you a Dodge Challenger Hellcat puts down right around 490 WHP on our dyno and Dodge claims 707 HP at the crank. Maybe the overall drivetrain effiency and lightweight wheels etc are worth it after all.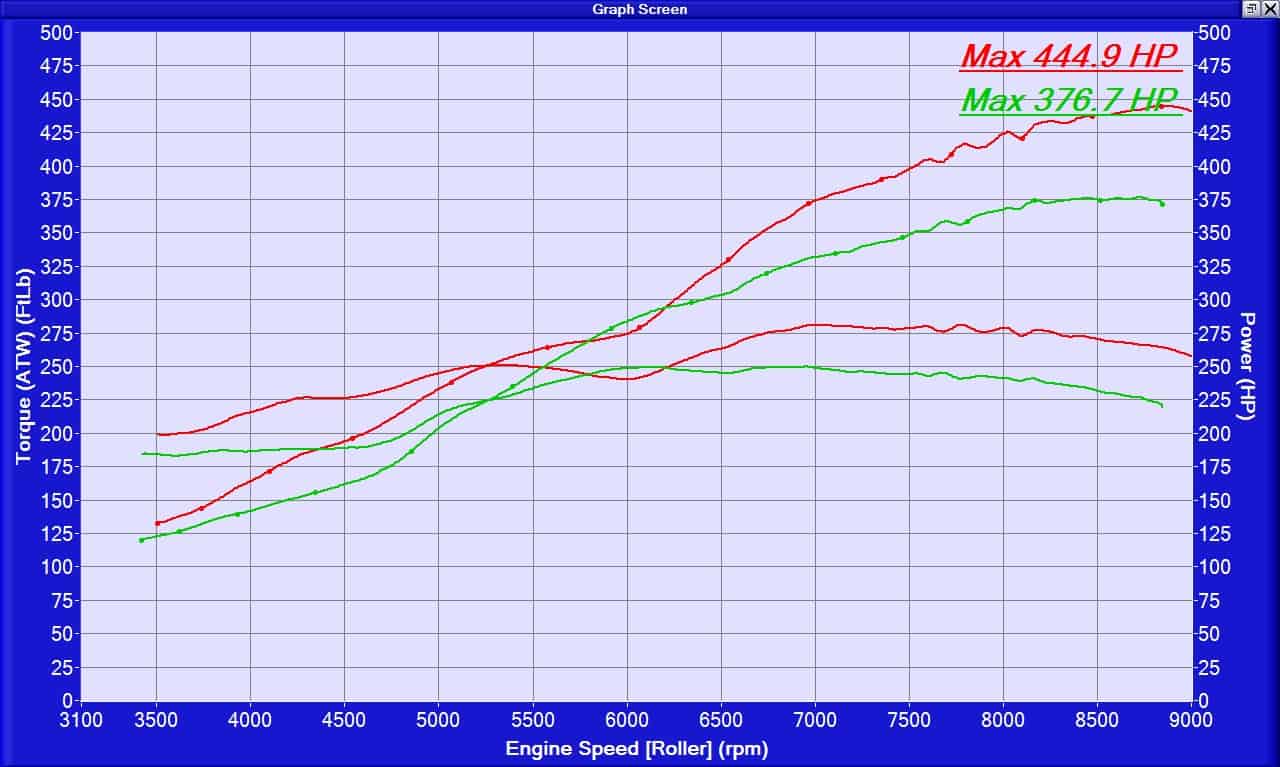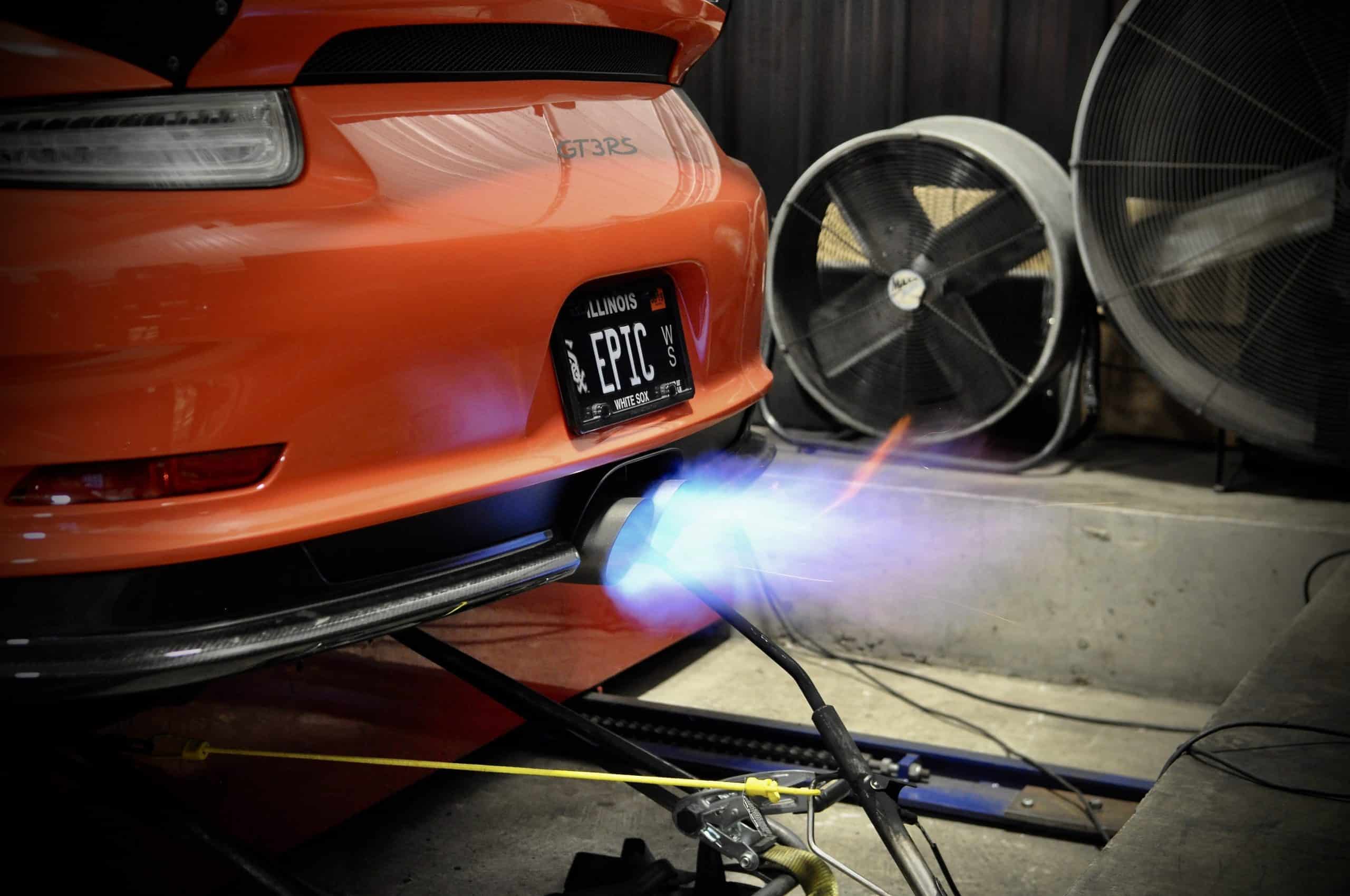 The last step was adding decals and tints. A combination of black gray and orange honeycomb patterns helped accent the various carbon fiber parts and add a bit more flare.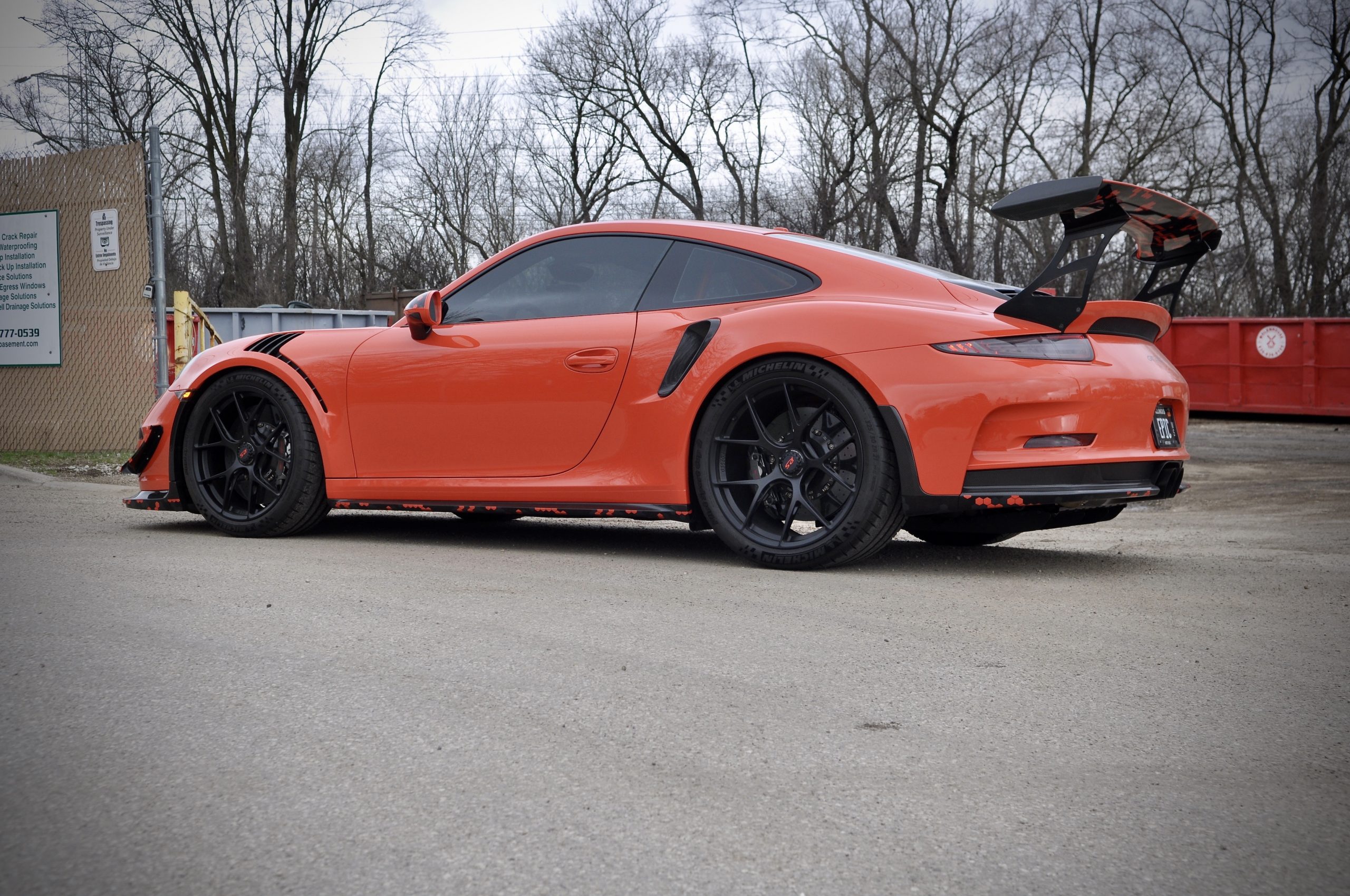 If you want something similar for your Porsche or another exotic car, hit us up! We are always taking on new projects and would love to be a part of helping you create your dream machine. Our phone number is 630-305-3054. As always feel free to email us any questions or comments to blog@fluidmotorunion.com