05 Mar

Picking Up Speed

Things are starting to pick up speed on the LS1-swapped blobeye Subaru WRX build. Let's take a look.

First up, as you may have noticed, the Subaru has been without a front bumper for some time. So, we're going to remedy that with this unpainted Subaru front bumper.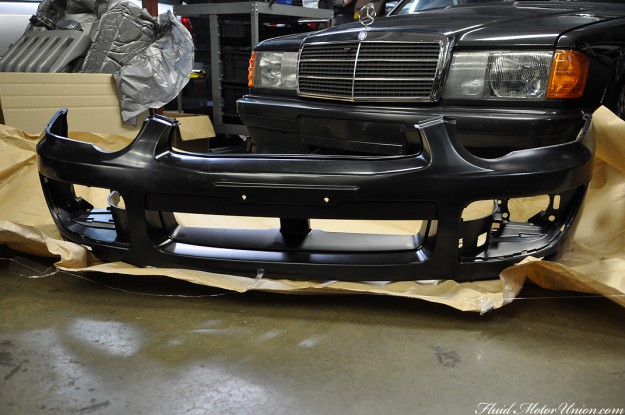 Well, it's not unpainted anymore. After handing it off to Vern in our paint and body wing, he started prepping the untreated surface. From there, he took both the bumper and the included foglight shrouds into the paint booth, where he laid down a nice coat of silver paint.
While we wait for the bumper to dry, so that we can apply a clearcoat and then sand and buff the new panels to painted perfection, we set about fixing a mechanical malady that has befallen the WRX's LS1 motor. The water pump that was currently installed on the motor had a leak, so we took the old unit off and replaced it with a brand new part that should hopefully last quite some time.
At the same time, we had the valve covers and coilpacks off the vehicle for a bit of an aesthetic refresh. A coat of matte black paint to both the valve covers and the coilpacks' mounting brackets will certainly help the eye-candy level of this interior quite a bit. As you can see, we still have a fair bit of wiring to do, including placing some covers over the bunches of wires running the length of the engine bay. After that, we should be just about ready to get this puppy started up.
Finally, something else in the shop is also picking up speed — our collective sweet tooth! Thanks to one of Keller's family members, we passed around an order form for some much-revered Girl Scout cookies a week ago. Yesterday, our prayers were answered by the arrival of several massive boxes containing our treats. There's something to be said about the simpler pleasures in life, and Girl Scout cookies are one of those.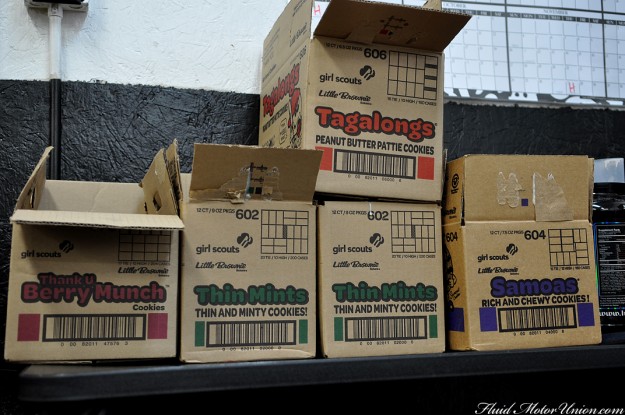 Have a great remainder of your day, and if you're currently in the midst of this blizzard, drive safely!