30 Nov

Peace Out, DCM3

Well, that time has come. Earlier today, the DCM3 was shipped off to its new owner, Danny. Let's take a look at our final DCM3 photoshoot.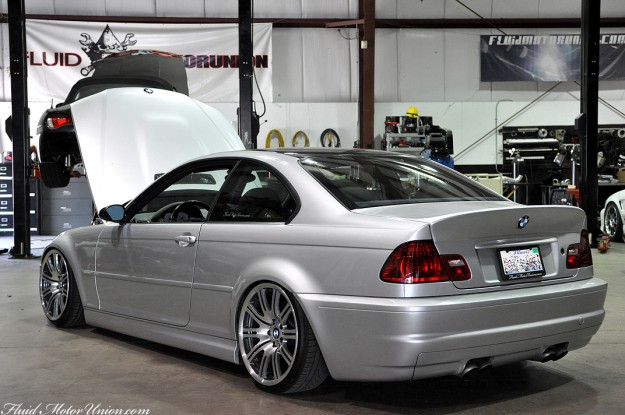 Right around the time we put this car up for sale, we needed some recent photos of the car. Since random shop pictures weren't exactly cutting it, we set aside some space for it in fabrication and snapped a few shots. Now we didn't go crazy highlighting each individual modification to the car; instead, we focused on the new stuff and preferred to let the overall look of the car speak for itself here. And with an aired-out stance like this, the DCM3 is definitely doing the talking here.
As you may or may not have seen in earlier blog posts, the newest modification we made to the DCM3 was a completely new velocity stack setup. We went with the style of stack we've been using lately (cut from billet aluminum, thin lip up top, short construction to cut down on unnecessary runner length), and coupled that with a bespoke nitrous delivery system, which goes from the nitrous tank to the arms overlooking the velocity stacks, where it was mixed with fuel (as that's what a wet shot of nitrous is) before being injected directly into the open butterfly valves. While we never decided to use the 125-shot system, it was an addition that added more than the stacks themselves ever could have. Sadly, the nitrous and its arms were removed prior to the sale, but they already have a new home lined up, fear not.
And where is that nitrous tank located, you may ask? Well, it's located directly in-between the back seats! Dominic Turetto would be proud. Just watch out — apparently nitrous tanks can cause you to scream "NOSSSSSS" while the car is lifted into the air as a giant blue fireball engulfs the car. We guess that's what happens when you are granny shifting, not double-clutching like you should.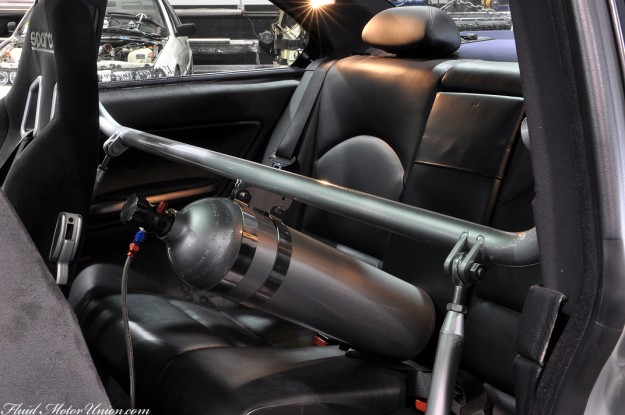 Up front, a set of Corbeau harnesses and Sparco seats are bolted directly in front of a FMU custom harness bar. It's a subtle upgrade to an otherwise untouched interior, save for the carbon-fiber panel that holds the switches for the airbag system, along with a pressure gauge to make sure you're not running low enough to damage things.
Out back, a set of turndown exhaust tips were added, in our attempt to bring back turndowns. J's Racing has been using them in their exhausts for years, and we can't let them have all the fun, can we? Besides, getting your car dirty with exhaust soot is so 2005.
Overall, it was an amazing E46 M3 that broke a few rules and made some waves. The sound was like no other E46 M3, and it was incredibly easy to drive for long distances. It took the trek with us to MFest V this past April, and gave us the least issues of any car (well, it was a tie between the DCM3 and the 335i, with both cars presenting zero issues over the course of the road trip). It took up residence between the M45 and the X5 at Tuner Galleria last winter, as well. No matter where it went, it turned heads. Sure, not everybody was pleased at the notion of an E46 M3 on airbag suspension, but that's what we do at Fluid — we do things that not many others have done, and are proud of the work we do. Unconventional is just one word that describes both us and the car. We think Danny will be quite pleased with it, and can't wait to hear how it's doing for him once it arrives and he has some much sought-after seat time. Congrats again on the purchase, and while we'll miss it, we'll rest happy knowing it's being treated right by its new owner.