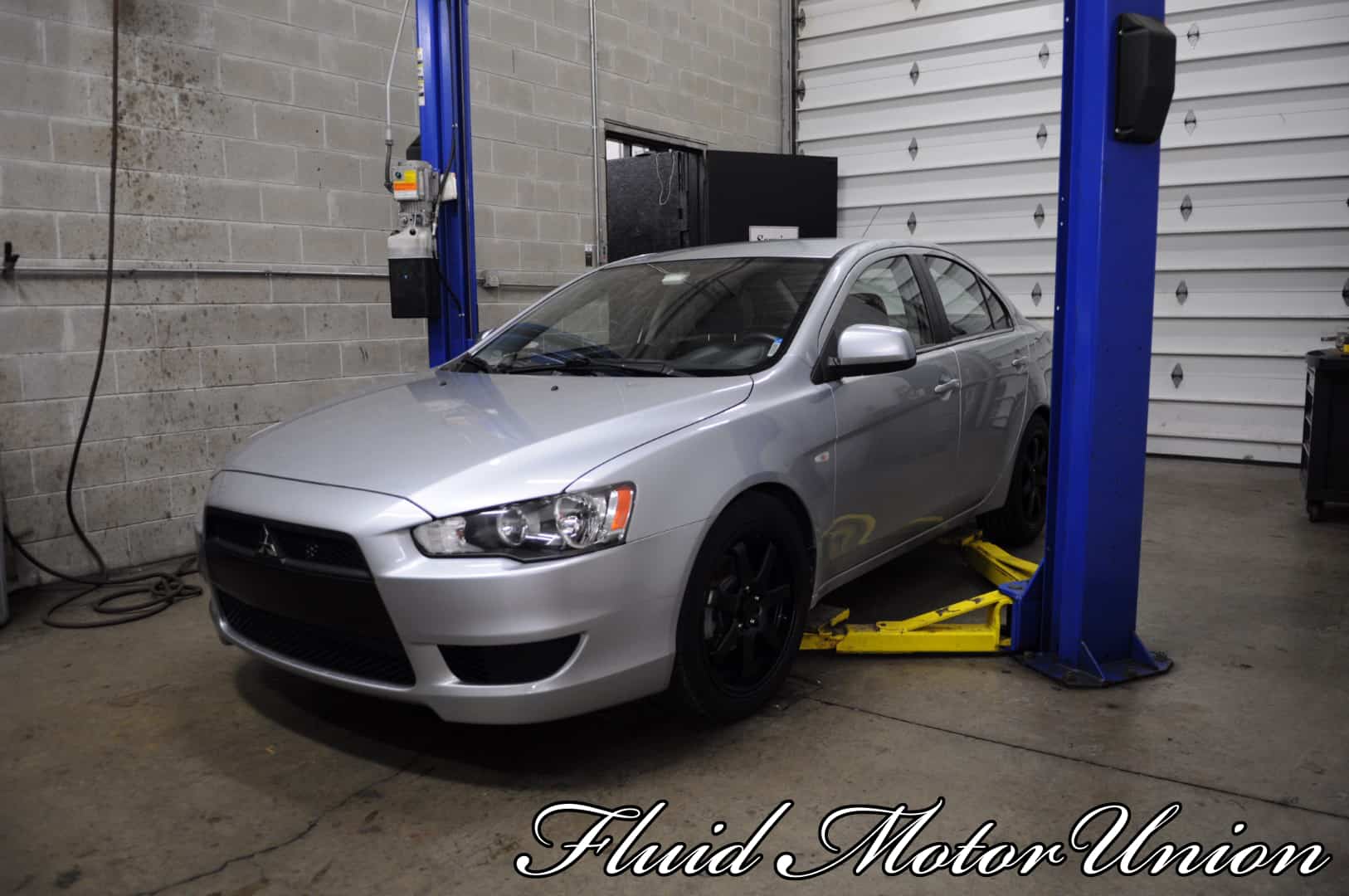 26 Feb

Our $65 Oil Change Saves the Day!

Do you live in Naperville and want to get your oil changed with a high quality, full synthetic oil, but don't want to spend an arm and a leg at the dealer? We've talked about why Fluid MotorUnion offers one of Naperville's Cheapest Full Synthetic Oil Changes before. Occasionally I am met with skepticism about our $65 Oil Change. "Oh you don't include my car" or "It's not real synthetic" are the responses I hear when explaining our service. We use Total advanced synthetic engine oil. This is a great product that we really believe in! So much so, that we want to make sure you have no excuses when it comes time to change your oil. We get a great price when we buy the oil in bulk, so we can offer the oil and filter to you at cost. We wrap that up with an inspection, and that's the Fluid MotorUnion $65 Oil Change special.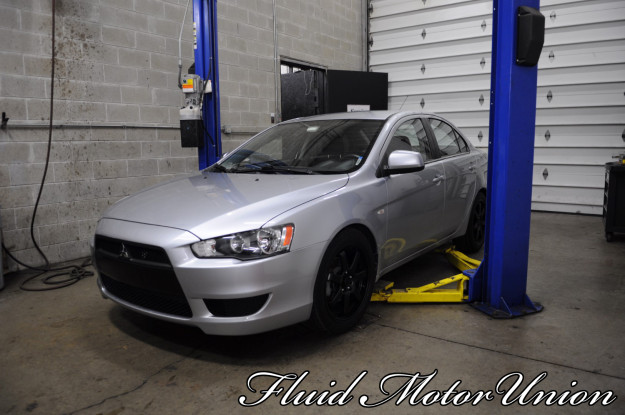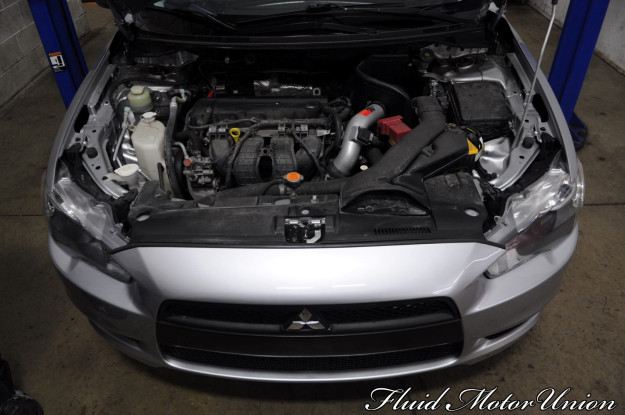 A recent customer reminded us just how valuable our oil change special is. This customer came in with a 2010 Mitsubishi Lancer throwing a OBDII fault code P0011″A" Camshaft Position – Timing Over-Advanced or System Performance. When the light came on, he went to Autozone and had the fault read. They couldn't make much sense of it and told him to take it somewhere to be checked. The customer decided to go to a "national chain" repair shop, (rhymes with "Stirefone") where they quickly sold him a complete vehicle inspection with ecu diagnostics in order to check the fault and give a recommendation. After a lengthy vehicle check, they handed him a completed inspection list and a recommendation to remove the valve cover and inspect the camshafts and adjuster solenoids. Not feeling all was right with the $128 diagnosis, he sought a third opinion and came to us minutes later.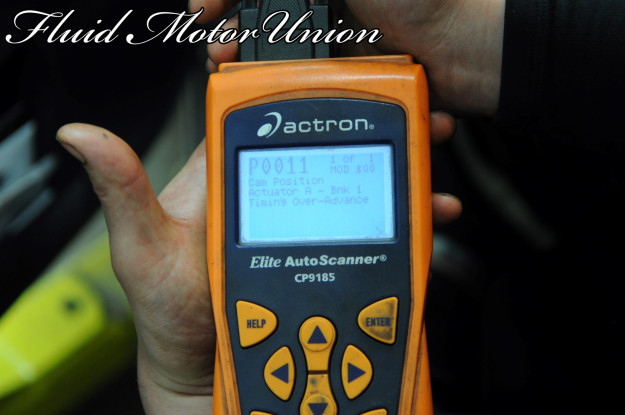 We got right to work, first verifying the fault and checking the most important part of camshaft control: lubrication. A quick check of the dipstick revealed that this car was extremely low on oil, and by extremely low, I mean almost none. That's right, the most basic part of a vehicle inspection was overlooked. How does that relate to the Camshaft position fault? Well, the camshafts are positioned via oil pressure that is controlled by electronic valves. If there is a problem with oil supply, then there can be a problem with camshaft adjustment. We suggested that an oil change would be the best course of action at this point.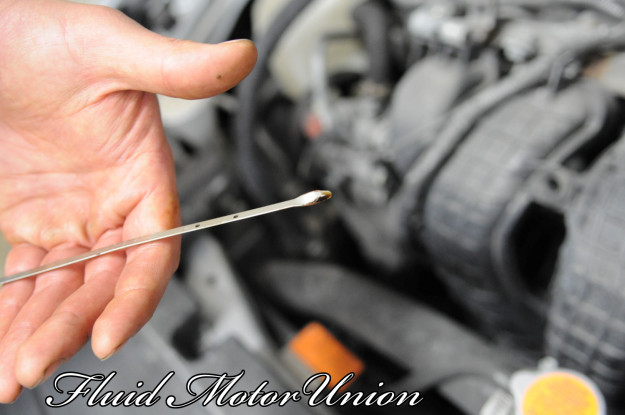 We needed to find out just how much oil was left, and also to see if any debris was in the remaining oil. When the oil was dropped, we discovered a little less than one quart left. The oil was heavy with a metallic sheen, meaning metal or bearing material wear. The customer had previously performed his own oil changes, and stated that he had bought Mobil 1 15000 mile oil. He was surprised at the great price we offered the oil change for and couldn't believe it came with an inspection which included the diagnostic scan. He also admitted that he was currently over the 15k by 1000 miles or so. At Fluid MotorUnion we adhere to a 6k-7500 mile oil change interval for just this reason. Long service intervals do not allow for proper monitoring of oil condition. Besides, in our opinion,15k miles sounds like an attractive marketing pitch, but haven't worked out so well for the multitude of vehicles that followed this recommendation. With the oil change completed we sent the customer on his way with the recommendation that he comeback in a month so we could monitor engine condition, as the possibility of bearing material worried us.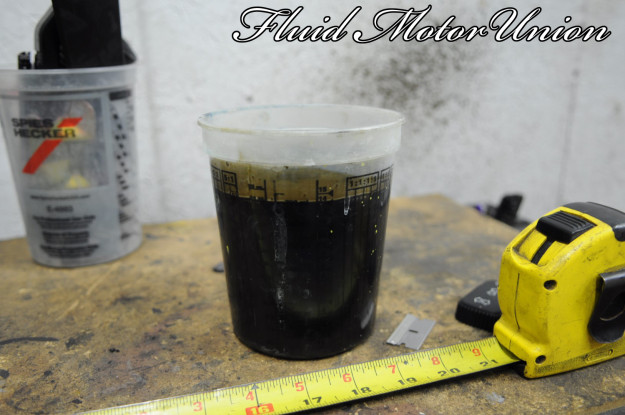 What lessons should be taken away from this?
-Our oil change includes a complimentary inspection that could have saved this customer $128 on an improper inspection and misdiagnosis.
-Our Total INEO synthetic oil change costs just about what you can pay to do it yourself, plus you get the peace of mind of knowing a professional checked your vehicle.
At Fluid MotorUnion, we strongly believe that preventive maintenance is the best way to protect the safety and value of your vehicle. So strongly that we forego profits in order to make sure your car will stay on the road Fixing your vehicle before it leaves you stranded is always the cheapest and best option. However, if you don't know something is about to fail, how do you know when to have it repaired. The answer is simple, have us keep an eye on your vehicle by bringing it in for routine maintenance. We make the process painless by doing your oil service without a markup, and if we see anything that may need repair or service, we'll let you know about it. We strive to provide peace of mind knowing your car is being properly maintained, and an expert technician checked over any potential issues that can arise. We never use designated oil change, or "lube" techs, all of the people that change your oil are the same people that diagnosis your vehicle's issues. Sure, it's more costly and less efficient to have our best-qualified employee's doing the oil changes, but we do this to ensure that every customer's car gets the attention it deserves.
Keep checking in as I will soon go over what is checked during our inspection. I will also break down what the pro's look for when checking a vehicle and explain what it all means. If you are in the Naperville area and are looking to get a $65 oil change, you won't find a better deal in the Chicago land area. If you would like to schedule an appointment, don't hesitate to give us a call at 630.305.3054, or contact us through email at blog@fluidmotorunion.com. We're conveniently located at the Iron Gate Motor Plaza in Naperville, just minutes from the I88 Rt. 59 exit, right next to top golf!. Come See Us!