19 Feb

Orange County

We teased its arrival on our Facebook earlier this week, and now it's time to turn the Fluid MotorUnion blog a little orange.

Not just any orange — Arancio Borealis, to be exact. That's one of the factory colors you can order for your Lamborghini Gallardo, which is the model that sits in front of us today.

We'll get to the point of why it's here in a minute. The first thing we did upon its arrival, however, is strapped this raging bull to our Dyno Dynamics dyno for some baseline power/torque runs, along with some video to capture the OEM sound as it moves through the revband. Now, if you know your stock Gallardos, you'll be able to see from the shot below that those 325-width tires are most decidedly not the OEM equipment…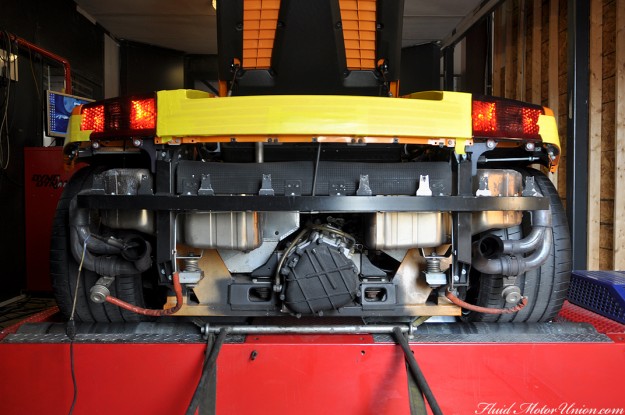 Instead, the owner has chosen to upgrade to a set of ADV.10s, the ubiquitous ten-spoke design from wheel mavens ADV.1 Wheels. The lips are color-matched to the Gallardo's Arancio Borealis, whereas the wheel centers are coated in a nice, glossy black. It definitely adds some aesthetic aggressiveness, whether those wheels are sitting still or spinning like mad.
Now, down to brass tacks. You may have seen our FMU Gallardo Full Exhaust video that we posted up at the end of last week. That's a full exhaust system that incorporates pass-through resonators alongside custom cat-delete pipes. This Gallardo is in the shop for something similar, but just a bit more raucous. In lieu of the system profiled last week, this owner has chosen to straight-pipe his Lamborghini. Oh yes, that V10 fury will be on display for all to hear, and we're custom building these straight pipes just for him. In order to start this build, we took the Gallardo off the dyno, moved it into the fabrication shop, and removed the rear wheels, rear bumper and OEM exhaust.
Interesting note — Arancio Borealis seems to change its hue depending on the amount and angle of ambient light. It's really pretty interesting when you see it move from one room to another and you think to yourself, "Is this even the same car I was just looking at?"
With the introduction out of the way, it's time to get to work. We've got our X-pipe tacked together, and we'll be building the remainder of the exhaust in our typical FMU fashion, with plenty of photographs and gorgeous TIG welds.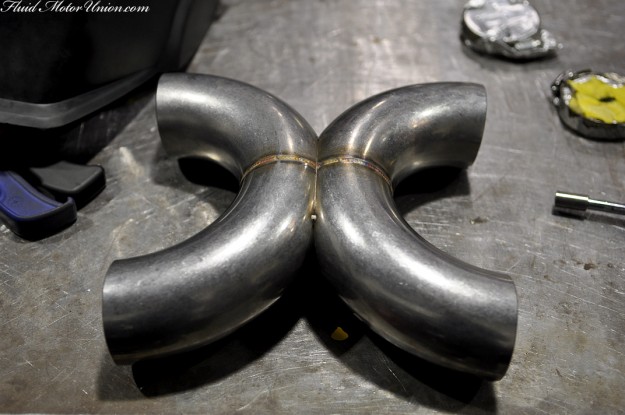 However, this isn't the only Lamborghini we have in the shop for a bit of exhaust work. Come back tomorrow and we'll introduce you to Number Two. Have a great day!