08 Mar

Optimus Primer

We'll give you one guess to figure out what today's blog post involves. And no, it's not about trucks that turn into people.

Primer is the name of the game today. We'll start with a homegrown project that's steadily been coming together over the course of many post-workday evenings. Tom's been putting in tons of work to get his custom engine bay ready for paint, and it's finally that time! So he slapped on his coilovers, so that he could roll the car across the lot and into the paint room.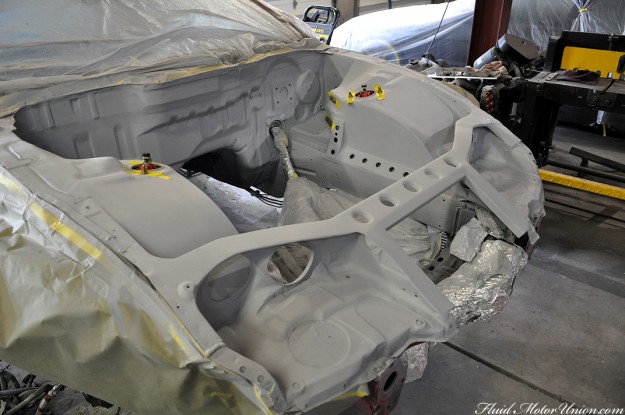 A few coats of paint (and a few of clearcoat) later, his engine bay is rocking a stunning shade of black, commonly found on the Nissan Titan. When it's in the sun, it has a great depth with a good deal of flake in the paint. Either way, it's hard to shoot under most lighting conditions, so hopefully one of the two pictures below do it justice. If not, we're sure we'll be shooting it again sometime soon!
The next step for Tom is to get his wheels painted. He's already removed the faces and prepped them, so all that remains is putting in the time and effort to lay down some more layers of paint.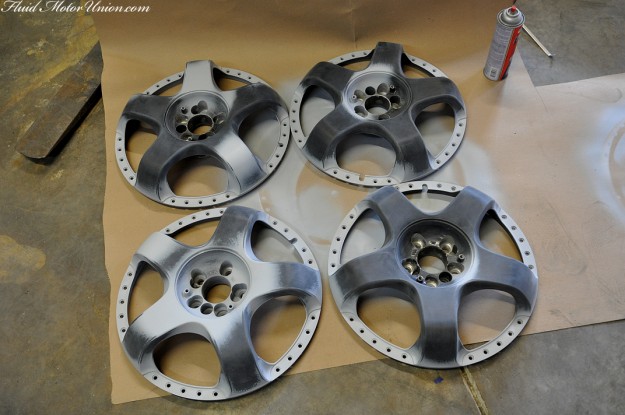 There's also a good deal of action taking place in the paint area during work hours, too. Right now, Vern's been hard at work touching up a good deal of cosmetic blemishes on the front end of this Mercedes CL500. It's in for a whole slew of service related business, but for now we're focusing on the body. There was also a massive split in the bumper down by the foglight, which we patched up, making extra sure to pay attention to the various contours and body lines going on down there. From there, we wrapped the front and readied it for a quick blast of primer.
With the primer down, we sanded the surface and prepared it for the paint booth, which we rolled it into shortly thereafter. Now it's time to get serious and lay down some layers of the correct shade of silver. It's going to be a whole new car once we're finished with it. We're almost as excited as the owner is!
Along with the aesthetic refresher, we sent her wheels out to be refurbished. They were in pretty rough shape when they left, but upon their return, they look practically brand new. Like we said, it's going to be a whole new car when we're finished with it. And that's exactly the kind of attention that a car of this caliber deserves. After all, even though the going price today might be low, they were expensive pieces of German machinery when they rolled off the factory floor.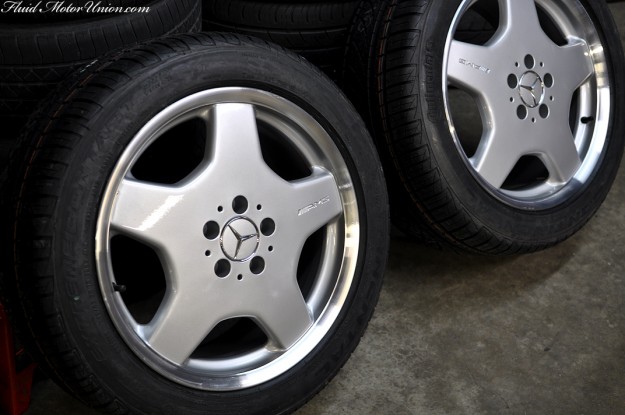 Finally, we have….this. Oh dear, this looks like trouble.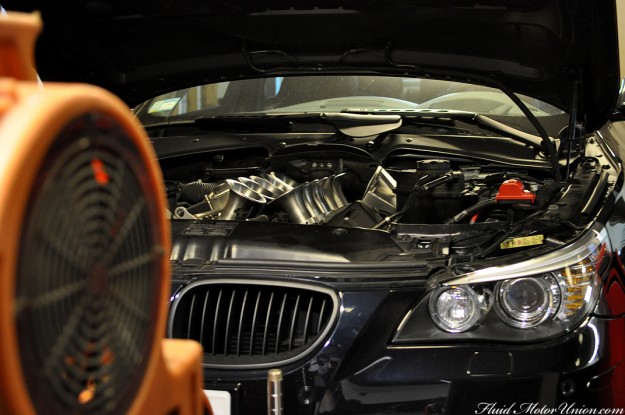 And thus caps off the week for the Fluid MotorUnion blog! As always, have an excellent weekend and we'll see you back here on Monday!