12 Apr

One Fair Lady

In contrast to yesterday's German and American cars, we've got a minty fresh Japanese addition to FMU's service stables that arrived just yesterday.

What you see here is a 1986 Nissan 300ZX. It's known as the Z31 to Nissan fans, and is also known by its Japanese moniker, the Fairlady Z. It's a gorgeous coupe, featuring all the things that made 80's Japanese cars great, including T-tops, a very boxy styling and — of course — pop-up headlights.

There were two power options available, both involving a 3.0L V6 motor here in the states. The top-of-the-line VG30ET motor featured a Garrett T3 turbocharger with a 7.8:1 compression ration, putting power squarely at 200 bhp, mated to a five-speed manual. Yeah, these days it doesn't seem like a lot of power, but bear in mind the 1980's didn't burden us with all these ridiculous lane-assist and moving-headlight systems, so there's less weight to contend with. It's spry, even in 160 bhp naturally-aspirated form.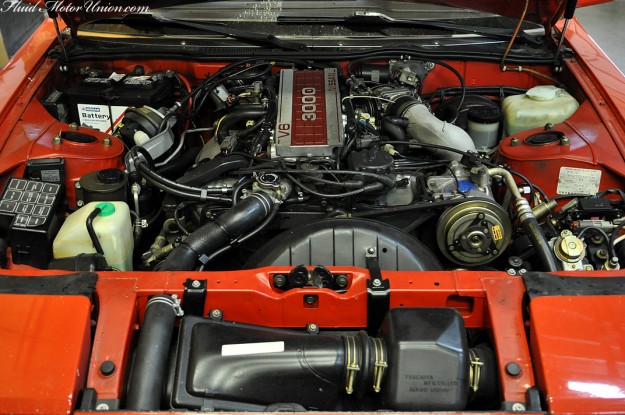 To say that this car is in good condition would be doing it a disservice. Aside from the normal exterior wear and tear you'd expect in a 27-year old car, this specific Fairlady is in sterling condition. The leather's a bit cracked in the interior, but otherwise the car looks to be in outstanding condition. The 300ZX embroidery is still visible and detailed, too!
As one might expect from an 80's sports car, there's all sorts of interesting technology creeping around the interior. The radio stack looks like it was pilfered from a robot, or perhaps an expensive 80's hi-fi system. There's even steering wheel controls for both the audio and cruise control, something that never really gained traction in the mainstream until recently. Although, back then, the volume was still dial-operated, and you can tell it's the one button on this steering wheel that got the most use.
Obviously, we saved the best interior feature for last. There weren't too many cars that utilized it, which makes it even better when you see one in working condition these days. We're talking about the Fairlady's digital dash. It looks like something out of Tron. The best part is the tach, which has the vehicle's stock power curve as the top limit for the segments that make up the tach's digital readout. Pretty fancy, eh? You may be wondering how this is all in such good condition. Well, one quick glance at the odometer will tell you — with just over 66,000 original miles, this car has been driven, but it averages out to only 2,444 miles per year. We don't blame the owner for being selective with his drives; after all, if you can't open the T-tops, what's the point?
And that's it for this week of Fluid MotorUnion blog posts! Have a safe and wonderful weekend, and we'll see you right back here on Monday with more exciting original content you won't find anywhere else on the web!