22 Aug

Motor Union 2011 – The Recap

Posted at 14:55h

in

Anthony's C55 AMG

,

Ashley's 335i

,

Blog

,

BMW

,

Dick Cook's E46 M3

,

Eric's Z4M

,

FMU Customer Projects

,

FMU's E90 M3

,

FMU's Genesis 2.0T

,

FMU's M45

,

Gary's E39 M5

,

Gold Wheels

,

Hyundai

,

Infiniti

,

John's C32 AMG

,

Jose's E46 M3

,

Kris Boss's M3

,

Mercedes-Benz

,

Mike Burroughs' E36

,

Project X

2 Comments

After what can only be described as a whirlwind of a weekend, we finally have the recap together for Motor Union 2011.

It began just like every other Friday; just much, much earlier. As we, the Fluid MotorUnion crew, assembled around 5:30 in the morning, the sun was on its way up and the Red Bull was already flowing like water. Everything was finished the evening beforehand, so we arrived at the shop ready to load up the remaining cars and head towards Autobahn Country Club in Joliet, the home of the inaugural Motor Union.

After a couple navigation errors, we arrived at Autobahn in one piece. Despite the roads never working in the favor of our cars, everything was still ready to rumble, so we put together our miniature lineup of cars and helped everybody else arrange themselves into place.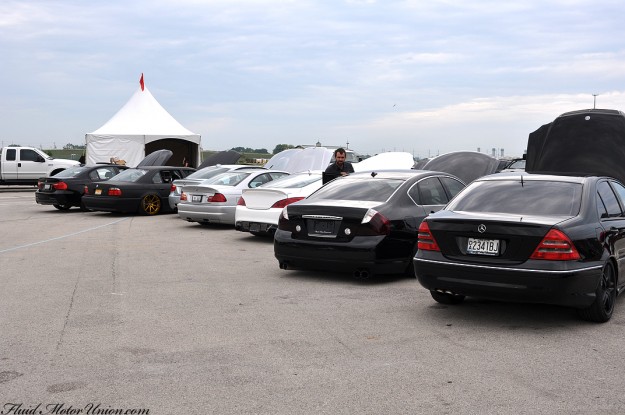 We weren't alone in our quest to make Motor Union epic, either; we were helped by Jeremy (Moose), Dan (Oxer) and Señor Bfurroughs of the clan known to the world as StanceWorks. They're not only our partners in all sorts of crime, but they're great friends of ours and we are always excited to have them in town. Their help over the course of the weekend was immense, and we cannot thank them enough for their help. They also brought along some serious swag thanks to their new online store, otherwise known as The Lowly Gentlemen.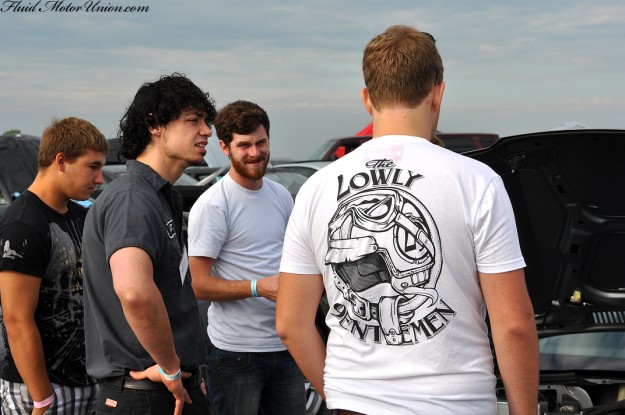 After arranging the cars, helping the vendors set up their booths and everything on the service side of Motor Union, we took a breather to listen to the drivers' meeting, as we had planned on putting a few FMU cars on the track, and there's no way we'd go out there without knowing the flags, passing zones and proper lines. There were several people that volunteered their day to instructing drivers, as well. Many thanks go out to Sportbike Track Time, Autobahn and the volunteers for helping us make sure everything was organized and everybody was safe and comfortable behind the wheel.
With the drivers' meeting over, your humble narrator hit the paddock to photograph as many cars as humanly possible before they started separating to hit the track. Apologies if your car isn't featured here; not every shot turned out well, as the screen on the back of the FMU Nikon D90 likes to show these gorgeous previews of pictures, which look nothing like the overexposed direct-sunlight swill that ends up in our various Adobe programs. Young and old, EUDM or JDM, everything was representing. For now, we'll let the pictures do the talking.
GoPros and painters' tape were about as popular as extra sets of tires and fold-out chairs.
The bikes lined up opposite the cars, and you could tell the two-wheelers meant business. It turned from a flat piece of empty space to a sprawling tent city in no time at all.
To break down the narration wall very quickly, I was absolutely in love with this Evo. Genuine Voltex rear diffusers are what dreams are made of.
Even the spectator lot had an interesting car or two smattered about.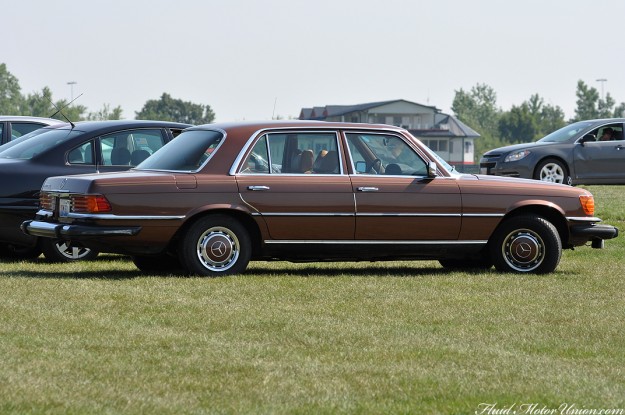 As always, Burroughs had his camera with him. Along with the shots of pictures, he was also helping a young child's dream come true. That kid is definitely NOT looking at the camera 😀
Later on in the show, two *very* custom classics rolled into the show.
And we can't forget to mention the Swedes. A Volvo and a Saab came out of left field swinging; both cars had capable drivers and they really worked it out on the track.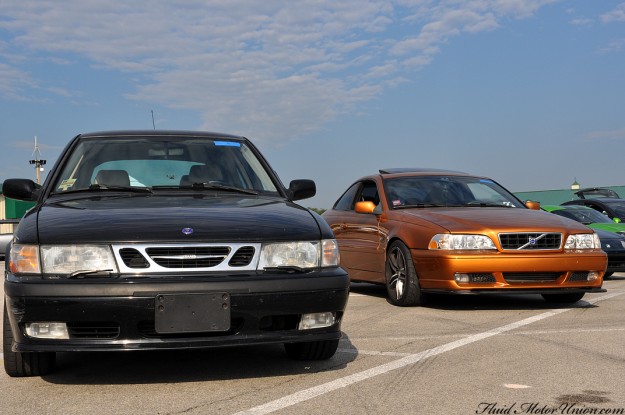 And with that, the track event began. Both bikes and cars participated, with two classes of cars and one of bikes. Obviously, for insurance reasons, cars and bikes were never on the track at the same time. Either way, there were no "rubbin's racing" mentalities or loony drivers hell-bent on passing at the apex, so everything went as smooth as silk. A bit of debris was thrown around, a bit of fuel spilt, and a camber arm broken, but that's all because race car. A big thanks goes out to everybody for being kind, respectful and most importantly awesome. Just like the above photos, the ones shown here were the ones that came out halfway decent.
Eyes on the road, Mark. Jeez.
And that's it for the FMU-sourced pictures. There are other shots popping up on YouTube and Flickr and various forums, such as JDMChicago. Overall, as mentioned earlier, everybody seemed to have a great time, and we couldn't be happier with our first ever track event/car and bike show. Here are the award winners, also. Sorry if the names aren't terribly descriptive — couldn't find the proper winner's sheet before the blog writing commenced.
Lowest Static AND Most Stretched Tire: Kamil's blue E46 Coupe
Most Creative Exterior: Viga's red E92 M3
Most Creative Interior: The purple classic custom
Cleanest Performance: The white E46 M3 w/ color-matched Enkei NT03s
Cleanest Overall: The Evo w/ JDM Evo 8 rear clip
Cleanest Bike: Red Ducati 1098
Best Engine Sound: Anthony's C55 AMG
Best N/A: The red E36 (M54 swap + OBD-I)
Best Forced Induction: Colin's M3
Again, we cannot thank everybody enough for coming out to our event and enjoying themselves. An extra special thank you goes out to our vendors: Mercedes Benz of Orland Park, BMW of Orland Park, Bosch, NOS, StanceWorks/Lowly Gentlemen, The Nurses, Statewide Towing, First Midwest Bank and Elite Detail. Yet another thank you is extended to Aeromotive and Borla for hooking us up with some great raffle prizes, and to everybody else that sent us a serious amount of swag to hand out. Without all of you, we wouldn't have been able to achieve the Motor Union we all wanted, and we are forever grateful. It's not just us that helped turn this into a reality, it's every single one of you. Thank you for supporting us for the past few years as we've continued to grow. Finally, one last thanks to Mike Burroughs for this fantastic picture of the FMU crew sans Eastway: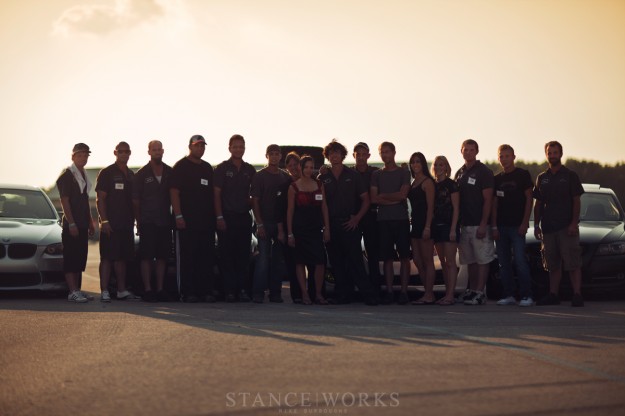 We'll see you next year! Get ready for Motor Union 2012!!