17 Dec

Monday Randoms

Let's start off our last full week before the holiday season with a random smattering of what we've been up to in various corners of the FMU campus.

First up, during the course of starting the 190 and making sure that everything is running properly, we encountered a small clearance issue at the front of the motor. There's a small nub's worth of metal coming out from the front of the motor, off one of the pulleys. It was occasionally contacting the fan shroud, and seeing as how that's not supposed to happen, we had to do a little bit of work to fix that. After removing the belt and the offending pulley (along with the fan and shroud, so we could get everything out), we ground down the nub to a flat piece and reinstalled everything. A quick restart, and we're back in action!

A little while back, a Nissan 240SX rolled through the shop for a bit of maintenance work. His front main seal was nearing replacement, and as a result it had decided to start throwing oil in various parts of the front undercarriage. This is a quick shot we took from underneath the 240, prior to replacing the seal. As you can tell, it's pretty darn oily down there, covering just about every piece connected to the front suspension. If you're not a fan of having to break out 3 consecutive cans of brake clean, make sure to get your vehicle looked at when an issue starts to arise.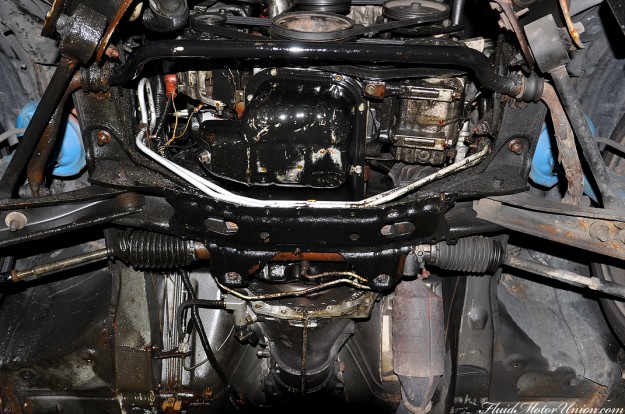 Now let's take a look at an employee's side project that's made a bit of headway — Tom's Z32. While in the process of cleaning up his engine bay for his upcoming massive wire tuck, he realized that if he wants to go as low as he wants to, he'll need to modify the wheel wells a bit. And that's exactly what he's doing now. After cutting out all the unnecessary metal and cleaning up the corners, it'll be time to start getting down and dirty with some custom fabrication to produce the exact look that Tom's pursuing.
Next up, a car came in for service that we don't usually see in modified form. Hell, on the whole, Volvos are typically an underrepresented car in the aftermarket scene. Aside from a few cool older ones we've encountered on StanceWorks and around the streets of Chicago, it's less of a tuner platform than you might think. The following Volvo, though, doesn't need extensive modification to be a pretty stout machine. This is a Volvo S60 R, modified (as far as we know) mostly through some light aesthetics that help add a bit of aggressiveness to the OEM look. With 300 bhp and 300 lb-ft of torque available through a Haldex AWD system, this car is no slouch. It's just in for basic maintenance, but since they're relatively few and far between, we figured we'd throw it up on the blog for a little five-cylinder lovin'.
Finally, we're pretty much right smack dab in the middle of the holiday season here in the US, so it's about time that we put up our yearly decoration, the inflatable Christmas tree that oversees our service bays from atop its second-story perch. This year, though, the tree has an extra friend hanging out up there as well, supervising us while we work: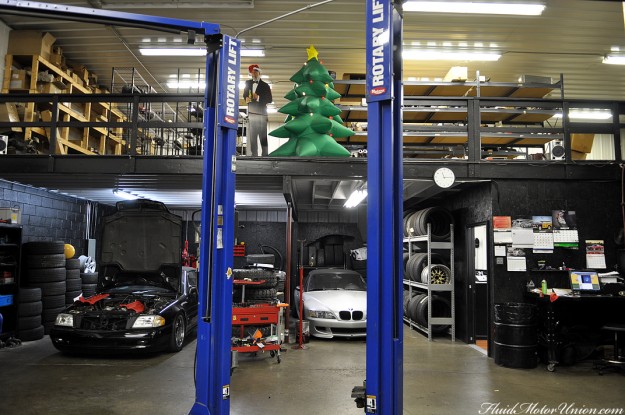 He doesn't always put on a Santa hat, but when he does, he prefers to wear it for the fine gentlemen at Fluid MotorUnion.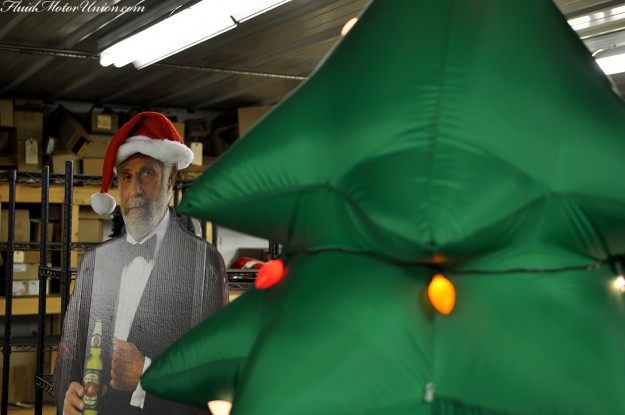 Stay thirsty, our friends. And have a great week — for many of you, this will be the last full week of work before a few days off!