28 Apr

MFest V – The Ultimatum – Part II

Today's post is going to be relatively straightfoward. Pictures, pictures, pictures.

When we last left off, we were on our way to Las Vegas Motor Speedway's road course for the big Saturday event at MFest. This was everybody's shining moment. And since there were no clouds to block the direct sunlight, there will definitely be all sorts of shining in these pictures. Without further ado, the main event: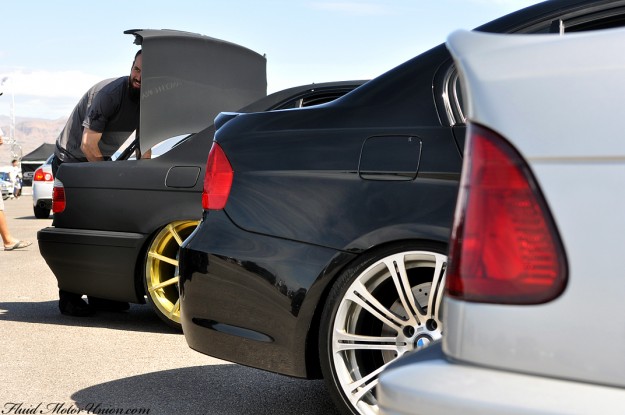 The LFA was moving so quickly down the track that this was the best shot I managed to grab. It was incredible to see a car so rare actually put down some hot laps. And the laps were exactly that – hot.
This is one of my favorite cars from StanceWorks. After seeing it in various locations throughout the weekend, it deserved some shots, despite not being a BMW, it's a seriously dope wagon.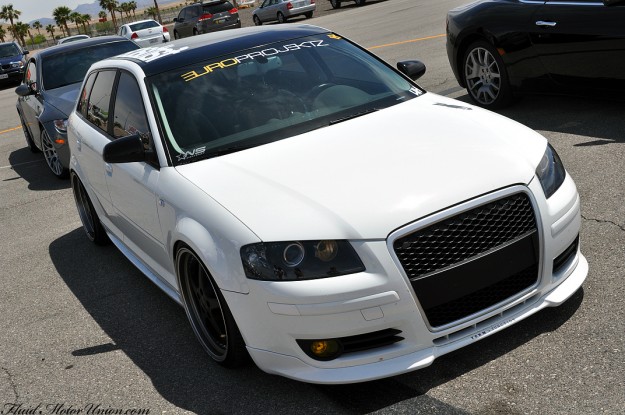 Indeed it is.
Ladies and Gentlemen, I'm proud to announce the winner of Miss MFest 2011: OJ's 90-year old grandma! Not even kidding, she absolutely destroyed the competition in terms of applause. Anybody that can rock layers (plus a denim jacket) in the 90-degree Vegas heat deserves the crown.
And finally, one last little tidbit of information. If anybody can find us the identity of the crazy low, flat black BMW that destroyed this speed bump outside of Palazzo, we'd love to have it. That speed bump was a very good friend of ours, and we demand justice! But in all seriousness, whomever (and we stress the word whomever) hit this speed bump must have done some seriously obscene things to their undertray. Not that we know who did it.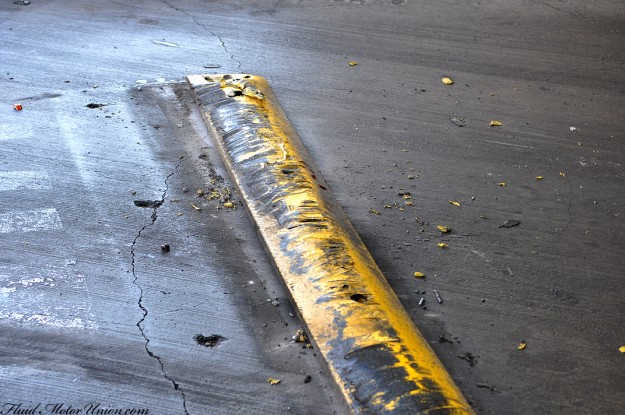 It's always good to leave a lasting impression whereever you go.
The rest of the trip was uneventful. OJ went out with Sam from Eurotuner, we checked out of the hotel, packed our bags, collected OJ and departed. Hearing about some nasty weather up north, we chose the south route, riding I-40 most of the way home. Aside from one seriously underwritten speeding ticket and one more pesky X5 MAF sensor, the trip home was wholly uneventful, in a good way. The ride home took about 32 hours, thanks to St. Louis traffic and rain that started in Oklahoma and hasn't yet stopped. Now that we're back, though, it's back to business as usual.
Big thanks are once again owed to Chris Naguit for putting everything together and hosting an insane festival every year. As the number of attendees grows, so does the amount of work necessary to run such an operation, and we owe him everything for giving us the chance to roll out to Vegas and try to keep reinventing the scene year after year. More props are owed to the guys over at WC Motoring for helping us out last minute, Randy at Savini Forged for helping us find wheels for Gold Wheels about 2 weeks before MFest, Sam from Eurotuner, Mike Burroughs + Andrew + Ben from StanceWorks for taking a few minutes to hang out with us and finally see Gold Wheels, and everybody we stood around and shot the shit with during the course of MFest. On a personal note, my thanks goes out to the entire crew of Fluid MotorUnion; without your willingness to go without sleep and bust ass until the wee hours of the dawn (and not stop then), I would have never been given the chance to get out there and document the madness. There's a lot of hard work that goes into this festival, both in front of and behind the scenes. Pats on the back are well deserved, but not nearly enough. We can't wait to get out there next year!