27 Apr

MFest V – The Ultimatum – Part I

And so it begins…Day 1 of a 2-day-long post, covering Fluid MotorUnion's trip out to MFest V in Las Vegas.

Wednesday, April 20th.

Wednesday was any other day at Fluid…except not. Yes, there was plenty of work to be done, and yes, everybody was running around to get it all completed in time, but something was different. There was a time limit. All the things we were working on were directly related to our MFest departure that evening. If we got stuck with too much work, we'd miss the meet-up in Denver. If we got stuck with even more, we'd miss our departure window and the beginning of MFest. So, with deadlines looming overhead, work continued. Once the sun had gone down, we had built, prepped and tuned 4 cars for our departure: Dick Cook's M3, Ashley's 335i, the X5, and the FMU project car which has been with us since we started reinventing the scene, Gold Wheels. We had missed our window for the Denver meet-up, but that mattered less than actually making it to Vegas. So, as 10pm approached, we began the art of packing every single tool in the shop into our cars, added our personal belongings, extra wheels and tires from our somewhat massive collection of extra wheels and tires, and chargers for every type of phone imaginable. In the interest of keeping all 4 cars together without having to rely on cell phone signals that might not exist on the road, we also brought 2-way radios. These would prove invaluable later. For now, though, all we wanted to do was hit the open road. So we did.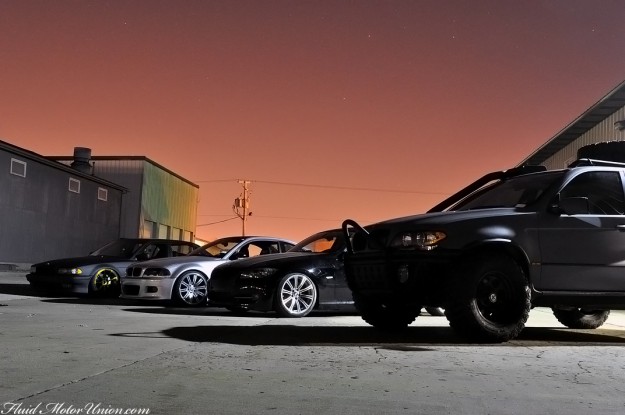 The beginning of the roadtrip was mostly uneventful. Craig and OJ fell asleep, which they needed to, having been up for most of the week prior to MFest. With Ashley driving her car, Aaron piloting the X5, Zach in the M3 and your humble narrator in Gold Wheels, we set off westward. I had been told that this trip would be nothing but work, as opposed to nothing but play, and I received my first taste of this as we drove through Iowa. On a gentle left bend, the shaky pavement quality had dislodged Gold Wheels' amber corner light from its housing, and it dangled precariously close to the wheel, where one small snag could have been less than desirable. Thankfully, with the two-way radios working, I was made aware of the situation, so we pulled over to fix it. The rest of the night drive was uneventful, staring out at infinite black until the sun slowly began rising over a very boring Nebraska horizon. And then it began. Nebraska reared its ugly head.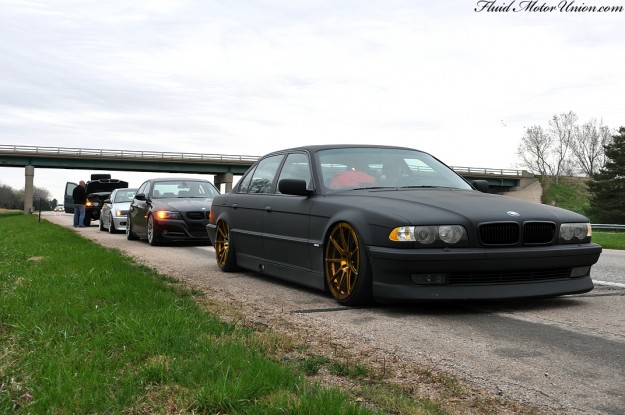 Mechanical problems are expected with a number of vehicles. With vehicles that you've just spent a week attempting to bulletproof, problems aren't expected, but maybe they should be. The first car to sideline itself was the X5. After a quick removal of the MAF sensor that continually triggered limp mode for no reason whatsoever, we were back on the road. It was at this point that we met Walter and his girlfriend. They knew of our shop from the internet, and seeing us on the side of the road, offered to stop and see if they could help, also being en route to MFest. Having brought an entire garage of tools and techs, we were fine, but most importantly we made a new friend and addition to the convoy. So off we went.
Then, Gold Wheels was the next to take a hit. One night of driving on roads covered in rocks and dirt had begun to take its toll on the wheels' paint: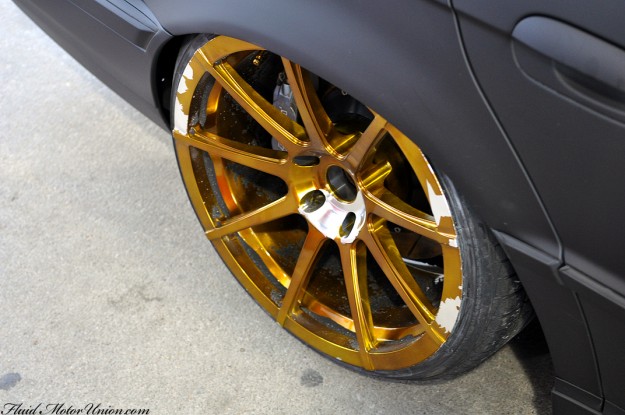 Since paint wasn't really a problem that could be solved on the road, we soldiered on. I had just passed driving duties onto Keller, when the Fluid mantra of It Sucks to Roll Hard came to fruition. The rubbing from the edge of the fenders had been slowly nicking away the sidewalls of the front tires, and after a few hours of driving, both sidewalls decided to separate from the rest of the tire. Gold Wheels now has 2 functional tires. Thankfully, half of the M3's wheels fit perfectly over Gold Wheels' Rotora big brake kit; but that meant the M3 needed two wheels. Thankfully, we had replacements, but we only had 2. These wheels and tires now needed to last the entire trip to Las Vegas. No pun intended, a lot was riding on this. After the swap to different front wheels (1″ smaller in diameter), Gold Wheels was seriously slammed. Like, seriously slammed:
After a quick adjustment to Gold Wheels' ride height, solely to ensure a proper working oil pan and exhaust system upon arrival, we hit the road. The weather was beginning to cooperate, so I tried out my first attempt at some rolling shots. An all-nighter of driving might be tired, but there's no better way to wake up than to stick half your body outside of a vehicle at 80 mph without seatbelts:
Meanwhile, Nebraska continued to be boring and suck-filled. One state trooper pullover later, we had a warning for no front plate. Nebraska eventually ended, and we breathed a sigh of relief as we drove up the foothills into Colorado. The weather warmed up, the sun came out, and spirits were lifted. We stopped for a quick drink and disposal of Red Bull cans and empty packs of jerky and cashews: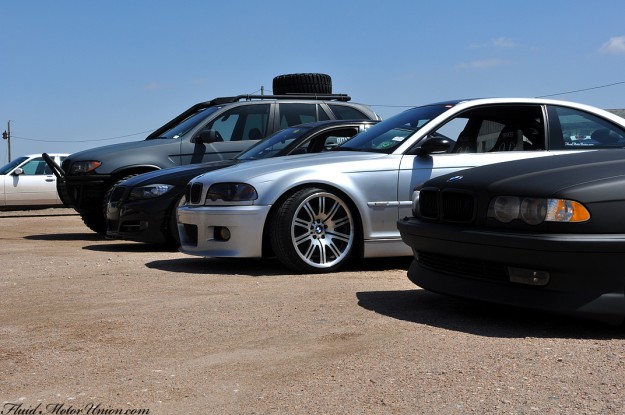 Colorado was uneventful. Driving through the mountains was certainly an experience, though; Gold Wheels powered around mountain curves like nobody's business, but Aaron was probably having the most fun out of anybody in the X5. His racing roots took over, and he was carving apexes in a vehicle that was most likely designed without a single utterance of the word "apex." Once we descended from the mountains, nighttime once again reared its head. After finding Walter a few miles ahead of us and running out of gas in Utah, we helped him limp to the closest gas station (16 miles down the highway, after about 30-40 miles of no gas stations), and we set off once again. Some more tires were rotated from front to rear, gas was replenished, and we made it to Las Vegas with little issue.
Earlier, you saw that Gold Wheels' gold paint was beginning to disappear. Thankfully, we found a solution. A gentlemen who worked for a shop in Vegas had heard of us, and offered his services to Fluid, so we could get our cars ready for the show the next day. They helped us in every way possible, even letting us use their equipment ourselves. We wouldn't have had a successful MFest if it weren't for the guys at WC Motoring. We owe them a lot, and their willingness to help us out makes us realize that the automotive culture is one of helping and not hating. If you're ever in Las Vegas, check them out.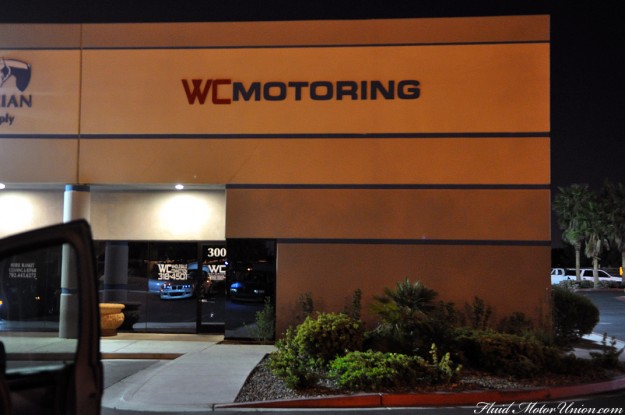 After leaving Gold Wheels in the WC Motoring lot, we finally checked into our hotel rooms at the Palazzo, sometime around 3 am. With the driving halfway completed, the next step began. It was time for MFest. But first, it was time for sleep.
Three hours later, we awoke. OJ and a few others headed to WC to take care of the rest of Gold Wheels, along with washing the remaining cars. In the meantime, the rest of us took care of something that needed to be done — prompt destruction of food.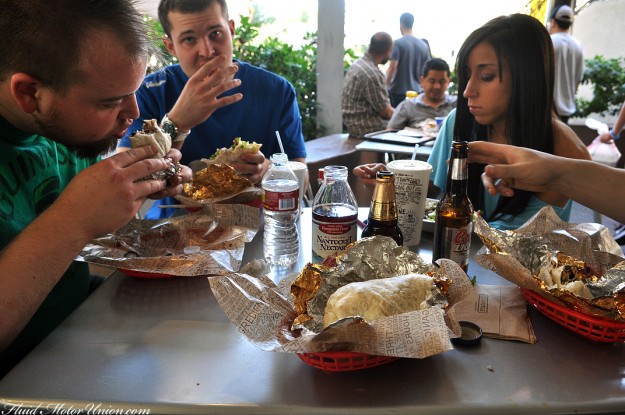 We also headed over to the Forum Shops in Caesar's Palace to get Tom some shorts.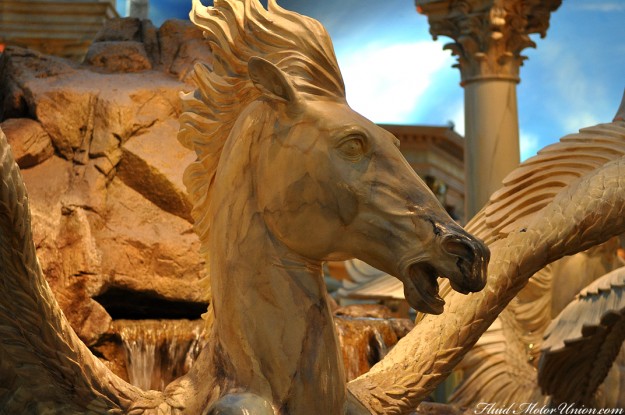 Once that was completed, we waited for the arrival of the Fluid MotorUnion MFest cars, and we shoved off to the first event at MFest — the drag races:
We arrived at the Las Vegas Motor Speedway just as night began to fall. We parked and decided who would be dragging that night. Ashley had been chomping at the bit to race her 335i, so we happily let her take the single drag ticket we had. With Craig in the passenger seat, and about 100 lbs of ballast in the trunk (we were on a road trip, after all), she set off to the track. Her first run was also her first win; the E90 M3 that had talked smack to Ashley based on her gender was promptly embarrassed as Ash ripped through the gears to beat the M3 by over a car length. Her best run of the night was 13.6, which wasn't bad considering all the extra weight in the vehicle. With weight reduction, she could have broken into the 12's easily. Congrats go out to Ashley for her first successful run at the drag strip. She was smiles from ear to ear as we left the drag strip for the Vegas strip.
Upon returning to the Palazzo, we locked the cars in the garage and went out for a couple drinks to celebrate a so-far-successful journey. The next morning arrived quicker than anticipated, so there was a bit of a fast pace as we packed up the cars once again and headed to the first event of that Saturday, Cars & Coffee. For the uninitiated, Cars and Coffee is essentially a come-one, come-all event for all types of car enthusiast. And there was truly a wide variety of vehicular fanatics there; everything from a genuine 300SL to a line of Shelby Cobras, Ferraris to E30s, everybody melded together into a single parking lot obsessed with octane, rubber and all things speed. Being late, we parked near the end of the lot and proceeded to do our car show routine – open the hoods, answer questions, shoot the shit with car enthusiasts, and generally have a fantastic time. Everybody there was interested in something different; many enjoyed the unique styling of the X5, while others were blown away by Gold Wheels. No matter what, though, it was a great atmosphere in which to thrive as a car enthusiast. Despite the harsh direct sunlight, I tried my best to chronicle the wide variety of vehicles that spanned what seemed like an entire strip mall parking lot:
Oh, and there was an LFA there, too. Yep, *that* LFA. It didn't arrive on a trailer, either; somebody drove it in, revved it, everything a regular car that doesn't cost $300,000 would do. Old or young, this thing turned heads. I have no problem in acknowledging that this is probably the only LFA I will ever see in my lifetime.
Cars and Coffee was fun, but it wasn't the main event of the day. That was to follow, at the Las Vegas Motor Speedway's track. It was the main car show extravaganza, and we didn't want to be late. So we packed up the cars and headed north, past the strip and to the speedway. And that's where we'll pick up tomorrow, with our final portion of MFest V 2011 coverage.