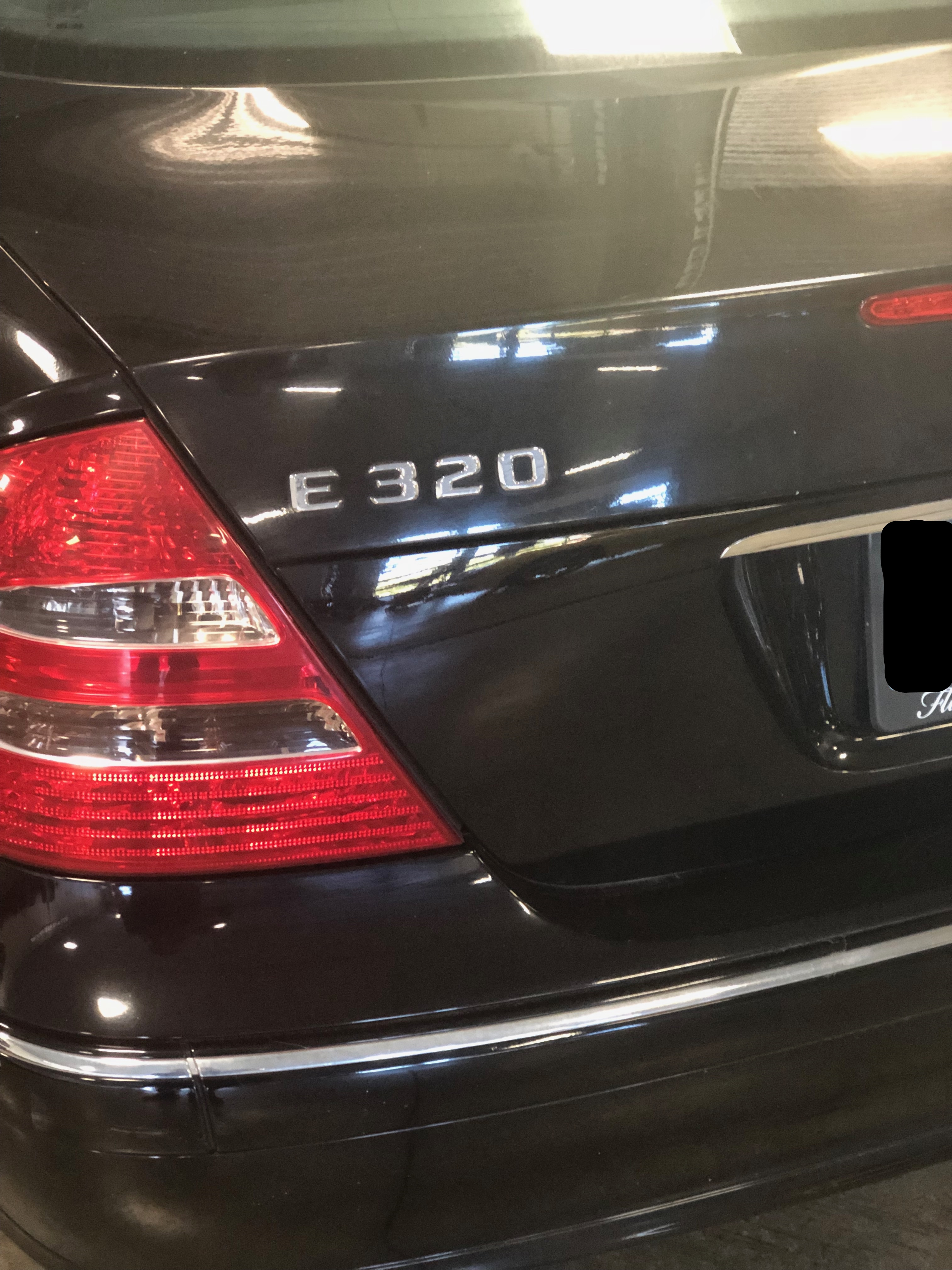 30 Oct

Mercedes E320 Suspension

Does driving your Mercedes E320 have you hearing more noises than it used to? While Mercedes Benz products are known for there sporty yet comfortable handling, over the years, their suspension components can take a beating. The Chicagoland area is especially rough, where our winters will leave potholes and road hazards that can quickly wear out even the toughest of vehicles. Often noises that are most pronounced while turning and when riding over bumps are an indication that a suspension or steering component is beginning to fail. This week we had a customer that came in with their 2003 Mercedes E class describing various vehicle noises that left them feeling a bit uneasy about driving

Since 1953 Mercedes has been building luxurious, and stylish sedans that have a reputation for there road manners. The legacy continues to today, but this particular example brought to us is an extremely familiar model here at Fluid MotorUnion, the W211 E-class. In the E320 trim, the V6 gasoline engine could produce 218 HP, while delivering the smooth ride Mercedes Benz Sedans were known for.

Living in the state of Illinois it's pretty much a guarantee that you will eventually hit an inconveniently placed pothole. During typical service milage, the suspension components like control arms can go typically around 80,000-100,000 miles. Potholes can shorten this expectation. Over time, the control arm ball joint is exposed to vibration, impacts, road debris, moisture, and salt. Most cars manufacturers suspension systems are designed to withstand massive impacts like the beatings that multiple potholes deliver over the years. Ball Joints also have a tendency to need to be replaced due to the dust boot failing. Once the dust boot 's rubber around the ball joint is ripped, grease leaks out causing the once smooth riding ball joint to become clogged and grind against metal. This is often the noise you hear while driving that gets louder when hitting even the smallest bumps. After a while this friction causes it to have a slight amount of untended movement called "play". This play creates a scenario that leads to rapid wear of the part, luckily it will also create a bit of noise, usually giving you ample warning before a catastrophic failure occurs Other symptoms of a bad ball joint are uneven wear on the tread of your tires.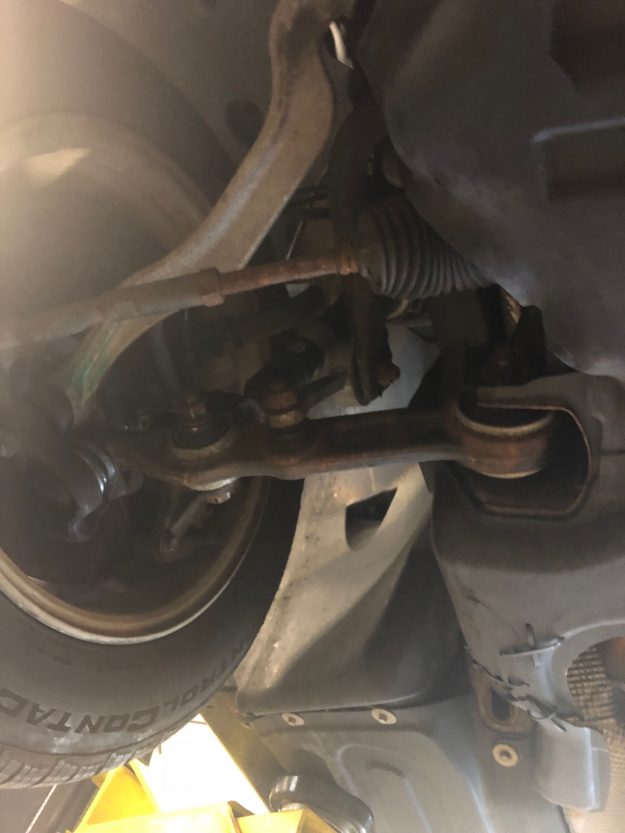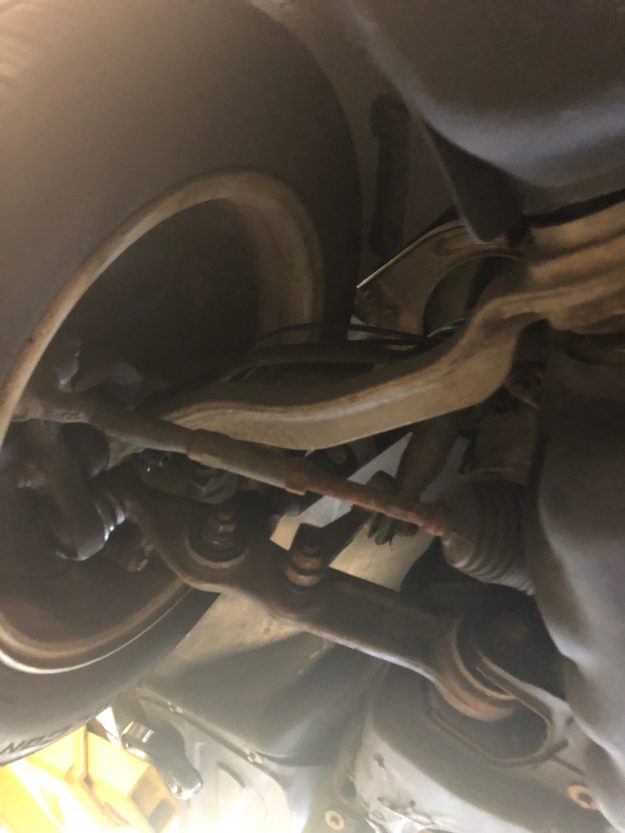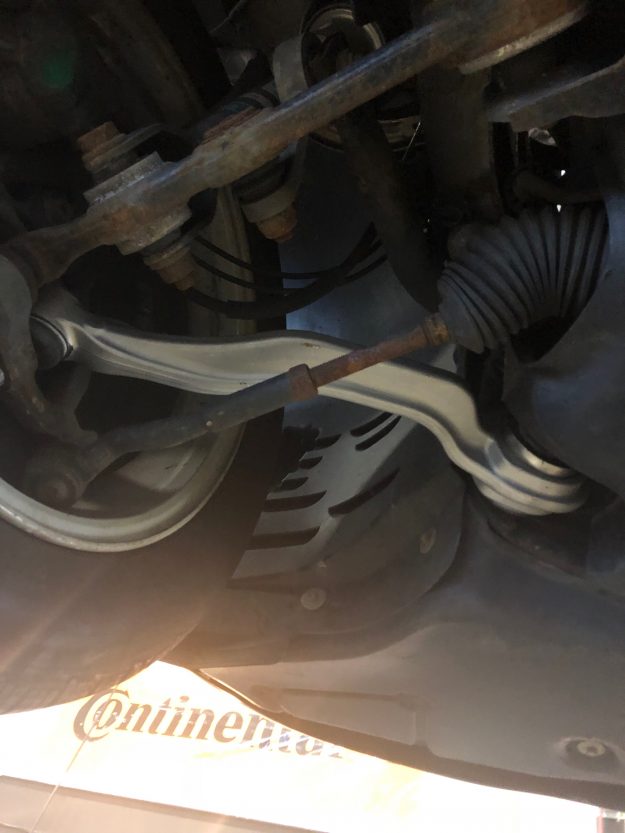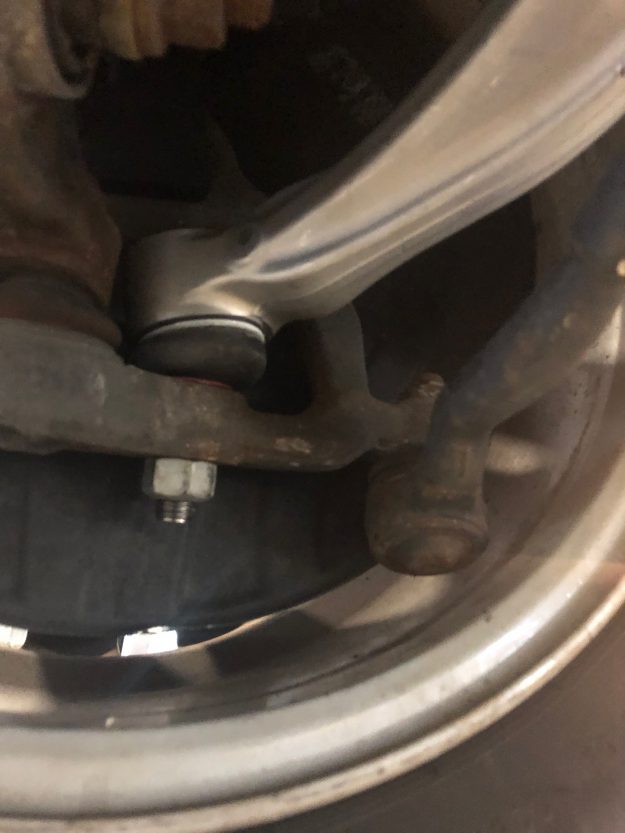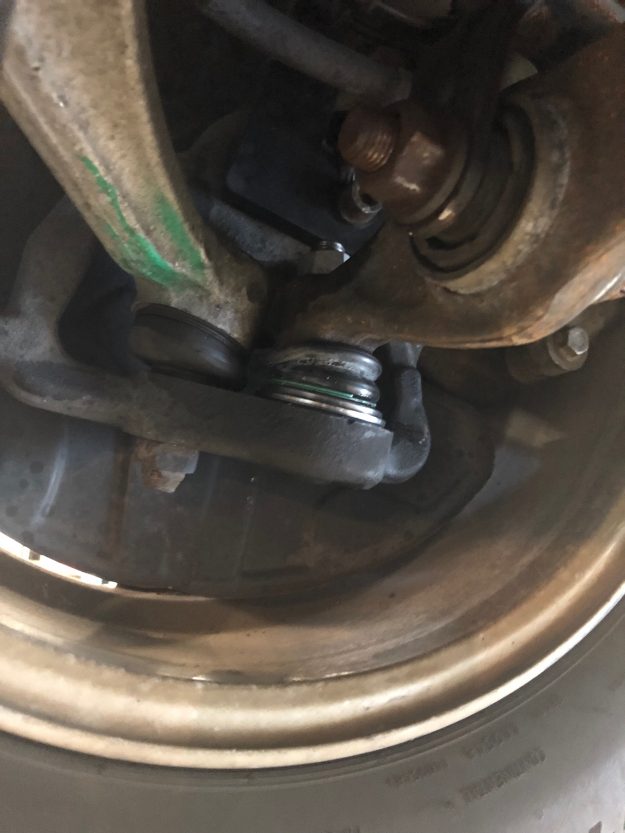 Clunking, Creaking, banging or knocking noises coming from the front end of your vehicle are all indications that it's time to have a car mechanic to perform a safety check. Our experienced mechanics took a short test drive verifying the knocking noise coming from the front of the car. Immediately we knew just where to look; this customer's Mercedes E320 had a bad control arm and ball joint.
If you are noticing any of these symptoms, please give us a call to set up an appointment to have your vehicle looked over by one of our highly skilled mechanics. Letting suspension noises go too long can lead to a very unsafe emergency situation where you could possibly lose control of your vehicle. If Safety and handling is a priority in your 2003 Mercedes E320 then make an appointment at Fluid MotorUnion to take a look at your vehicle, to properly diagnose and fix the problem in your car. We are located off of the route 59 exit of I88 in Naperville Illinois. Please don't hesitate to call us (630)305-3054 or email Blog@fluidmotorunion.com