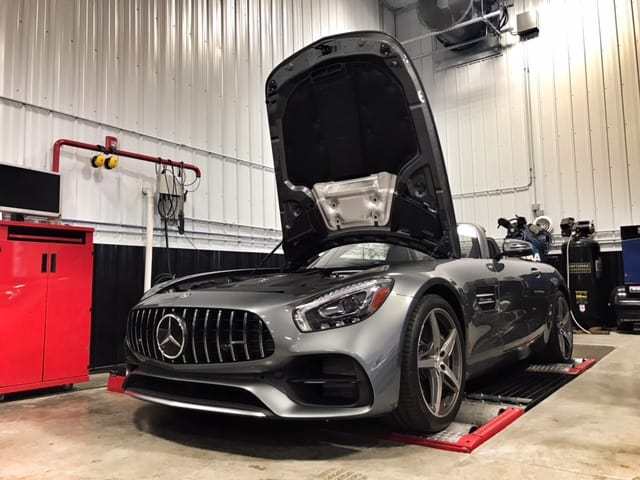 16 Aug

Mercedes-Benz AMG GT Baseline Dyno

The 2018 Mercedes-Benz AMG GT is delivered with an impressive amount of Horsepower. Now when speaking about power ratings, in order for a manufacturer to assure a customer that their vehicle's engine delivers the advertised performance, it must go through a standardized measurement. The "SAE J1349® or SAE J1995®" SAE Standard has been written to provide manufacturers with a method of certifying the power of a vehicle's engines. These Standards specify the procedure to be used so that manufacturer can properly certify the actual power and torque rating of a production engine. This number is rated at the flywheel, or before the transmission, and does not account for drivetrain parasitic losses. For some, 469HP just isn't enough, and that's why the owner came to us for his Mercedes-Benz AMG GT Baseline Dyno before the ECU tune and downpipes.

Of course, in order for us to know the true effect of the changes we are making to the power of the vehicle, we needed to test the vehicle at the wheels. It just so happens to be we have the perfect piece of equipment for doing just that, a Dyno Dynamics Dynometer. Known in the industry as the "Heartbreaker", the eddy brake and load cell offer readings that are smoother and more repeatedly accurate. While this might mean you won't see the big numbers that an inertia based dyno would produce, you will get consistent figures, and that means a better tune, especially those who go with custom tunes.

We were excited to see the car put down a pretty strong baseline of 400HP at the wheels, but we can't wait to see what it puts down after we install the Weistec downpipes and ECU tune.

If you were looking for the power numbers of a Mercedes-Benz AMG GT Baseline Dyno then hopefully this blog post helped. But, if you are looking to find out what your vehicle puts down at the wheels or want to get a custom dyno tune on our in house Dyno Dynamics chassis dynamometer, get in contact with us by shooting us an email at Blog@fluidmotorunion.com, or by calling us at 630 305-3054. Our dyno is conveniently located Iron Gate Motor Plaza in Naperville, just seconds off of the I-88 rt 59 exit.