29 Nov

Loud Noises

We've got loud noises coming from every corner of the shop recently. Let's figure what some of the louder ones are.

The first loud noise we're hearing is the deep, heavy rumble and subtle whistles of a biturbo V12. Upon turning your head towards the dyno, you'll realize immediately that there is nothing subtle about the car on the dyno — it's a Mercedes S65 AMG. It's longer than some boats, nicer inside than most houses, and if you add a tune to it, so torquey that it's capable of towing most military vehicles (disclaimer: don't try this under the assumption that we were sincere). Right now, it's up on the dyno, which is part of the diagnostic process we're putting it through for a small gremlin we're trying to uncover. We're always amazed with the real-world performance of these vehicles; you'd expect a heavy land barge like the S65 to be weighed down enough, but with a tune on that motor, things happen almost too quickly for human comprehension. What a beast.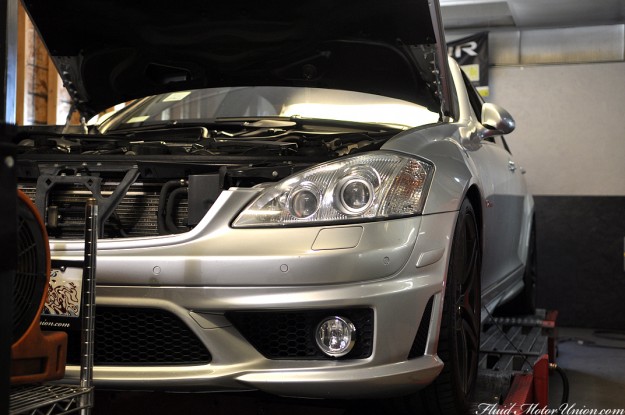 All around the shop yesterday, we were treated to the (very slightly) loud noise of a shutter opening and closing repeatedly, moreso than usual. Those noises came to us by the way of professional photographer (and good friend of the shop) Matt Magnino. He's a member of local Chicago photog group PhotoMotive (along with Jeremy Cliff and Brad Sillars), and we brought him to the shop yesterday for a very specific purpose. You see, Ben Koflach of Performance BMW Magazine hit us up recently, wanting to do a profile of our shop for their magazine. Seeing as how that's probably the only way we haven't been in PBMW yet, we jumped at the opportunity and called on Mr. Magnino to take some shots for us. After several hours of checking out every nook, cranny and car on campus, we've got some good shots in the making. We'll also be using them for our service site, www.fmu-service.com, so we'll undoubtedly share them on the blog, as well. If you're local to Chicago and haven't had a chance to check out our service site yet, take a look and tell us what you think!
Finally, there's one seriously loud noise that has been reverberating off every wall on the Fluid MotorUnion campus, as well as on several other walls during test drives. Of course, we're talking about Tim's 993-swapped 911. As of yesterday afternoon, the exhaust was finished completely, and as you might expect, we have plenty of photos to share. Video, also, but that's coming tomorrow. For now, let's take a gander at the exhaust system as it sits tucked between the motor and the rear bumper.
As you can see, the single exhaust tip follows in the style of the vintage 911's "out and a little diagonal" OEM exhaust tip, it's just been enlarged a little bit and polished. The question mark-shaped part of the exhaust, which you'll see towards the end of the exhaust pictures, had to be implemented so that the exhaust piping could clear the aluminum HVAC piping directly above it. The exhaust diameter should be plenty for his current power level, and also sufficient should he come back later with the mod bug biting. We've also added a couple extra braces in the system to keep the pipes from moving around extensively while heated up. Overall, it provides an aggressive tone with a great overrun sound. Oh, and there are fireballs, which you'll definitely see in the video that we have coming up on the blog tomorrow.
Finally, we're still waiting on the powdercoated parts to arrive, but in the mean time, we've been putting the front end of Dana's Kawasaki Vulcan 2000 Classic back together. At the moment, we're bleeding the brakes after replacing the brake fluid to ensure that the new rotors will be clamped down upon correctly and efficiently, but everything's coming back together nicely, so we should have some great final-assembly pictures up for you soon!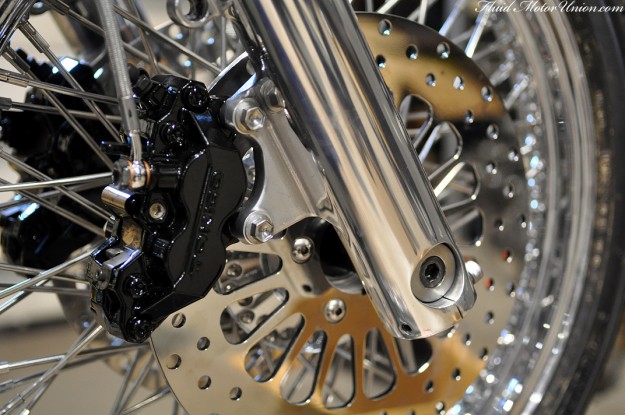 Don't forget to come back to the blog tomorrow for some 993-swapped 911 dyno action, complete with fireballs!