17 Jul

Little Car, Big Pipes

Once Dan's Accent has its headers and custom exhaust fully finished, it'll be breathing much easier as it scrapes along the pavement.

Last time you saw the Accent, we had just finished installing the headers. Now, we're moving onto the mid and rear sections of the exhaust. His headers came with a midpipe (including a flex pipe and O2 sensor bung), but sadly it had this bend in the piping that just wouldn't fit on the car, no matter how it was angled. Therefore, we took the next best possible route — we cut the flex pipe and header flange off the aftermarket midpipe, and went about constructing our own O2 sensor bung and subsequent piping. This way, it flows as easily as possible with the least number of bends, adding a couple extra ponies into the mix. Here's a quick shot of the bung right after we test-fit it: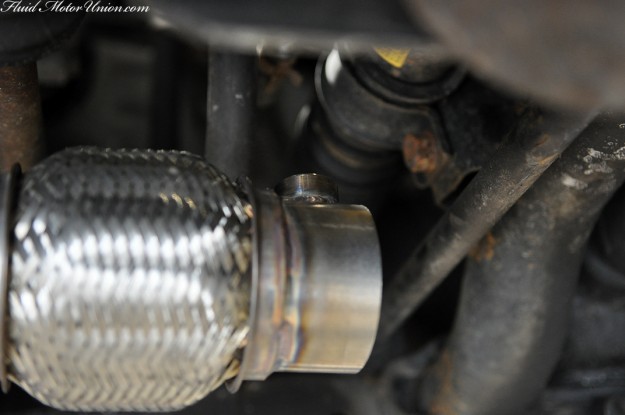 With that small roadbump already passed over, we moved on to the construction of the remainder of the exhaust. Here, we can be seen fitting pipe for the midsection with our incredibly pasty arms.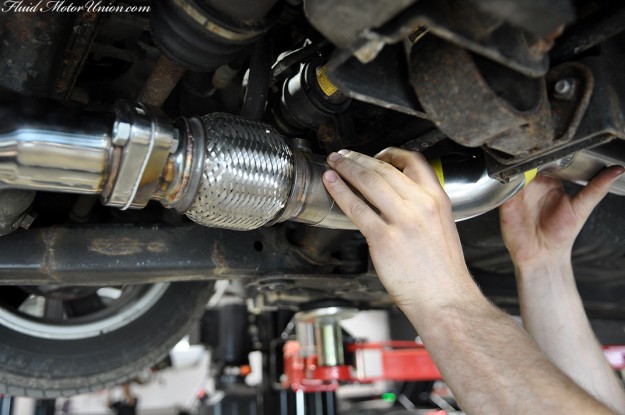 After some taping and some tacking, we came up with the new midpipe to replace the aftermarket segment that wouldn't fit.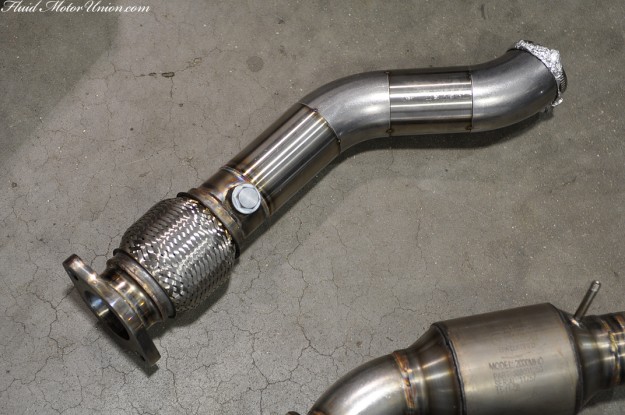 With the midpipe replacement completed, we started fitting the remainder of the rear section of the exhaust, including our favorite resonator, a Vibrant pass-through. Not only will it reduce rasp, it won't clog up the exhaust flow with unnecessary baffling. The best of both worlds. Here, you can see that part of the piping as we're putting everything together.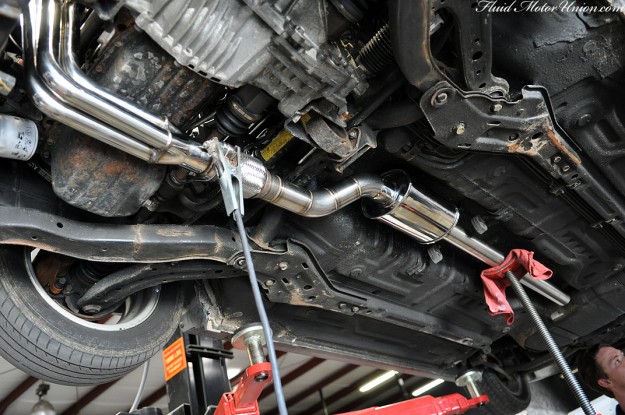 And now it's time for everybody's favorite part — zoomed-in pictures of the welds themselves! As usual, all the welds were done by hand using our TIG welder and argon backpurging to keep the flow in the pipe as smooth as possible. Reductions in turbulence leads to an increase in flow, and therefore an increase in potential power gains, as well.
Sadly, since this car has such a straight piping arragement, there aren't a ton of welds to showcase just yet. That will change, however, once we approach the rear of the car, as there are several suspension components to work around. In the interim, though, we fashioned up the mounts for the midsection. For these, we take a steel rod, which we'll heat up and bend to our specifications. Once it's cooled, we'll test fit it on the car and tack it to the piping. After some final welds, there you have it, nicely reinforced stainless steel exhaust hangers.
We'll be back soon as we cover the remainder of Dan's Accent exhaust, all the way to the tip!