18 Aug

Lexus LC 500 Convertible Custom GT Car Build

Fluid MotorUnion in Naperville gets its fair share of custom car projects, but if you asked us what's this year's favorite, it would be the custom LC 500 convertible build in partnership with Lexus NA. Working on a tighter budget than our previous projects, we set out with the goal of making this Lexus a head-turner, without the boy-racer vibe that often goes with modding vehicles from this Japanese manufacturer. We knew we needed to make this project unique, and it would put our design and creative skills to the test. Given our choice of 3 colors, some auto enthusiast might scratch their heads as to why a blue car with a tank top and light brown interior would be a good candidate. Many might be inclined to think that's it's about as seemingly far from sporty as you can get. Well, here at FMU we know that unique means memorable, and we can't say there are a lot of aftermarket tuners choosing tan topped vehicles of any make to mod. We knew if we could pull it off, it would be one of a kind. Plus we love a challenge.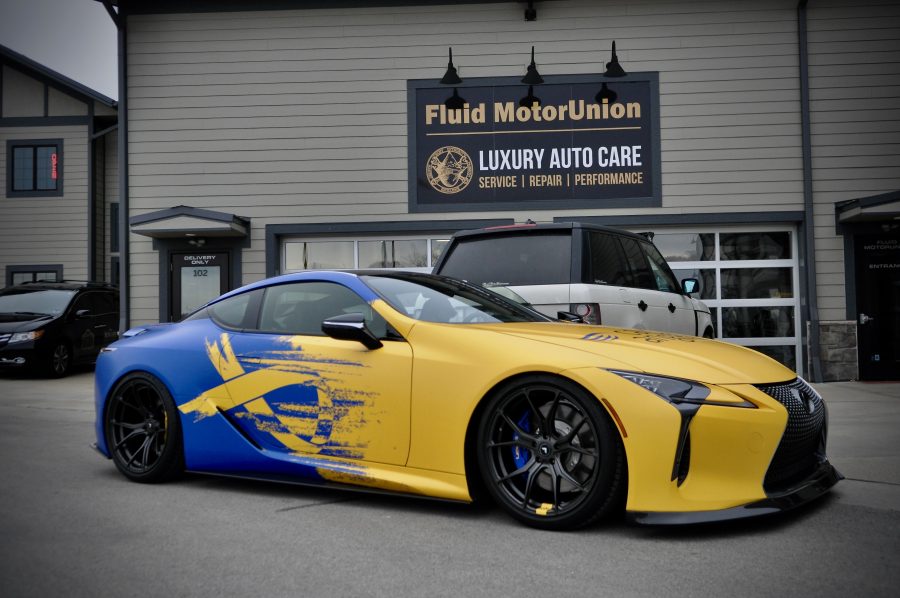 Some of you might remember our collaboration with Lexus and Cal's Angels last year to create a race-inspired LC 500 build to bring awareness to pediatric cancer. However, this year's design had a different focus. Instead of going for a sport-race feel, we opted to create a build that really highlighted what we felt the focal point of the Lexus design was all about- Grand Touring. If you think about it, it has plenty of power, but it also has an exceeding amount of comfort and technology. It just has a certain class to it that Japanese manufactures have previously struggled to convey. Our mindset was we want something that breaks necks on the road, but that doesn't look out of place or juvenile if it was parked at the local country club or golf course.
We started out with a 2021 Lexus LC 500 Convertible painted in Nightfall Mica. For the interior Toasted Caramel leather with Satin Metallic trim and a Sand Soft Top. In stock form, the LC 500 Convertible definitely has a "business dinner and cocktail" vibe, not a "can it keep up with an LFA on the track" vibe. But we wonder… can it do both?
Where to Begin on The LC 500 Convertible?
We knew right off the bat that we would need at least a couple of foundational mods. We were working with a limited budget and timeline so we had to pick and choose what to focus on. For one the ride height was a no-go for us – too much wheel gap. Second, we would need some wheels. While there is a certain class to the two-tone stock 21″ Lexus wheels, we wanted something a little more exciting. Third, some kind of spice needed to be added to the exterior – we knew Harmonic Design could help us out with that one. We also knew we would need some kind of subtle ground effects. The LC 500 Convertible's exhaust tone is actually quite nice from the factory, but it would not be a Fluid MotorUnion build without a custom exhaust. So of course we began plans for a full 304 stainless exhaust that would bring an exotic feel without being too overbearing.
Fitment Secured
When working on a tight budget the obvious choice would be seemingly a lowering spring on the stock shocks and struts. However, even though this would have saved us a substantial amount of money, this is a big no-no for a "GT" car. The ride is never as good as stock, both in on-track and ride comfort. We had to go with an adjustable Coilover to correct our ride height, so we again opted for a set of RSR i-Shock Coilovers. The same coilovers we used in our LC 500 project 2 years ago. The RSR Coilovers provide ride height adjustment down to -25mm. With 40-way dampening and spring rates of 10.00kg/mm in the front and 5.00kg/mm in the rear, we knew these would be the perfect fit to improve the handling of the suspension without ruining the ride quality.
The Wheels Go Round and Round
We spent a lot of time pouring over wheels and contacting various vendors. We did not have an unlimited budget on this build so we had to allot spending carefully. We settled on a set of OZ Racing Superturismo Dakar in Satin Race Silver. 21×9 in the front and 21×11.5 for the rear. We were able to reuse the stock LC 500 Convertible tires with these sizes. These wheels add some class reminiscent of the BMW Alpina 20 spoke alloys, all while still providing lightweight performance and improved handling.
Pinstriping in 2021
For the exterior appearance upgrades, while chrome if often a staple of a grand touring car's styling, we were going for sport-class. So we pulled off every chrome piece we could find and sent them out to be coated in a clean gloss black. Then we sat down with our friends over at Harmonic Design and began drafting ideas for a classy touch that would snap necks everywhere.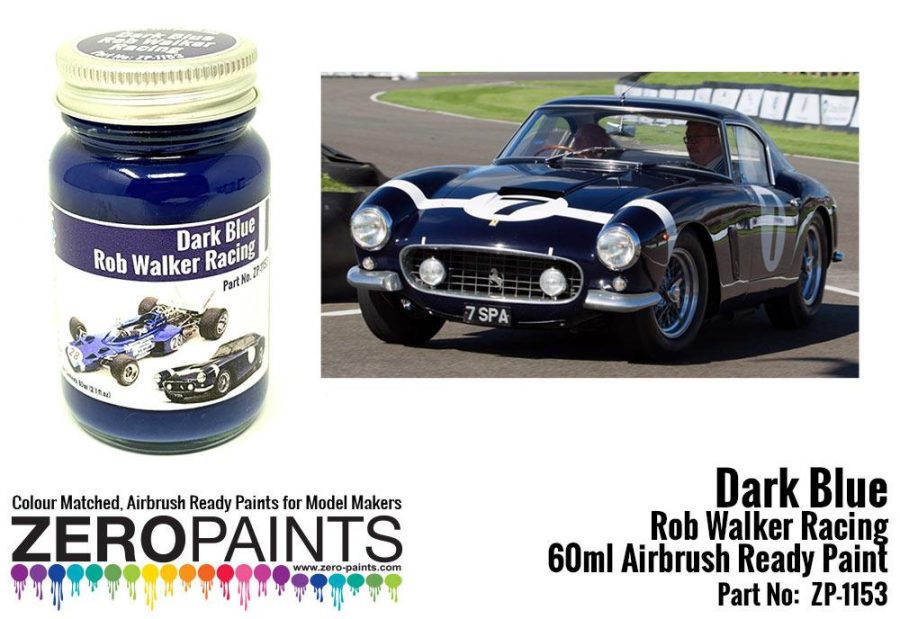 A difficult proposition indeed when paired with a tank top. While staring at the Nightfall Mica blue with a tan crown color scheme we were reminded of some of the all-time greatest blend of sport and class- British racing. Rob Walker Racing Formula 1 color was dark blue with a white stripe or number place. This color scheme was made most famous by a Formula 1 racing driver you may have heard of who went by the name of Sterling Moss.


So in an effort to get the most bang for our buck, rather than the currently popular complete vehicle wrap, we settled on a pinstripe. Our final design would be a style that cut all the way around the LC highlighting some of its more subtle, yet brilliant body lines. finishing touches include a Satin Race Silver pinstripe with a "Lexus Racing" logo carefully adorning the white bodyline.
Our styling was sure to turn heads, but we had to add something more to keep them turned. We decided on a signal red "lipstick" grill graphic and matching mirror and diffuser accents. This was the finishing touch that gave the car the sporty aggressiveness it needed while keeping it still within the realm of a proper grand touring car's styling. Altogether, it's a package that makes the vehicle look like it's moving when it's standing still, and when moving, it looks like it's flying off the ground!
The final appearance upgrade was some hand-cut side skirts. We did not want these to be too bold so for the design we followed the natural body shape of the LC and just extended it to create some extra depth. We built these in-house out of gloss black ABS plastic.
Fluid MotorUnion Custom Exhaust
Our last LC 500 was built with getting the most extreme sound possible while highlighting our unique exhaust fabrication design abilities with a center-exit exhaust. Admittedly it was a little intense for a GT car but was fittingly at home on that show car build. This year we toned it down a little bit.
Using the stock headers for a template, we fitted our reverse megaphone chamber to bring out the higher tones of the engine, and copper ceramic coated them for thermal management.
For the midsection, we used a 2.5″ diameter tube to our smooth merge X-pipe, along with two PPE resonators.
In the rear, we fitted a second X-pipe for an ultra-smooth tone, along with 2 Vibrant resonators. This resulted in an exhaust tone that sounded unique, and exotic when on the throttle, but still totally tame and road trappable when cruising. On our 600mile round trip to the IMSA Mid Ohio event, we experienced zero highway drone, a bit of change from our previous design.
LC 500 Convertible Finished Product Pictures
We are totally in love with how the LC 500 Convertible turned out. Check out some of the pictures below of the final touches, and some of the awesome events we have gotten to bring it to!
LC 500 Convertible Custom GT Car Events and Shows
Now that the build is complete, it begins its tour of auto shows, and events all over the country.
IMSA Weathertech Sportscar Challange – Mid Ohio
Our friends over at Lexus graciously invited us to come to show off the cars in their VIP booth at Mid Ohio for the IMSA Sportscar Challenge. A handful of our FMU team members drove the LC 500 Convertible and LX570 about 6 hours to Lexington Ohio. Both cars performed flawlessly.
It turns out we got the answer to our question, as Lexus had an LFA and let us all out for some hot laps with the Lexus Racing drivers, and other VIPs. While the LFA definitely had some undeniable performance over the LC 500, we were still able to keep pace.
IMSA – Road America
All in all, we couldn't be prouder to be working with the guys at Lexus central area. These three projects have been a key highlight of our careers and it has been an absolute pleasure to be a part of them. So a massive thanks to everyone involved at Lexus of North America, thank you for your hospitality.