18 Jul

Let's Get Weird

Today's blog covers a few of the weirder things currently happening in our shop.

First, we'll start with a weird engine swap, the LSx in a blobeye Subaru WRX body. With the custom long-tube header runners only tacked to the flange, we set about making a platform to bolt the flange onto, to minimize warping or heat-related issues that come from the welding process. We also engineered this block to accept an argon line to keep it sufficiently backpurged during the welding process, as well. After we finished the final welds between the runners and flange, we put it onto the sander to make sure the surface was smooth and uniform.

Over in body, we encountered a weird issue with an E36 M3's rear driver shock tower. By the looks of the car on the outside, it sat a little lower in that corner, but it wasn't too bad. Then we opened up the trunk lining…

Hey, that's a giant hole where the shock mount should be. Apparently, age got the best of the metal and sent the shock straight through the tower, ripping out the old mount in the process. Now, it's our job to prep the body for its strengthened replacement. We'll start by prepping the surrounding metal to accept welds, and then go from there.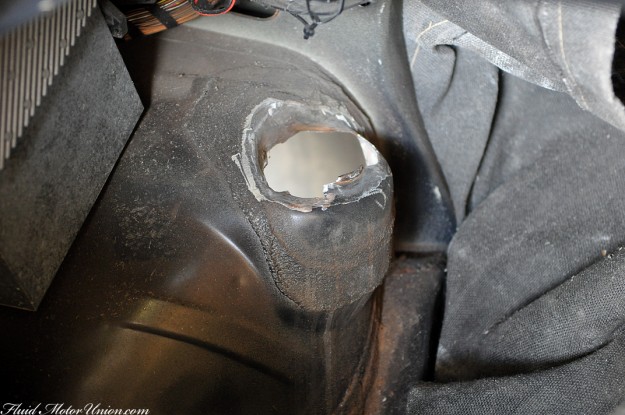 Moving on to a more traditional sort of weird, the Roadster's motor has arrived. Granted, it's in several pieces after various parts were sent to various places, but now it's all back at FMU, and it's a race to get everything torqued down and reinstalled in the Roady before this weekend.
Finally, this is about as weird as it gets. As we were closing up shop last night, we saw what looked to be a very overheated Nissan Altima coming towards our lot. As it pulled into the lot next to ours, we approached the vehicle and realized it wasn't just overheating — it was dripping fire from the underside of the car. That wasn't steam from the radiator; it was smoke. As the owner sat in the car (alongside his child!) with the Altima still running and slowly melting, we realized something needed to be done. Once we convinced him that the wise idea was to shut off the car and run away from it (taking his child, as well), we grabbed four fire extinguishers from the shop and ran over to douse the flames. He towed it off this morning to some other place, but before that happened, we snapped a few pictures of the aftermath. Between the overspray of the extinguishers and the fire damage, it's not a pretty sight. And it smelled like shit, to boot.
Remember, folks; if it starts on fire, shut it off. It's just like overheating, except a lot faster with a chance of explosion and death.