19 Aug

Lamborghini Gallardo Exhaust System

Are you looking for a premium exhaust system that unleashes the gorgeous high revving V10 sound from your Lamborghini Gallardo? Something that sounds more exotic than the other common options? Fluid MotorUnion has spent years developing what we believe to be the best sounding Gallardo exhaust available on the market today. This Exhaust fits all pre-LP Gallardos. But we do also have an LP system available upon special request.
How Does it Sound?
Everything you would expect of how a Lamborghini should sound – exotic, smooth, pure. A tone that is reminiscent of the 1990s V10 Formula 1 cars. This exhaust comes in two configurations, both are 3″ stainless and have our smooth merge x-pipe one. Our Sport system includes two resonators to help eliminate drone and to lower the volume a little bit. Our Extreme system is the most intense sounding exhaust available for the Gallardo, not only is it essentially a straight pipe system, we actually build reverse megaphones to help shape and amplify the sound.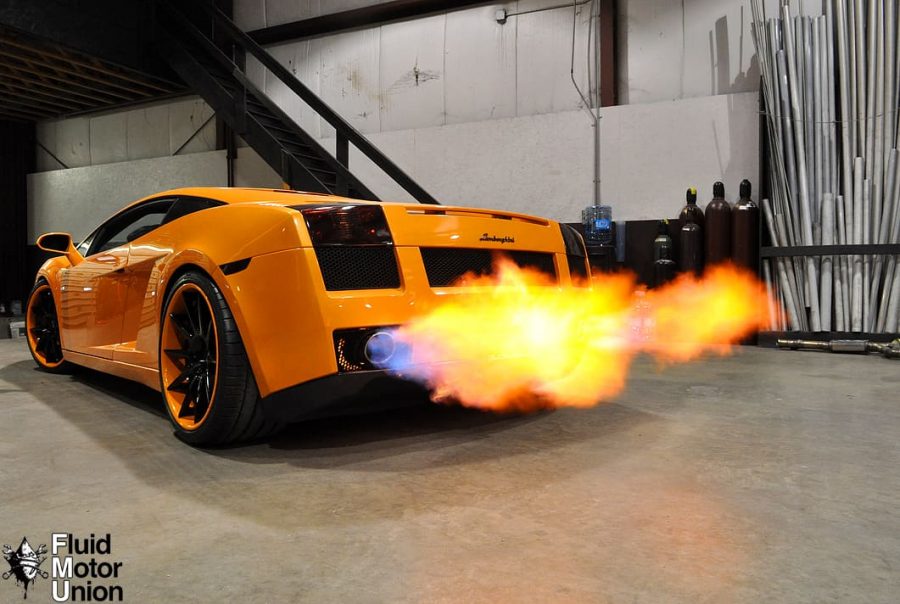 Gallardo Exhaust Construction
Like all our exhausts we begin with only the highest quality materials. In this case, we use T304 stainless steel. This is aerospace-grade stainless that does not rust or corrode and is able to withstand the high temps of the exhaust gas. Material for each system is cut and tig welded by hand here in our fabrication department. We use a jig to make sure each exhaust layout is identical and ensures perfect fitment. We back purge all our welds with inert gas so that the metal on the inside stays smooth and does not disrupt exhaust flow. We are so confident in how high the build quality is that we offer a lifetime warranty on each system.
Performance
Most of our Lamborghini clients looking to modify their exhaust are mostly interested in the sound aspect but as we've seen in the past, our exhaust system will yield around a 30whp gain to compliment the noise. Systems installed on the Superleggera gained a pretty impressive 40whp. More power can be extracted with custom tuning.
Exhaust Customization
We have added a couple of options to help tailor this exhaust to each customer. If you want something we do not have listed here, reach out to us! There isn't much that we can't do when it comes to fabrication. All components are built to be direct bolt-on and reuse stock Lamborghini exhaust clamps.
Catless or high flow Gesi sport cat versions are available*
Optional O2 Sensor Spacers to help prevent check engine light from cat removal. (However, custom tuning is always the best option to ensure no check engine light).
Swaintech White Lightning™ insulation coating can be added to the test pipes. Typically reduces radiant heat by about 35-55%. By insulating the exhaust system, gases inside are kept at the highest possible temperature resulting in greater exhaust gas velocity and higher efficiency.
Domestic and International shipping is available, or if you are local to us we can perform the installation!
Custom tuning is available for local customers only, as we do not currently have remote tuning for the Lamborghini Gallardo
Gallardo Exhaust Pricing
Standard Equipment:
Sport Catback $2600
Extreme Catback $2400
Test Pipes $1050
Add Ons:
Gesi High Flow Cats Capable of 850HP +$500
FMU Double Wall Exhaust Tips (Required add on for Superleggera)
Swaintech White Lightning +$250
O2 Sensor Spacers +$60
Contact Us
Foreign | Domestic | Performance
To book an appointment or find out more information, hit up our website or email/call:
🖥 – www.fluidmotorunion.com
📲 – (630) 305 3054
📩 – blog@fluidmotorunion.com
🎦 – Facebook.com/FMU
*Not Carb certified may not be legal for use on emissions controlled vehicles; intended for off-road/competition use only. Catalytic converter removal may result in a check engine light.