20 Apr

Jurassic Carpark

Jim's Ford F150 SVT Raptor stopped back in today for a quick parts-fitting before its departure to California. Thankfully, the camera was there.

While we did snap a few photos after it left the paint booth, we knew there was still more to come from the Raptor. Its owner had decided to take it for some vinyl wrapping immediately after the body and paint jobs were finished, so we'd hoped that it would swing back through for a quick photoshoot. And what do you know, our prayers were answered!

The reason for coming back in was relatively simple — he just needed some adjustments made to the 9-foot CB whip antenna we installed for his rally. While he and Craig went to work on that, your humble narrator went to work snapping pictures.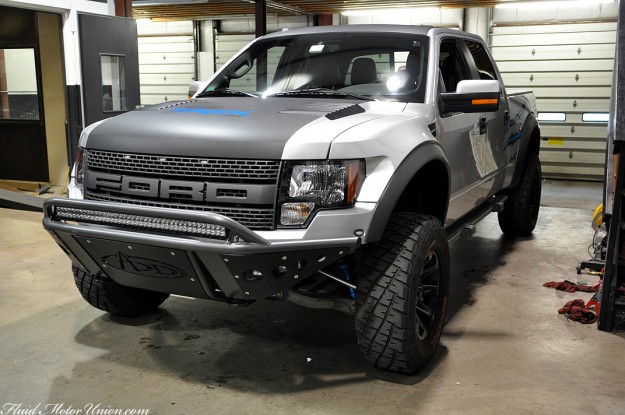 Every new addition to the Raptor brings it one step closer to the trophy truck that it's slowly becoming. With the addition of the top-of-the-line King Shocks setup for his suspension, the solid-steel front and rear bumpers, and the massive fiberglass fender flares that followed directly thereafter, it's built for one purpose and one purpose only — tearing shit up.
Even the vinyl on the hood recognizes that fact, as this Raptor has grown up into something decidedly larger and meaner — a Tyrannosaurus Rex. Yeah, it's got those skinny arms and all, but if there's one thing we think you won't want anywhere near you, it's a freaking dinosaur with jaws the size of your bedroom. In addition to the hood being partially wrapped in the flat black vinyl, he also flat-blacked the roof and added the "scratches" you'll see in the second picture. Yeah, those will buff right out.
As always, be safe and have an excellent weekend! We'll be back on Monday with some video of Nick's M3 on the dyno!