19 Jun

Internet Famous

Our first feature of today's blog post may look familiar, seeing as how a picture of his car made its way around the internet recently.

The license plate alone should be enough for those with good memories. It's an Estoril Blue Z3M Coupe with the license plate of "Awkward." Sitting perfectly on a set of Rotiform-upgraded BBS RS wheels with a red center cap, this car's been to a few shows on this side of the country and made waves everywhere it ends up. For now, though, it's making waves on our lift, as he came in with compression and spark issues related to cylinder six. He's a good friend of FMU's Krystian, so we're glad to see some internet fame making its way through the doors. Fabel's a tough cookie to beat in that respect, though.

Speaking of other iFamous vehicles, our Project 500SL is back out in the daylight, where our body shop is currently tending to the custom fender flares we're putting together. It's taking a lot of time, and a lot of sheet metal fabrication, but it's coming along nicely. After the fenders are welded and all the metal connected, it's off to a glorious application of seam sealer before working on the body filler at paint to make sure the lines are smooth and uniform on both sides of the car. It's progressing slowly, but when you're making two fenders basically from scratch, it needs to happen that way. We'll bring you more as the body shop has time to work on it!

Over in fabrication, the WRX LS-series custom long tube headers are coming along. Two of the runners are now tacked at the time of publishing (whereas in the picture only one runner is tacked in), and Zak and Craig are working pretty quickly on this, so we should have more developments for you in relatively short order.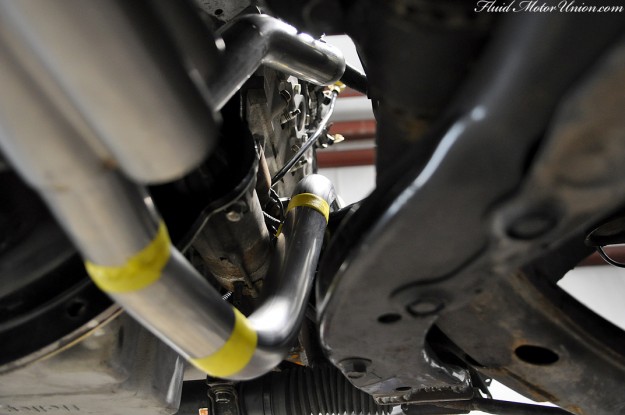 And to finish off the article, we received another box from our friends at Swain Tech Coatings today. The equal length manifold for the Genesis has returned, and it's been coated in Swain Tech's White Lightning coating. Despite a thickness of only 0.015 inches, the coating is comprised of actual ceramic so the heat insulation is unrivaled by other coatings. It is applied to the header in a molten state, where it cures and bonds directly to the part in question. Radiant heat should be down 35-55%, which will serve one very important function in the Genesis — it will keep our fuse box cover from melting again. You see, your intrepid blogger was determined to film the header glowing while on the dyno a while back, and the dyno operator gladly obliged; too bad the English graduate didn't realize that plastic is not a big fan of heat. Oops.
And here it is, all nestled into place, right next to a brand new fuse box cover. This car is currently being detailed and prepped for sale, so if you're looking for a minty clean 2.0T Genesis with plenty of factory warranty remaining, a brand new upgraded clutch (for the post-tune increase in power and torque) and paint that's fresher than the produce at Whole Foods, send us an e-mail. We'll be putting a proper For Sale ad up here in the coming days, so look out for that as well.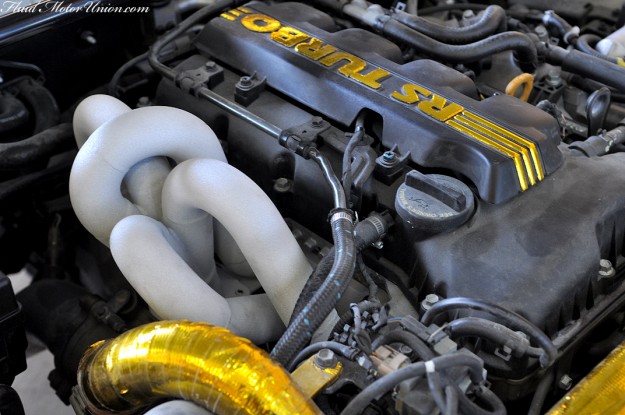 See you tomorrow!