21 Sep

In The Nick Of Time

We had a few last-minute additions to the utter randomness that takes place here at FMU, giving us the perfect number of pictures for a post on it!

First up, we had an E36 M3 roll into the shop this week for a quick install of an Active Autowerke catback exhaust system. Yes, you read that right; we here at Fluid MotorUnion are not some highfalutin jerks that refuse to work with any exhaust system except for our own. We know everybody's tastes and wallets vary, and we're more than willing to help you out, even if it means suggesting or installing parts that we ourselves could easily construct. Either way, with the M3 up on the lift, we made quick work of dropping the old system, which had seen its fair share of environmental degradation over the course of 200k+ miles.

With a little bit of elbow grease getting the midsection to connect to the two 3-into-1 headers on the M3's motor, the installation went off without a hitch. We've gotta give it to Active — this thing is friggin' shiny. Like, to the point where your humble narrator outright refused to look at the muffler, because even so much as a glance of his face and you've got the possibility of turning to stone. It's like we installed a mirror underneath that car. It looks great, and it sounds quite nice, as well. All that's left is maintenance work for this spry little coupe, and it's back off to the owner!

Over in the service bays, it's apparently E36 M3 day, as we had a purple M sedan roll into the shop for some work. It's for sale at the moment, which probably explains why the engine bay of this car was so clean. Seriously, it's probably the cleanest bay we've seen in this shop in months. Clean enough that we had to share it with you; if only everybody kept their engine bays this clean. Pro tip for those of you planning on selling a car sometime soon — a clean engine bay goes a long way in wow'ing a potential buyer.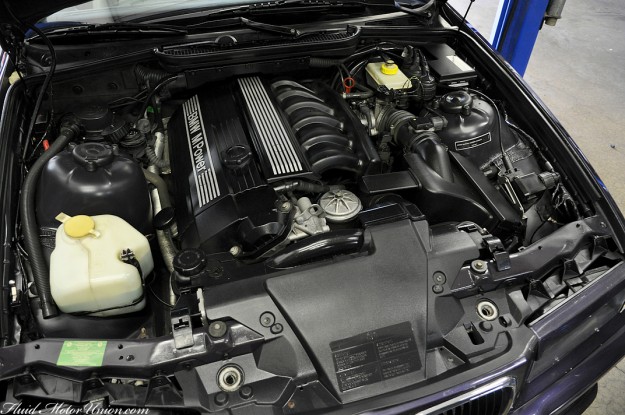 Back over in fabrication, the tips are being mated to the resonators on the FMU E39 M5 Rear Section sets we're currently building. Things are more or less moving along full speed ahead, so we should have some final shots of these kits for you very soon. And as always, if you have any interest in picking one of these up, give the shop a call at 815-230-2900 or e-mail mmarzano@fluidmotorunion.com.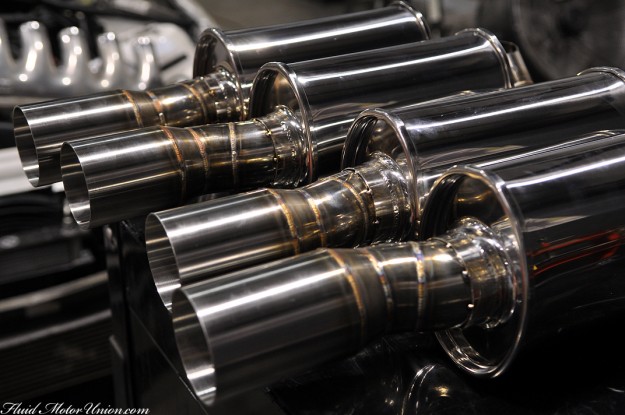 Further down the line in fab, we've pulled out this heat exchanger, which we're prepping for use in…um…well, we're not too sure to be honest. The purpose is probably very nefarious, something that not a lot of others have attempted, but we can't really divulge what it's going into just yet. Soon, but not yet. Don't you just love being given no information whatsoever? I know, right?!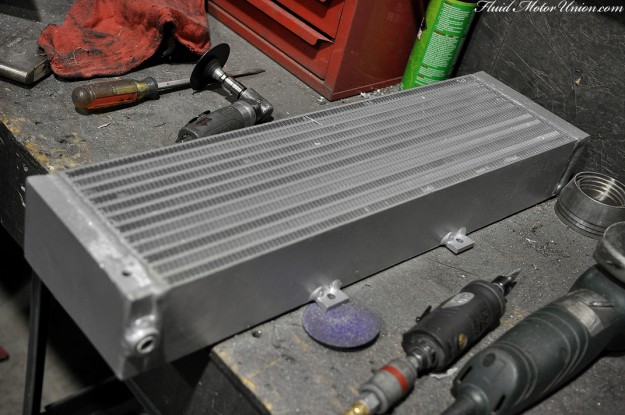 For one last fabrication photo, we're currently throwing sparks all over the shop putting this piece of metalwork together. We're not going to say exactly what it is, but we will say that it's for the Vulcan build. We're still a couple episodes behind this point on the blog, and we're not about to break the narrative just yet, but rest assured, if something is throwing sparks at Fluid MotorUnion — be it an entire car, a Razor scooter or just a piece of sheet metal — we'll be photographing it. We're as attracted to shiny things as your cat is.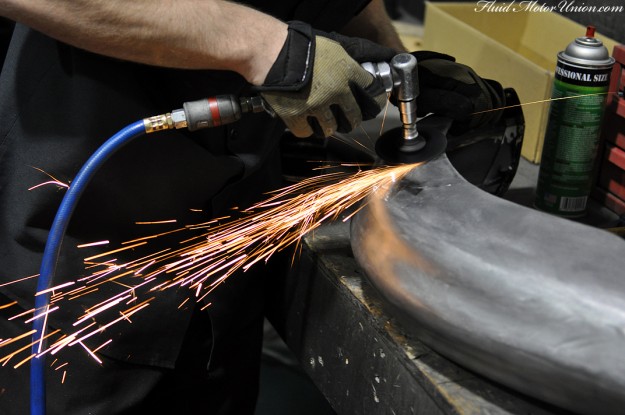 Now, this…this is a weird one. This just…appeared one day. We have no idea where it came from, but it's haunting. Look into its eyes and you feel as if you're staring into the depths of your own soul. Dogs bark at it, clocks move backwards when you bring it close to one, weird stuff like that. We're pretty sure it's haunted. And if there's one doll that you'd expect to be haunted, it's a terrifyingly caricaturish Pee-Wee Herman doll. It's starting at your humble narrator right now, almost as if he's putting these words onto the page through my fingers. I'm scared. Call for help.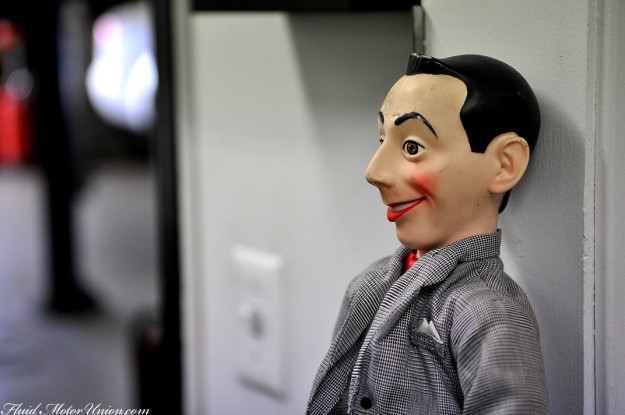 Finally, some people that come to visit the shop say we have really good taste in music, some of the best out of other shops they've been to. This picture below will either change their minds of that fact or reinforce it. One of the two. Welcome to Will Smith Radio on Pandora.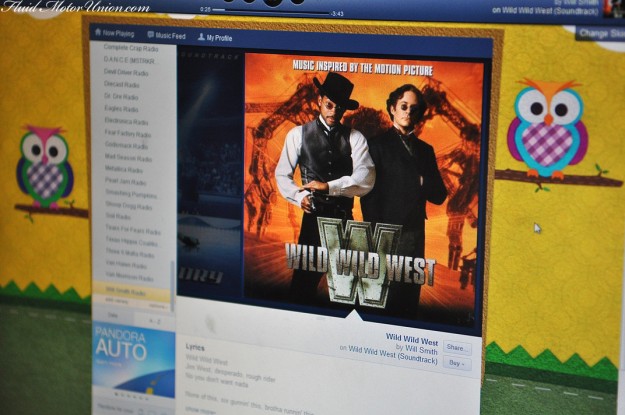 Have a great weekend, and we'll see you on Monday!