16 Jan

Hot Bodies

Quite the title, right? Well, this isn't 9K Racing's "Babes" section, this is Fluid MotorUnion's daily blog chronicling the goings on at our shop.

Yes, we'll admit, we did do a bit of a bait 'n' switch with the title. But trust us, it still pertains to the pictures that will follow this seemingly random string of words. Let's start with fabrication, where Perry's 190E (quite the vehicular hot body if you're into the boxy 80's M-B aesthetic) is almost done with its wire tuck. With the battery back in its proper home, you'd be hard pressed to find too many spots where you can point out wires. It's not done yet, and there's still a few pieces left to reinstall in the engine bay, but the wires are right about where we want them so we figured we'd let you see where we're at:

While the valve cover remains off for a secret, nefarious purpose that we're not ready to talk about just yet, fabrication did make a set of mounts for the oil cooler, which are the two triangular arms coming off either side of the cooler itself. Don't forget, folks, it's not the size of your cooler that counts, it's the airflow that really matters.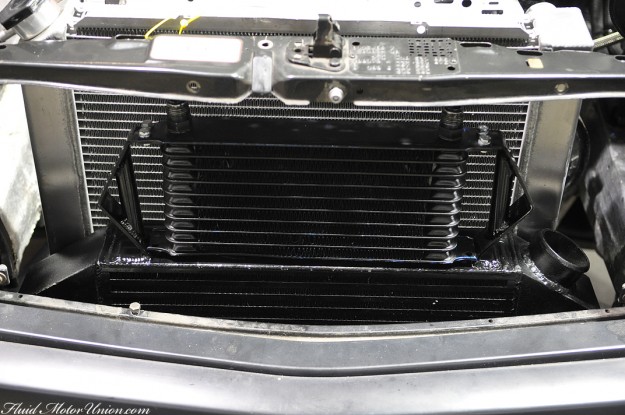 Moving over to the body shop, we've got all sorts of business going down. If you didn't know yet, Luci has chosen to extend his Christmas vacation to a permanent one. As a result, we've since brought on two new members to the FMU team. Our first member, Wayne, has experience dating back over a few decades; he's done body work for both Bentley and Rolls-Royce in the past, and we're happy to have him and his wealth of experience at the ready to help us out. Our second member, Mike (yes, another Mike), has already proven himself with his ability to multitask and keep an intense focus on each of the projects he's undertaking. Currently, we have (in the order of photos) Al's Cayenne Turbo rear bumper being prepped for a respray, a C230 getting a front bumper refresh, and a Jetta receiving a whole new front end that just left the paint booth. We'll soon have updates on all these cars, so stay tuned!
And now for a teaser of the hottest of bodies on the blog today, John's C32 AMG. You may remember the video from the end of 2011; if you don't, click here to watch it. Otherwise, it's just about ready to be released into the wild. We'll have a full shoot and dyno graph for you tomorrow, but for now here's a small peek of what's to come on Tuesday.