20 Nov

Hot And Cold

After a sick day yesterday, the blog is back up and ready to deliver you more of what's going on at Fluid MotorUnion HQ in Plainfield, IL.

Today we'll be looking at a few different jobs that fall on either the 'hot' side of things, or the 'cold' side of things. First up, we'll start with something hot. As we mentioned in a previous post, in order to deliver heat to the inside of the 993-swapped 911's cabin, the fan has to push cool air through a special channel in the exhaust manifolds, where that air pulls heat from its surroundings before being piped forward towards the cabin. We're working on finishing up this piping now that we have the main exhaust pieces in place (mainly that massive muffler). Either way, now that it's in there for good, we've begun working on the pieces of pipe that come from the engine bay and split into two before entering the header. We're constructing a custom aluminum brace to hold the pipe away from the muffler (to prevent vibration) while finishing the pipe itself. The trickiest part will be the Y-pipe where it splits from one to two, but it's only "tricky" in the sense that it'll require a bit more welding than other portions.

We'll now move to another job in fabrication that encompasses both hot and cold. First, in order to keep the vehicle running at cool temperatures without overheating, we've finished that neck-up piece on the water pump, which we've bolted back into place as we determine fitment for the next part of the job, which we'll describe below.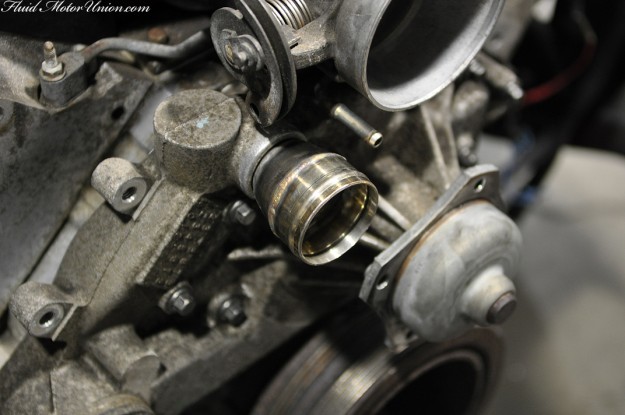 The next step in the job is mounting the Mishimoto radiator, which we finished over this past weekend. To hold the radiator in place, we've constructed a set of half-custom mounts. They're half custom in the sense that the half that bolts to the Subaru's frame consists of the OEM radiator mounting brackets, whereas the second half (the half that bolts to the radiator itself) is custom made from steel and welded to the OEM portion of the bracket. After it was over, we painted the whole thing black, and now we have a radiator that can hold itself in place! Next time you see this build, we'll be discussing the construction of the fan shrouds and some engine bay piping.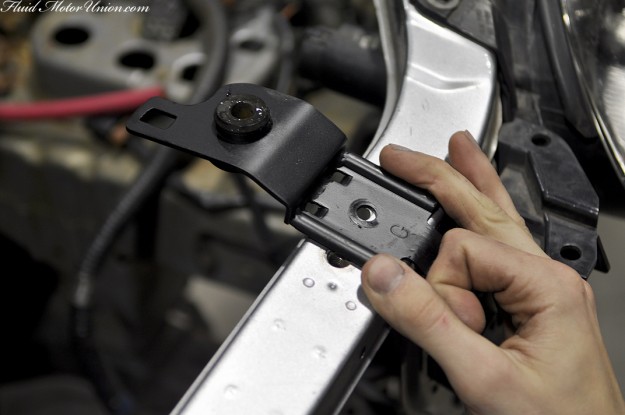 Finally, we just finished up a job that we'd definitely consider a hot one. However, it's not so much in regards to temperature as it is to aesthetics. We've always taken an above-and-beyond approach to painting brake calipers at Fluid MotorUnion. Other customers have come into the shop with their caliper paint jobs that they received at a different shop, and for the most part they look like rattle-can spray jobs while the calipers are still installed on the vehicle. One time, we even found overspray all over the rear suspension of the vehicle! Seeing as how we want both your vehicle and its calipers to look as good as possible after the job, we take a few extra steps that other shops may not. First, we'll remove the calipers and brackets from your car.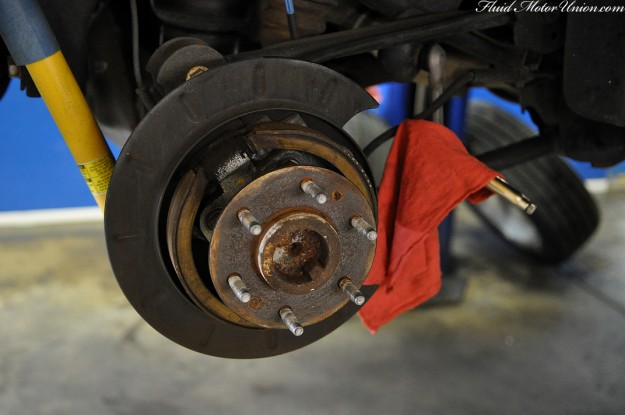 Then, the calipers and all associated hardware will be taken to our sandblaster, where we will remove the current finish on the parts. This is important because paint needs a proper surface to mate to; spraying paint onto any old surface will oftentimes lead to paint that's likely to chip, crack or bubble over time. We try to mitigate this problem by making the surface as prepped for paint as possible. After sandblasting, we'll throw them in our tumbler and remove any finish that still remains. Once all the removal is complete, we prep the surfaces for paint and take them into the paint booth, where we hang them up and begin painting.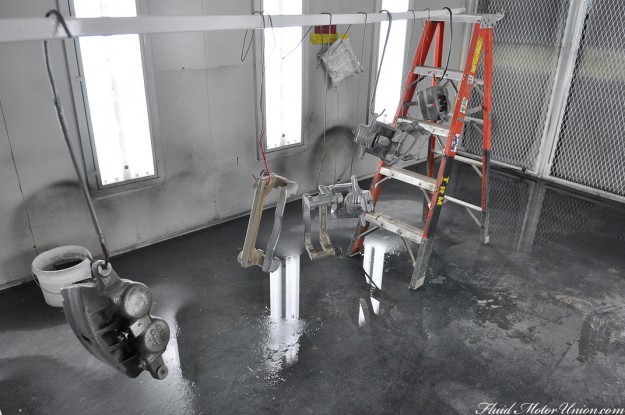 After the parts have been painted, we'll take them and hang them to dry, making sure there's no runs in the paint or anything that smacks of a poor paint job. From there, it's a matter of doing anything additional and then they're just about ready to get reinstalled. For this specific set, the owner of the Chevy Trailblazer SS wanted us to paint the Chevrolet bowtie in his center caps to match the calipers, as well as adding SS stickers to the fronts of the calipers. After everything is said and done, the results will speak for themselves. Our goal with caliper painting is to give you a setup that's going to last no matter where the car is driven, and while it might cost a bit more, over time it's definitely less expensive than multiple resprays over the same caliper.
This isn't just a job that shows up to our shop on rare occasions, either. We've actually got another car up on the rack right now receiving the same treatment that we just gave to the Trailblazer SS. Instead of it being domestic muscle in SUV form, we've got a G55 AMG ready to receive some gloss black caliper paint. Given that the rest of the car is bedecked in black and chrome only, this should be a fitting aesthetic upgrade for the Geländewagen.
For those of you who are local and read the blog, please be advised that Fluid MotorUnion will be closed for business on Thanksgiving Day, November 22nd. We will reopen for business at our normal time of 8 a.m. on Friday, November 23rd. Have a great day!