10 Jan

Hodge-Podge Garage

Today's even more random than most other days filled with random shots from around the shop, so we gave it an even more random title.

Since service is the closest set of lifts to your intrepid blogger's computer, we'll start there. A CEL (check engine light) brought us this nice blobeye Subaru STi. For those of you that are scratching your heads over the use of the word 'blobeye,' ask your friendly local WRX owner and he'll gladly explain it. For each generation of the current Subaru WRX, there are names that correspond to the aesthetics of the headlights. The first generation was the "bugeye," the second is the "blogeye," followed by the "hawkeye" and ending with the "stinkeye" of the current generation. Either way, it's been diagnosed and is back off into the wild, but perhaps his tour around the shop will have him coming back for more!

Moving slowly through the first building at FMU (containing service, paint and body), we find ourselves over in the body and paint corner, where John's C32 AMG valve covers just returned from the powdercoater. Nothing is nicer than a fresh layer of crinkle black.

Turning our heads past the valve covers, we see Germaine's SL500 back in action. Well, sort of. Fitment is the name of the game at this moment; as it stands, those refinished BBS wheels won't fit under the rear arches without a bit of work, so now we're going to get to work on that. In order to increase the fender flare without risking it looking like it shouldn't belong on the car, we're going to extend the body lines just a bit. We cut the fender and moved it out to where we want it, and now all that's left is to fill in the cracks and put everything together. From there, it's on to paint and then we'll have a gorgeous set of wheels underneath some brand new extended fenders.

Finally, we'll walk across the parking lot to fabrication. Good ol' Crazy-Eye (a.k.a. George's 318 turbo with only one headlight) is on the dyno, where we just finished writing all of the fuel tables. With fuel done, it's on to timing and anti-lag, which shouldn't take long at all. The 318 is responsive and sounds fantastic, so look forward to some video once we get everything dialed in to our preferred locations.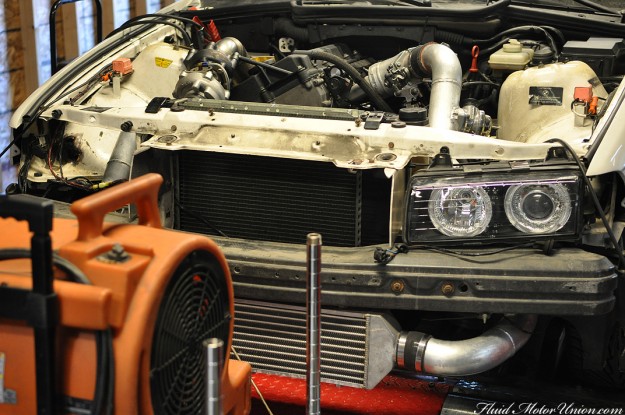 Don't forget to like us on Facebook!