06 Jul

Hell On (Two) Wheels

You may have seen it in the background of some pictures, but now we're bringing it to the forefront.

What you see below is what is currently being installed on a Kawasaki Vulcan 2000 Classic, a cruiser-style motorcycle. The owner came in looking to create a head-turner that won't be similar to anything else in the state, and we are on our way to doing just that. Motorcycles are not our typical fare, so we get to bring in a unique point of view on this build, and we've been excited about this job since Day One. The main focal point of the bike will be the rear end work — we're replacing his standard swing arm and rear end with a much fatter version. To be specific, it'll be packing a chopper-like 300 rear end, among plenty of other goodies as well. For now, though, let's take a look at the rear wheel and some of the swing arm assembly as it arrived to us at the start of the build:

And this is the much-less-fun OEM swing arm that it's replacing. For those interested, it will be retaining the soft-tail suspension setup. Since Dana, the owner of the bike, likes to ride it with his wife on the weekends, we wanted to make sure the ride wouldn't slowly grow intolerable.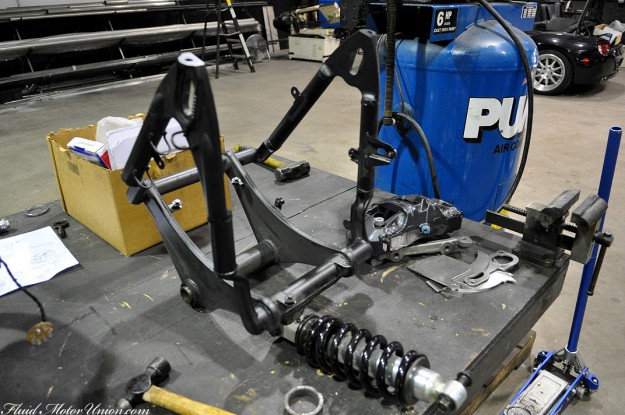 Here's the swing-arm-free rear end of the Vulcan as we prepare everything for the first rounds of fitment.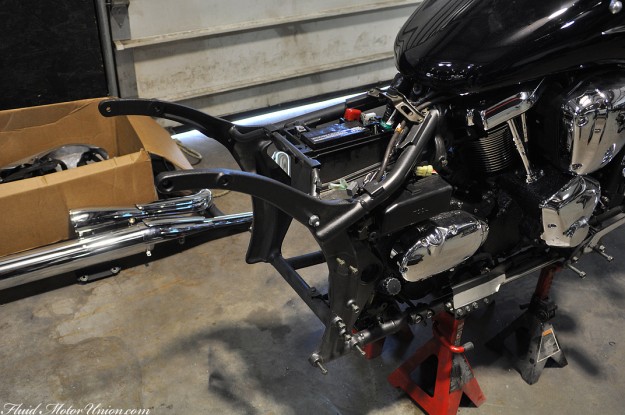 And here's a quick shot of the OEM rear wheel that will be replaced with the so-fat-it's-definitely-American 300 rear. If you're wondering, yes, the drive will be changed from the OEM belt to a chain-driven setup.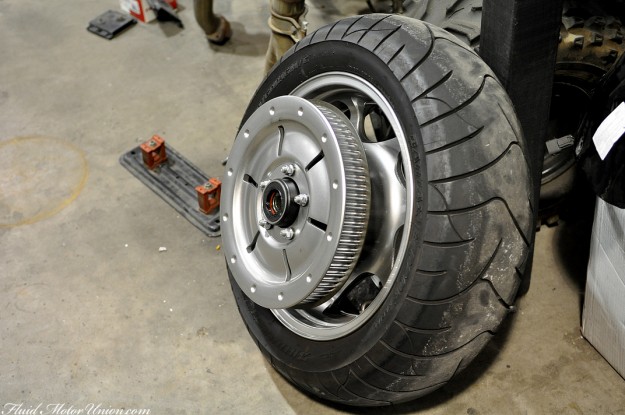 Let the teardown begin! In preparation for the remainder of the work, we started disconnecting the wiring harness and removing both the battery and the ECU, as well as the plastic box that contained all this.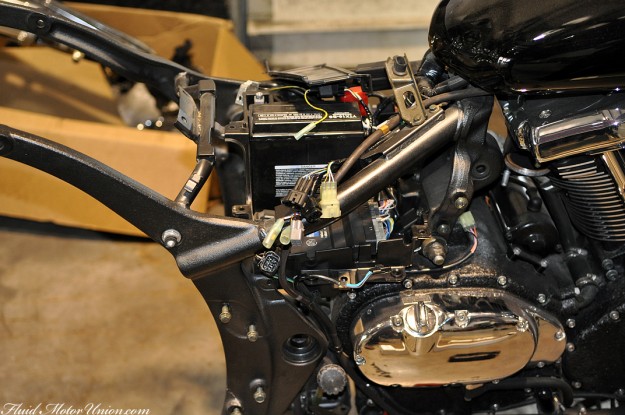 Have an excellent weekend, and we'll be back soon with the next chapter in this exciting new series.