The shop's a little blue today. But not because Tobias Fünke is here.
Currently occupying one of the lifts on our maintenance side is a very well-kept, Dinan-touched E63 BMW M6. To make things even better, it comes with a proper six speed manual transmission. Seeing as how the majority of E60 M5s and E63/64 M6s that roll through the shop are equipped with the SMG transmission, this is a welcome change of pace.
To make things even better, this M6 is here for more than just your average oil change. Instead, we'll be installing a set of Supersprint headers on this beast. We were told the headers would be in the trunk. However, upon further inspection, we found two boxes back there — one had the Supersprint 5-into-1 collectors that comprise the back half of the headers, and the other box had what looked to be the head of Medusa inside.
We're obviously joking, folks; Medusa has been dead for centuries, and snake bodies don't decompose into stainless steel. Those are actually the individual runners of the Supersprint exhaust, and it's up to the installer to know which goes where on each side of the monstrous V10 motor. Thankfully, they were numbered by cylinder, so if anything, it looks like Supersprint and Ikea teamed up for this one. Thank goodness they left the wooden dowels at home. But back to the action. Our first step in getting the new headers installed involves removing the old news. After dropping a number of shields, as well as the rest of the exhaust system, we were able to access all of the bolts holding the stock header in place, which isn't so much a header as it is a representation of the giant squid from Twenty Thousand Leagues Under The Sea.
Once the headers were down, we snapped a picture to give you an idea of how much room there is to work with during this installation. To put it succinctly — not a whole lot.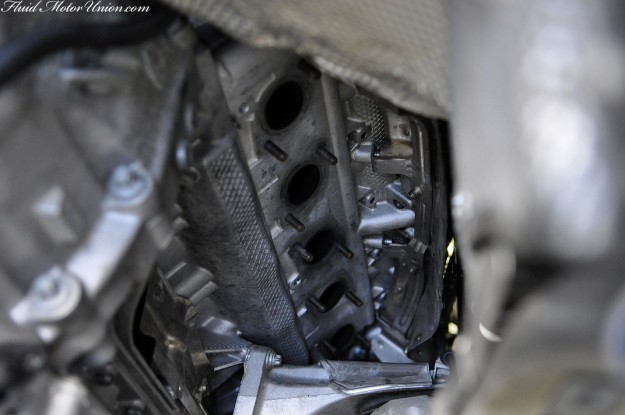 However, as the runners were numbered, we had the headers' runners bolted into place in no time. From there, we put in place the plate that will serve to seal the collector against the individual runners. Just like the setup on Gold Wheels, the collector is held against this plate with high-tension springs, creating an airtight connection that will channel the entirety of the V10's throaty roar down into the exhaust.
We'd show you everything all buttoned up once the headers went in, but when we had everything apart, we discovered a leak in the M6's steering rack. The owner's ordered one and it should be arriving shortly, so we'll have the conclusion for you soon! Until then, have an excellent day and we'll see you right back here tomorrow!