28 Feb

Greyscale

Our blog post today inadvertently consists of multiple shades of white and grey. Not fifty shades, thankfully, seeing as how we already used that pun.

The first part of today's post starts out with a fair bit of color, but quickly progresses to a straight-up grey color scheme. Tom's been putting in plenty of after-work hours on his Z32 Nissan 300ZX. This week, he took an important step in finishing his custom engine bay, complete with tubbed wheel wells and a fair bit of dimple-die usage. What started off as a mixture of OEM paint, body filler and fresh metal…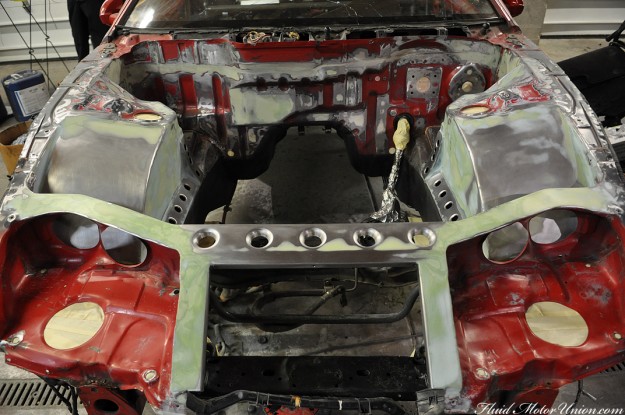 …Has now become a single, unifying color that looks pretty damn awesome. He plans on laying down a different color atop the primer, but even as it sits right now, it has come together spectacularly. We can't wait to see what's next on the itinerary!
In the paint and body wing of Fluid MotorUnion, Vern just finished up correcting some serious road rash on the rear quarter panel of a Toyota Highlander. Before rolling it into the paint booth, he spent a good bit of time fixing the affected area and laying down some grey primer, taking extra care not to ruin the body lines nearby.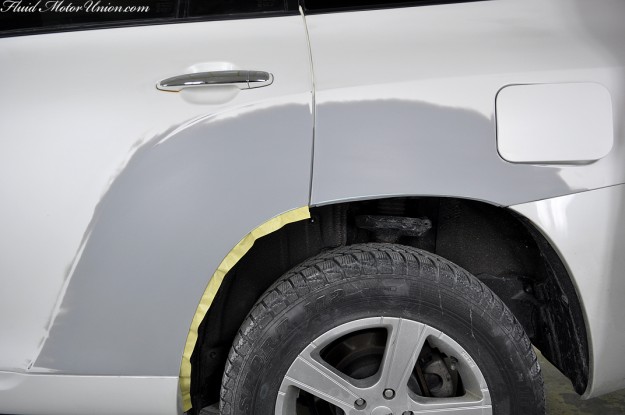 After laying down the paint and blending the panels together, Vern spent a good bit of time sanding and buffing the new paint. Once it rolled over to service (as it was getting a bit of maintenance work done also), it looked like it had never suffered a scratch. A job well done, we'd say.
Finally, we've got another white car to keep the greyscale theme alive.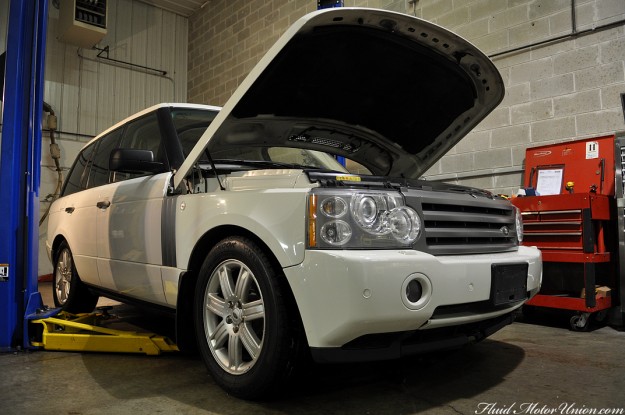 This Range Rover has suffered the same fate as the E60 5-series we showcased last week; yep, that's right, the motor decided to commit seppuku and send its internals flailing about in the crankcase. With that, we knew what had to be done. So we called up our engine supplier, ordered a new long block and started removing the old one. With a fair bit of unbolting, along with removing the hood and transmission, we got the engine out from inside this British behemoth.
Of course, just like with the previous engine replacement, we have to transfer over quite a few perfectly functioning parts from the broken motor before turning around and putting everything back together. And that's the step we're currently on, so as new events transpire, we'll keep you posted. Remember — keeping up to date on even small bits of maintenance can mean the world to your vehicle's longevity, so stay one step ahead of the Grim Engine Reaper and come get your vehicle serviced at Fluid MotorUnion. We'd much rather change your oil than replace your motor.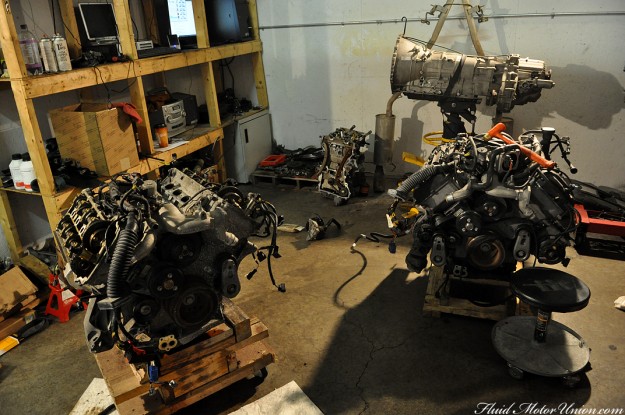 Just to tease you a little bit with more Gallardo content, we had Jeremy Cliff and Matt Magnino — two local professional automotive photographers that work under the PhotoMotive marque — roll through the shop yesterday to shoot the Gallardo. Your humble narrator decided to kill a little bit of time by experimenting with camera settings, one of which happened to be the black and white setting. Seeing as how today was all about greyscale, we figured we'd include one of those shots to whet your whistle.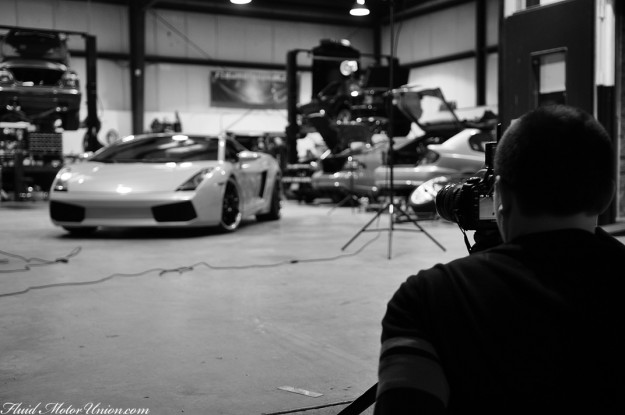 Tomorrow's the day for the Gallardo video, so get excited! Also, we'd like to wish a happy birthday to our humble narrator's mother, who's halfway to 116 today! Almost there!