30 Nov

Great Balls Of Fire

Oh yes, it's that time again. Time for a dyno video and plenty of fireballs.

As you may remember from the slew of blog posts lately, we swapped a bone stock 993 motor into our client Tim's 1978 911. With the engine installed, we needed an exhaust that would fit a 993 motor but also a 911 body and rear bumper. The only solution, therefore, was to come up with a custom Fluid MotorUnion creation. After some time, we finished the exhaust, which has two runners merging down inside the muffler to a single outlet, which runs out to a 4″ polished tip. As one might expect, the result was a little raucous. You really get a good feel for the flat-six sound of the motor, and it pulls strong from idle to redline. We mainly had it on the dyno to make sure the Varioram adjustable-length intake manifold runners were working properly, which they were. If they don't engage, the car loses approximately 20 whp in the last 1000 of the revband.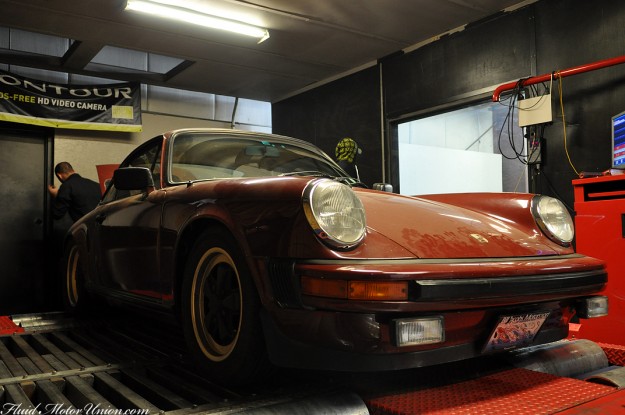 This was a concerted effort by a large majority of Fluid MotorUnion employees from service to fabrication, and we can't thank everybody enough for the hard work that went into this awesome swap. Also, we'd like to extend a very special thank you to Tim, the owner of the 911, for letting us get a little wild with the car. Finally, we'd like to thank Tim once again for the egregious amount of food and Monster that he brought to the shop when picking up the car. With that said, we're all going to take post-pizza naps now and let you enjoy the video of our dyno runs, which you can find below!
Have an excellent weekend and we'll see you next week!