06 Jan

Friday Grab-Bag

We've got a lot to cover today, a little bit of everything, so let's jump right into it.

We'll start off with the Wrangler. A bit of a shipping delay held us off from finishing the exhaust straightaway. So, while we waited to receive the mufflers we needed to finish the rear section, we went about fabricating a new cross-pipe for the midsection, as the other one didn't quite mix well with the already-installed lift kit. We also welded the V-band clamp onto the end of the Borla midsection:

And then they arrived! We find that V6 motors tend to sound better with mufflers, whereas their inline counterparts sound better without too much padding on the tone, so we had to get a couple shiny new mufflers shipped to us from our friends at Vibrant. As always, they look great, and they'll contribute to a fantastic engine sound when everything is said and done. We've just gotten back to working on the rear section, fabricating hangers and getting everything in place. We should have more pictures (perhaps even moving ones!) to show you early next week:

Over in the office — a rare place to take pictures at Fluid — we are shipping out a newly-finished E53 X5 lift kit for our friend Troy up in America's hat (aka Canada). We had to bring in Project X to do a double-check on the required stud length for the lift kit, but once that was out of the way, we finished the assembly process, wrote up the instructions and packed it very nicely into a box, where hopefully UPS will give it the soft-handed treatment it deserves…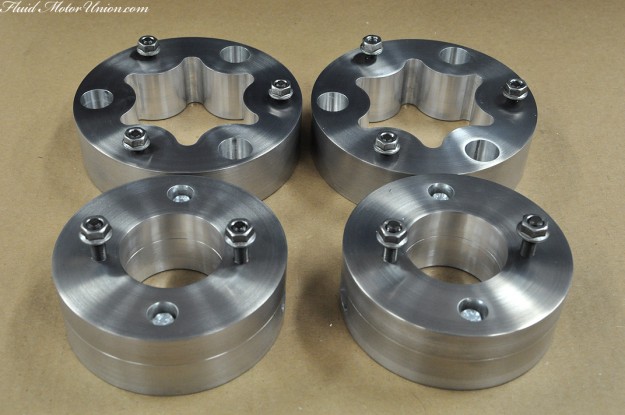 Now we move back to fabrication. In a dimly lit corner of the garage, where we hide all our super-attractive employees so they don't make the rest of us feel bad, lies a red Z32 that nobody really knows much about. Well, except for Tom. You see, it's his Z32, which is in the process of undergoing a major redo in the spare time he has. Most recently, he removed the heads to polish down a few grooves that were robbing him of nice airflow. We won't get into too much detail, as he plans on doing a StanceWorks build thread soon enough, but for now here's a couple shots of his top-secret project:
Fab also pulled this blown-up V8 out of our storage area. Why? We're not sure. But it made for a pretty picture, so there you have it. That sure was a boring story, wasn't it?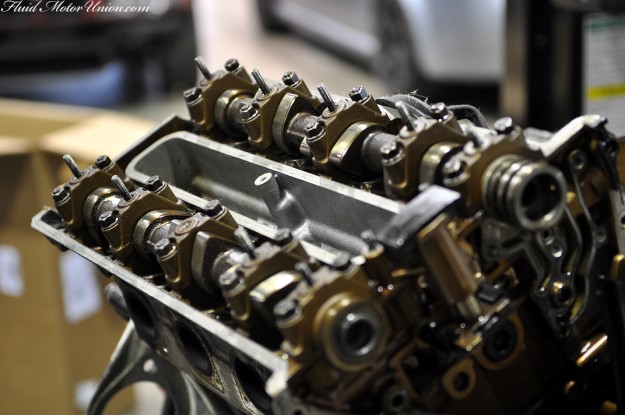 And finally, we rotate our heads from the V8 to the dyno room, where George's turbocharged 318 is getting its Haltech unit tuned. It's running strong and leak-free, so all that's left is to program the tables correctly and run between dyno testing and road testing. The bumper's off to fix a crack, and the headlight was removed to aid in the wire tucking, so it's all still here, just hidden away in various corners of the garage. Kinda like Horcruxes, if you're into the whole Harry Potter thing.
With the weather looking gorgeous for the whole weekend (it's currently above 50 degrees F in Chicagoland), it'll be a fast two days before we're right back at it on Monday. Until then, drive safely!