07 Nov

Fluid MotorUnion's SEMA 2011 Wrap-Up

Alright everybody, the whole FMU crew is back in Plainfield, so let's recap what they saw at SEMA 2011.

The trip to SEMA this year was not merely to party our collective asses off and occasionally look at neat things, although both were definitely completed. Instead, it was more like work during the day, with meetings, networking and car chat taking up a good portion of every day. However, that didn't mean we couldn't wander and shoot some of the more interesting things at the show, which is exactly what we did. Let's start with a matte white Bugatti Veyron and set the bar pretty darn high.

Looks like somebody decided to jump on your humble narrator's pipe dream of shoehorning a new AMG motor into an older Benz. Although it's not a 6.2L M156, so my dream lives on…

And the first of two RWB builds appears on the Fluid blog. Nakai-san and his body work is unrivaled anywhere in the industry, and it was an absolute honor to meet with him during our time at SEMA. We've even got fans of FMU all the way in Japan! All-around awesome team over at RWB, and we can't wait to see what they have in store for the US!

Even when it's small, we can sniff out good welds like bloodhounds searching for lost hikers. Check out the manifold on this Borg-Warner setup; perfect beads!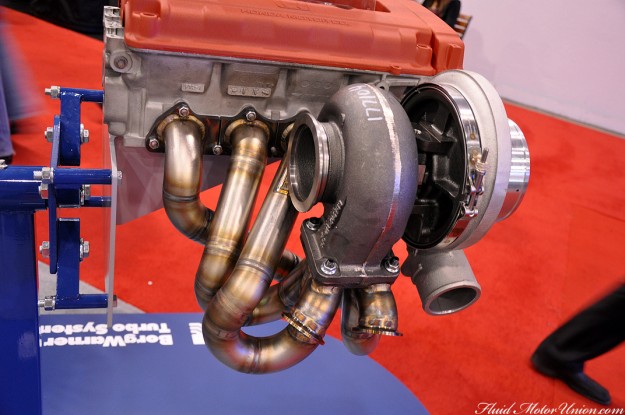 Meanwhile, we searched out inspiration for future designs…
Why put one V8 into your Model T, when you can have two side by side?!
Velocity stacks on a Mustang? Yep, that's Team Need For Speed's RTR-X. Good to see somebody else is unwavered by open velocity stacks.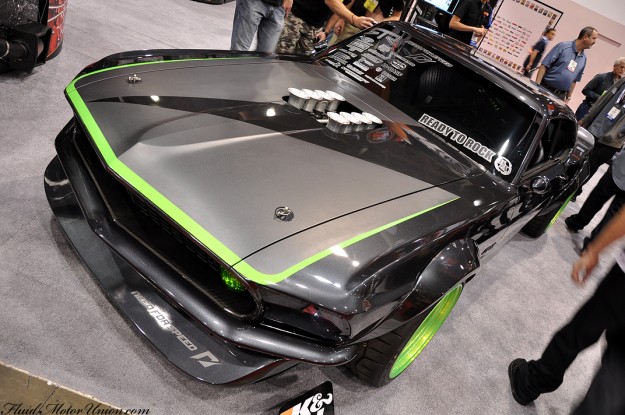 On first thought, you may think, "Yeah, this wheel looks pretty wide…"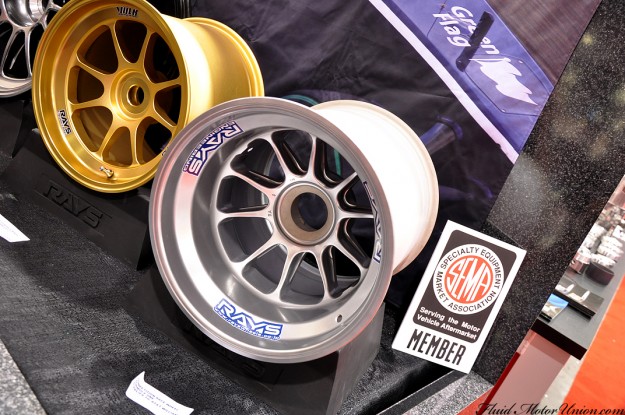 …Then blammo. You didn't think Formula 1 wheels were 9″ wide, did you? Looks can be deceiving, but these things are seriously wide.
Ever seen a hood ornament that costs more than most passenger cars? Well, now you have.
And the second RWB USA build, the Hoonigan. It provides a stark, street-only contrast to Mark Arcenal's track-only Pandora One. Again, both are beautiful creations from Nakai-san and Rauh-Welt Begriff.
One more open velocity stack shot. Gotta love 'em.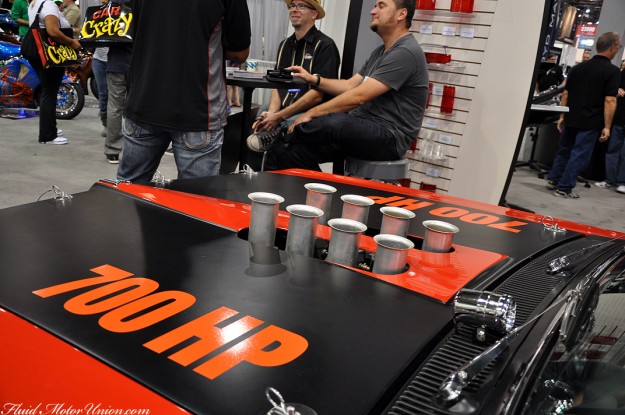 If you were wondering, "Hey, Fluid, where's the Black Series, you bastards?" Well, worry not, we saved the best for last! As always, it looked great in its show-ready form. After getting to SEMA, it was outfitted with the barrage of stickers you see here, along with the full alcantara and white-stitched interior. They also replaced the stock seats with some custom Recaros, and added the Vorsteiner front lip. The wheels were periodically switched during the event as well, going from the ADV.10 wheels that were on at our shop, to the BBS race wheels with Pirelli DOT-R compound tires. Both strike a very powerful look against the rest of the vehicle. It's currently resting at Fletcher-Jones Mercedes in Vegas, hanging out in the AMG Performance Center showroom, enjoying some indoor time before it's back to the Bellevue.
And, as we showed you on Facebook last week, RWB's mastermind Nakai-san came through the Mobil 1 booth to check out the Black Series in person.
And here's a shot of the crew that went from FMU to SEMA, basking in the Vegas sunlight the only way possible — with dark sunglasses.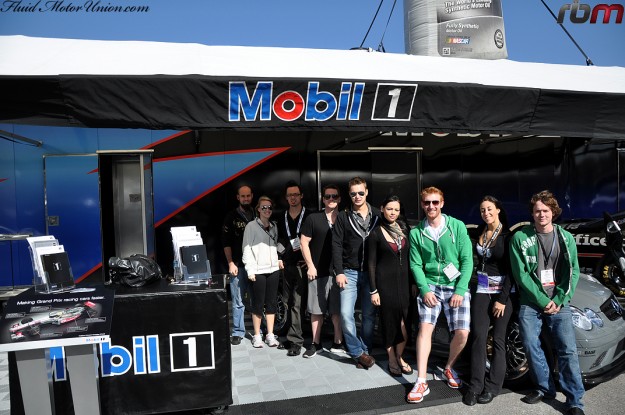 In the end, we experienced an event that we were incredibly excited to attend for the first time, and even more excited to attend the following year. We met so many awesome people in the industry, and made some business relationships that you will see come to fruition over the coming winter. There are so many people to thank on this blog that we could go on forever doing so, but the biggest thanks of all goes out to Raging Bull Marketing for giving us the opportunity to work on the Black Series and get it ready for SEMA. Just because it's the end of the blog post doesn't mean it's the end of our connections; rather, it's just the beginning. Just wait to see what we have in store for 2012…