03 Jan

Fluid MotorUnion's 2012 Review, Part 1

With 2012 sealed in the books for the remainder of history, we figured we'd spend our last two posts this week taking a look back.

Instead of just jumping into a litany of pictures without any real context, we've got a few categories by which we've broken down the shots. This first category relates to the parts we've produced in the past year. Some have sold more than others (believe it or not, we field an insane number of requests for E53 X5 Lift Kits, which we're working to stock up at this very moment), but every part you see below is a design that we can make for anybody at any time, provided you've got a vehicle that fits the part. With that said, there were five big products we were happy to fabricate for customers during 2012. We'll start with our E53 X5 Lift Kit, which provides a 2″ lift for E53 X5 owners that have airbags in just the rear.

We also had a very good year when it came to selling our FMU E39 M5 Rear Section. Customers from multiple continents have ordered this kit, and with reviews and comparison videos hitting our inbox, we believe the owners have been enjoying the hell out of their unique new sound. We still have two kits all ready to go at the shop — all you have to do is e-mail mmarzano@fluidmotorunion.com and we'll answer any questions you have about the kit.

We also sold a couple copies of our upgraded oil cooler for the E85 Z4M. It's an underrated product, but for those who like to thrash their cars, it's a worthy investment to help keep oil temps within appropriate ranges.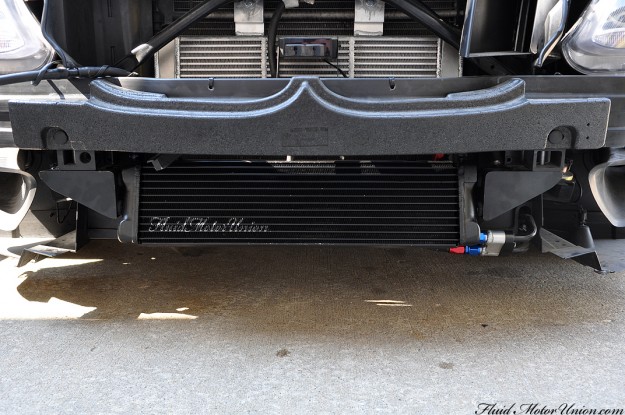 Next up is the first of two velocity stack systems. The S85 Velocity Stack system features dual catch cans and ten gorgeous aluminum trumpets, and the sound it produces is intoxicating, bordering on outright illegal.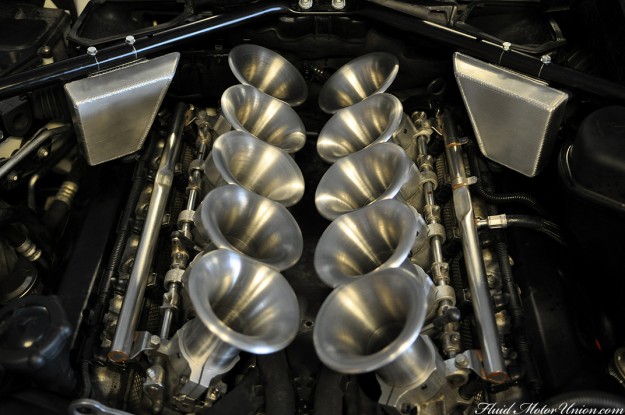 Our S54 Velocity Stack system is most typically seen attached to some nitrous rigging, as it was equipped on the DCM3 for the majority of last year prior to its sale. However, one enterprising gent from the UK decided that he wanted this system on his side of the pond as well. After sending it over, they did something we've never really done with this stack design before — polished the living hell out of it — and what do you know, he ended up on the front cover of Performance BMW at the tail end of 2012.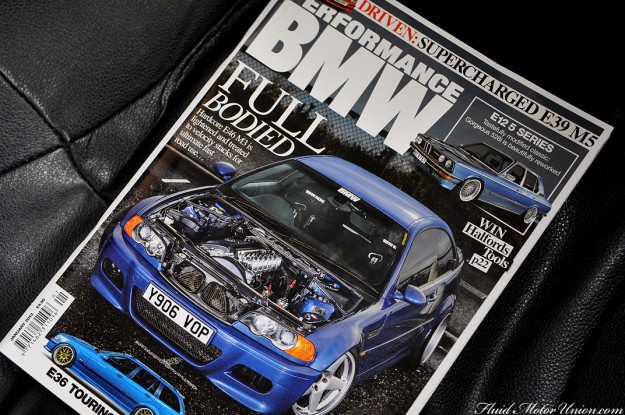 Moving on from parts, we didn't attend as many motoring events as we did last year due to our insane workload, but we did our best to hit up a few in various corners of the Midwest. Our first trip of the year was to Tuner Galleria, part of the World of Wheels show that visits Chicago at the tail end of every winter. From retro hot rods to a genuine Alpina B7, this show really encompasses an entire world's worth of cars from all types of enthusiast.
While the next trip wasn't technically a show, we did head to Road America in Elkhart Lake, Wisconsin, to catch our comrade Stefan race his Zima Motorsports E46 M3 in the NASA GTS series.
Not even 12 hours after arriving home from Road America, we trekked up to the north shore of Chicago to check out Lake Forest Sports Cars' annual Concours d'Elegance. Between the 250 TR and the F40, this show had just about every lustworthy exotic you can imagine.
Finally, our biggest show trip of the year involved hiking up to Minneapolis, Minnesota, to participate in Eurowerks 6. The trip wasn't necessarily too long, and a lack of mechanical issues presented zero delays; the weekend ended up being a massively fun time, meeting friends both new and old from around the Midwest. We even walked away with a couple trophies — the Z3M Roadster (with the help of about 11 people) managed to win the Car Limbo, and Gold Wheels took home the Further Motorsports-sponsored Dirtiest of 2012 award. Easily the coolest trophy we've ever received. Also, we'd like to give a birthday shoutout to the man behind the event, Kris Clewell!
As much as we want everything in a given year to be a happy event, sometimes a sad one works its way into the system. This past year, we bid farewell to two fantastic employees as they continued their careers in different directions. Zach, who recently became a father for the first time (congratulations!), is still working within the automotive industry in a different capacity. He also wears some really slick eye protection when heating up rusted bolts.
Jay, our second technician to walk through FMU's employee-only entrance for the last time, has left the automotive industry to work as a professional scientific glassblower for Philips. If any of you have children, and they remark about accidentally breaking a beaker in chemistry class, make sure to excoriate them for taking Jay's hard work and smashing it into a billion little pieces. Or don't, since that sounds pretty harsh in retrospect. Jay's photobombing skills are pretty on point, as evidenced in the second picture.
And thus marks the end of the first half of our 2012 retrospective. Come back to the blog tomorrow as we cap off the week by looking at the litany of weird and wild projects we've undertaken in the last 365 days!