04 Jan

Fluid MotorUnion's 2012 Review, Part 2

With the specific parts of the 2012 year-in-review out of the way, it's time for a picture barrage!

What follows is a collection of unique things we've done this year. Some of the cars seen here (especially the back-to-stock E90 that starts it off) have been modded and sold, some projects are still underway, while others have finished. Some of these builds were minor aesthetic upgrades, and others – like the bike – were extensive builds utilizing a good degree of custom fabrication. We didn't arrange them in any specific order for a good reason — every build we produce is different and reflects the wishes of the owner. There's no right or wrong, no such thing as too little or too much. Hell, one of the cars in these pictures didn't even have any work done — he just swung by the shop to say hey and talk about the future. This collection of pictures represents us putting our best efforts into everything that's come through these doors, and we apologize if we accidentally missed a build or two along the way — browsing through a few thousand pictures over the course of a couple hours is a bit of an eye-strainer. This is by no means a complete, exhaustive list of interesting projects we've involved ourselves with, but this is definitely a varied sample off which to go. We hope you enjoy the pictures as much as we enjoyed taking them and working on the projects therein.

Halftime break! Here's a picture of Tom doing a wheelie while "wearing" an old Greek war helmet: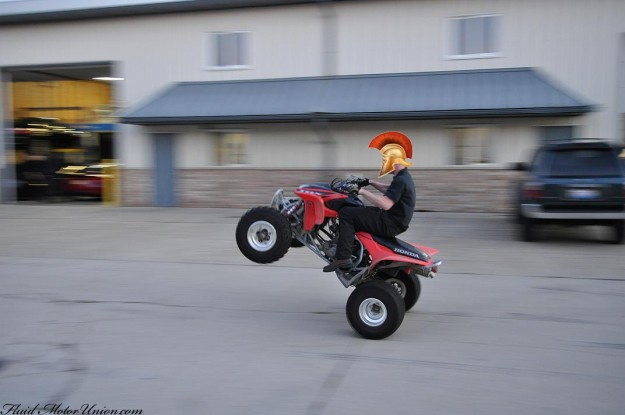 Alright, halftime's over, back to the pictures!
And that just about wraps it up. Again, 2012 was a great year for us, and we hope it showed in the pictures above. Most importantly, we should be celebrating each and every one of you that comes through our doors. You're the reason we're here in the first place, and you're the reason we continue to grow the business year after year, and we cannot thank you enough for helping support us and our dreams. And for all the non-customer-readers of the blog and fans of our Facebook page, thank you for giving us the reason to produce some of the most interesting and unique fabrication coverage on the entire internet; we hope you enjoy reading it as much as our humble narrator enjoys putting it together. 2013's already off to a fast-paced start, so now it's time to focus back on the present and get things going! Thank you, once again, let's all work together to make this the best year ever!