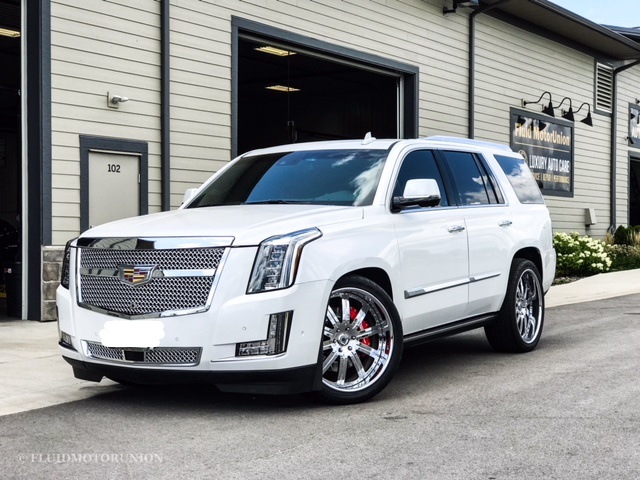 24 Oct

Escalade Turbo Kit

Does your Escalade need a bit more punch? "Speed" and "Escalade"- two words most people wouldn't normally put in the same sentence…until Fluid MotorUnion got their hands on one! Weighing a hair over 8300 lbs, this luxury "tank" SUV was not designed with speed in mind. While having a family car with an excessive amount of horsepower might seem counterintuitive, the competition's lineup is sporting AMG, M, Turbo, and SRT badges capable of triple-digit speeds. Cadillac's flagship Escalade doesn't offer a performance version that it's younger brother, the CTS-V does, so we came up with a solution to get seven people to appointments or other errands in the fastest and classiest manner possible. An Escalade Turbo Kit will do all that is wanted and some.

The Escalade, which debuted in 1999 as a competitor to the Lincoln Navigator, started with a 5.7 liter V8 putting out a respectable (for the time) 255hp. Over the years they have stayed with the LS derivative V8 engines, while constantly adding to it as the technology has advanced. The 2017 model hasn't quite doubled the amount of horsepower of its original predecessor, but the L86 engine now has a very respectable 420hp from the factory. Current Escalades are available with two size options; one being considered the standard length, while the Extended Stretch Vehicle (ESV) version is 20.4 inches longer.

Our client came to us with this 2017 Escalade and a problem. He was a very busy business owner that loved driving his Z06 Corvette, but needed the space for driving to and from work sites and hauling around persons and gear. So while his initial thoughts were to go with the most readily available supercharger kits for the Cadillac Escalade, we suggested another route. We have always been big turbofans from an efficiency standpoint and the technology has come a long way since the days of laggy turbos. After discussing it, we soon convinced him why a turbo setup was the answer. When comparing the power gains, quality of parts, technology, and the company's reputation, we settled on a kit from Armageddon Turbo Systems.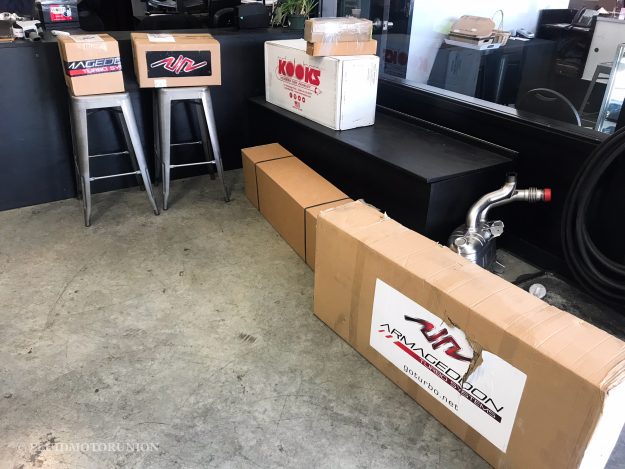 The cost of the turbo kit after install is very close to the available supercharger kits when comparing base to base except for the increased power and decreased wear during cruising. This Armageddon system comes in multiple bundles, with our customer choosing to go with the 2x Garrett GT3076R turbo system which can produce up to 1300hp. The goal was a "reliable" 700 horsepower, so there is plenty left on the table if the decision is made to upgrade the transmission and engine internals needed to support that power. Most available forced induction kits actually come very close to maxing out the stock fueling system of the 6.2L 420hp L86 engine, so we recommended some additional upgrades to ensure safety, reliability, and durability. An LT4 high-pressure fuel pump and injectors combined with Armageddon's exhaust turbo manifold system being coated in Swaintech's "White Lighting" thermal barrier coating will provide an added layer of safety, while also picking up a bit more power in the process.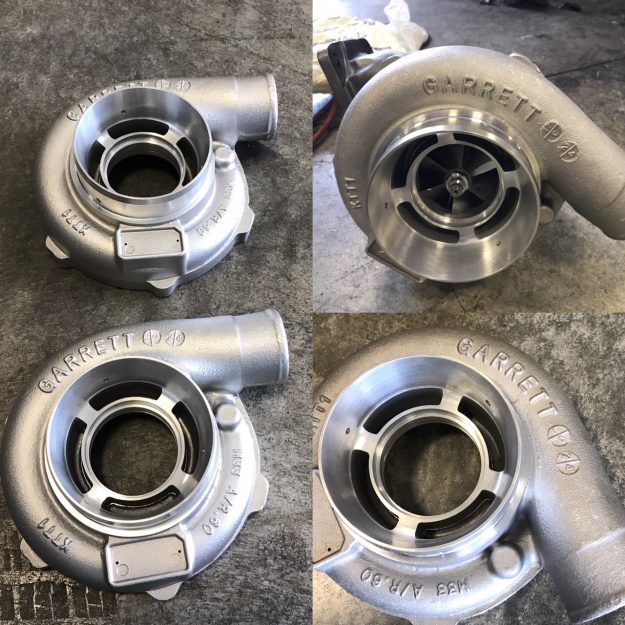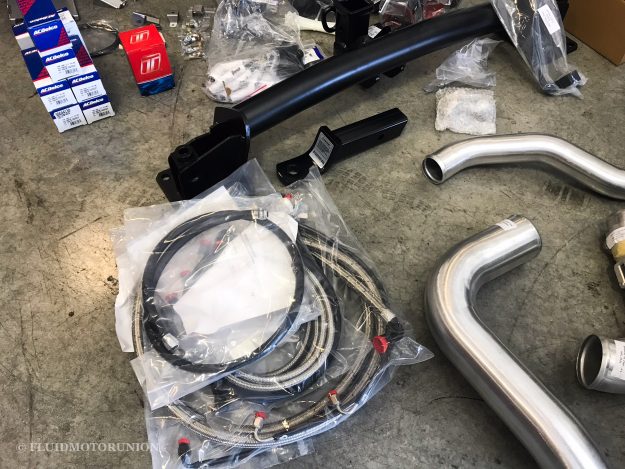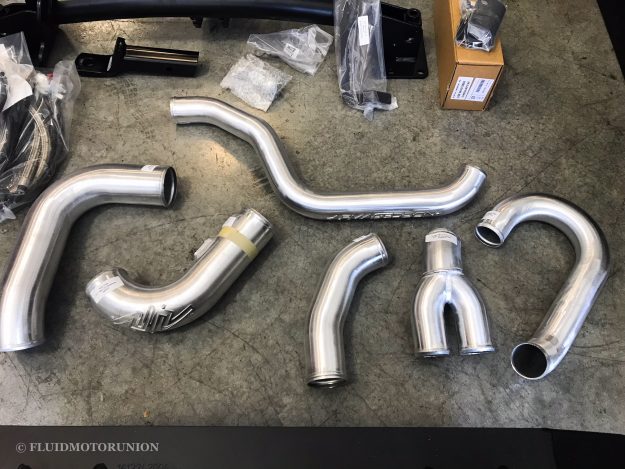 The Armageddon's Performance Twin Turbo Kit isn't the only thing going on this truck. To cover the Massive front mounted intercooler, the customer chose an E&G Classics chrome grill. Since our client already had a set of custom Asanti wheels, we thought it best to add a massive Rotora Street Challenge Big Brake Kit. We have used Rotora on a few of our past projects as you may recall. This Rotora brake setup enables superior stopping while improving overall pedal feel to ensure equal distribution of weight transfer when braking, which is important in order to stop this 4-ton vehicle. The larger rotors and powder coated red calipers also provide a much improved aesthetic appeal.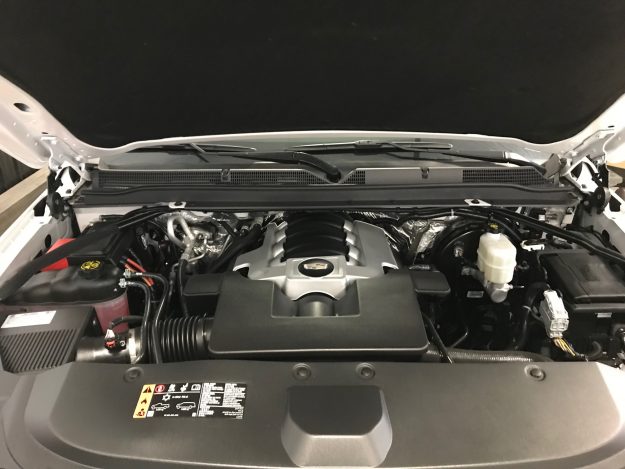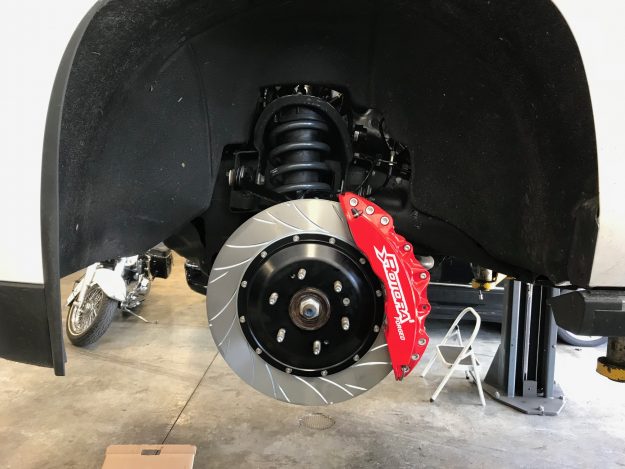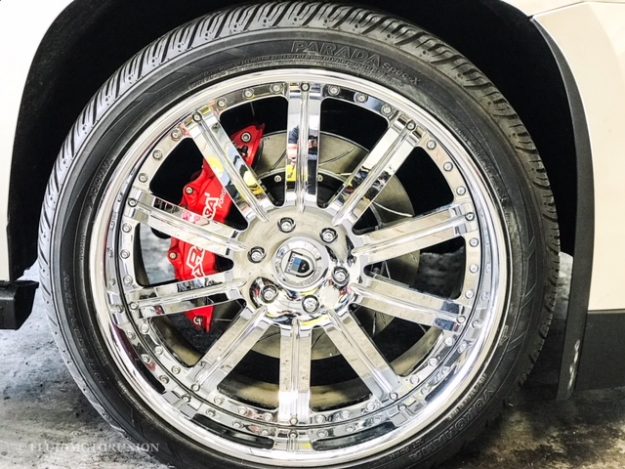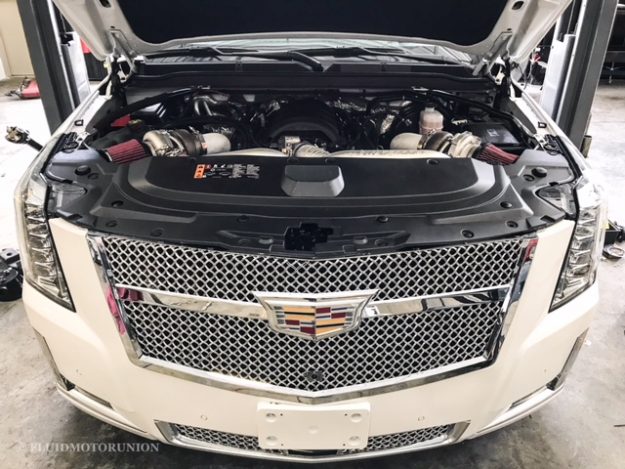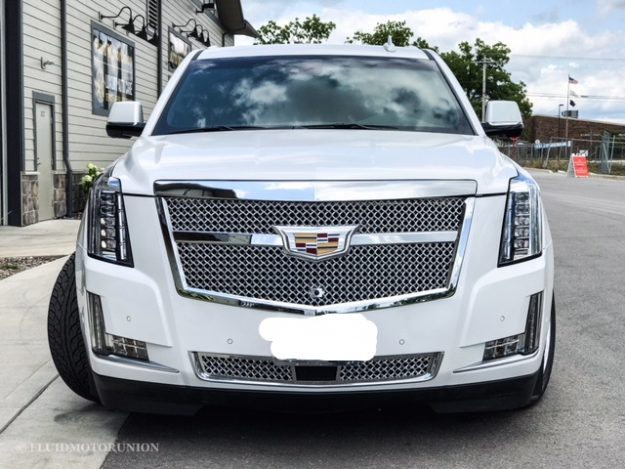 Putting out a whopping 707 horsepower, this tank is now a rocket ship. When cruising, it has all the driving mannerisms you would expect in a new Escalade. All that changes the second you select performance mode, and crack the throttle past ⅓., the spooling turbos quickly launch this behemoth into felony speed territory. The raised driver position offered by the SUV makes it difficult to ascertain that you may or may not be going over 100mph. The sensation of something so big and so heavy moving so very fast doesn't make much sense when you are experiencing it, but that's all the more reason we love it.
If all this sounds good to you and you live in or around the Chicagoland area, we can come up with performance solutions to improve the weight to power ratio of your vehicle! Fluid MotorUnion has the technicians with the necessary skills and performance experience to handle your project. Performance and quality is always our top priority. Make your appointment today by calling us at (630)305-3054 or email us at Blog@fluidmotorunion.com