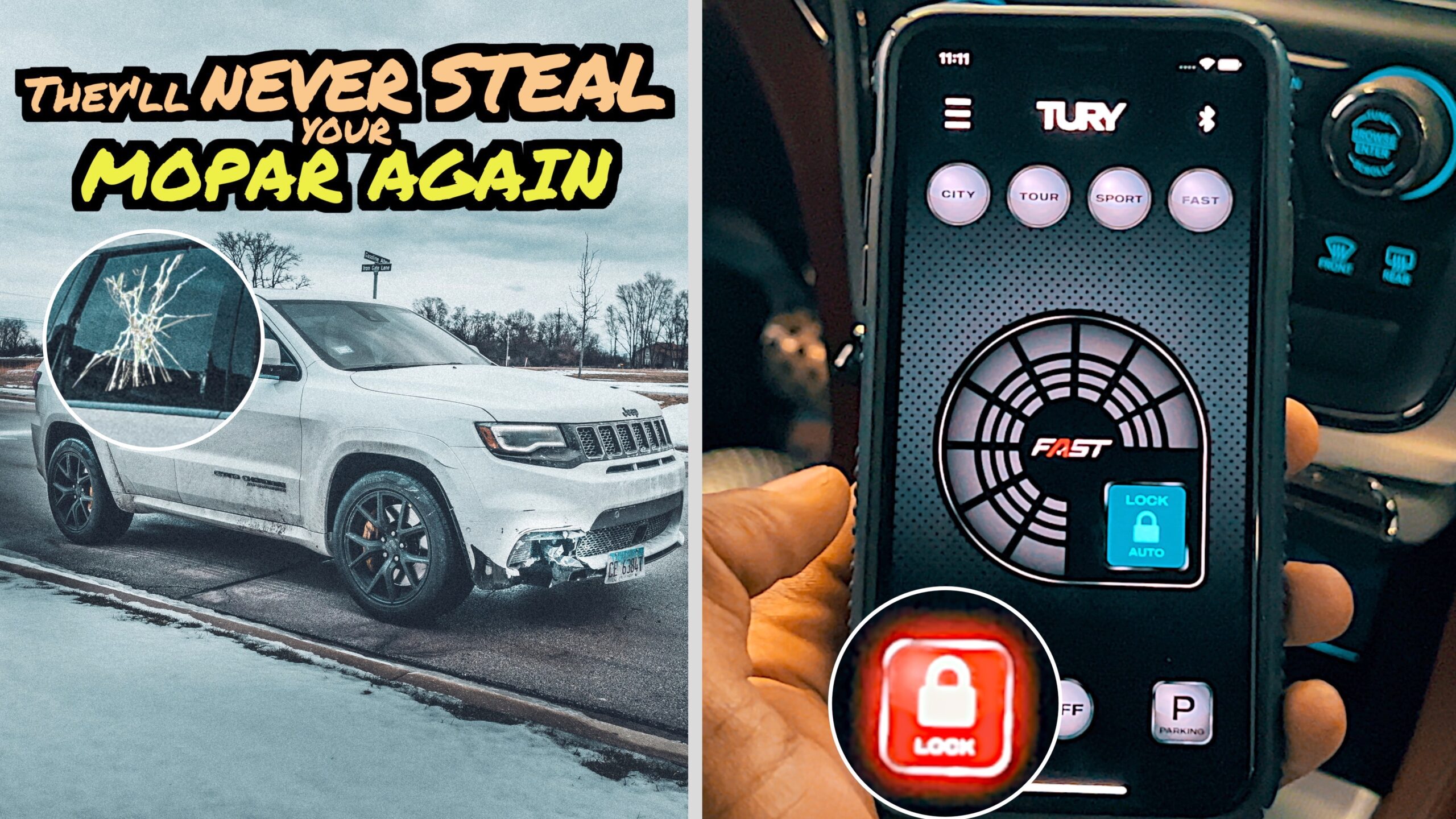 14 Feb

Game-Changing Dodge Anti Theft Device

If you keep up to date with automotive news, you have likely heard lots of stories about how Dodge/Mopar performance vehicles – particularly SRT models like Hellcats and Trackhawks are getting stolen left and right. Check out this pair of Chicago thieves stealing a Hellcat in under 8 minutes. Many owners are left asking what kind of Dodge anti-theft devices exist to protect their vehicles?

The Jeep, Dodge, and Ram SRT models like most modern vehicles utilize a wireless key fob and push-button start system, instead of a traditional key. Whenever a key fob is on or near its vehicle, a radio frequency signal links them together. This constantly present signal lets the car know that the key is inside, so it reacts when the start button is pressed. Recently thieves have surmised that if you smash a window that isn't monitored by the alarm system to gain access to the vehicle's diagnostic port, you can use a gadget to program a new key fob. With this newly programmed key, you can unlock the doors, turn off the alarm, and drive the vehicle away without having possession of the original keys. Mopar is currently implementing countermeasures for these vehicles, however, there are drawbacks, like not being able to program new keys in the event one is lost or stolen without expensive module replacement.
What if we told you that we came up with an ingenious way to use a new product that greatly increases the performance feel of your vehicle while offering you additional anti-theft prevention using your smartphone?

The TURY Fast does just that. A new take on existing throttle boosting technology, the FAST uses a device that changes the throttle mapping. With 4 Acceleration Maps and 36 adjustment levels, you can be sure to have a throttle response strategy to match any driving situation you may want. Where the fast really differentiates itself from its competitors is with its smartphone integration. Because a smart device is needed to access the settings, the phone can act as an additional key for its parking and lock modes.
Parking Mode allows you to limit the throttle in scenarios when you want to control "use" such as in a valet situation or an inexperienced driver. You can set it to only have a small portion of the throttle angle available, thus limiting max performance.

However, the feature that many Late Model Mopar owners will find especially interesting is the "Lock" feature. This feature essentially kills the throttle input unless the registered smart device is paired and has unlocked the device. This means even if a thief were to reprogram a new key for your vehicle, they would not be able to drive away in the car, the gas pedal simply would not do anything since the throttle is electronically disconnected. This is an absolute game-changer with it comes to Dodge anti-theft devices.

We have installed many other Dodge anti-theft countermeasures such as kill switches and alarm systems, but none of these options also allow you the performance-boosting option of eliminating the throttle lag found in most late model Drive by wire vehicles!
So now that the Cat's out of the bag about the Fast Device amazing features, what's to stop a thief from watching this video and uninstalling the device after they've gained access to your vehicle?  That is exactly why having a professional shop like Fluid MotorUnion of Naperville install the device for you. Our installation follows the mantra of- if it can fool us, then it will more than fool any would-be thief. We go to extra lengths above the manufacturer's recommendations to hide the device installation, and even if discovered, we make it complicated enough to uninstall that most thieves will just call it quits. While we can't go into the specifics that make our installation less detectable and harder to remove, we'll just say that if you are just looking to install the device yourself, it's something the average somewhat experienced auto enthusiast could tackle in well under 2 hours.
We think this product is a sure-fire solution to the theft issues surrounding the Dodge/Jeep vehicles, but TURY products are available for most late-model vehicles! The list of compatible cars is too long to go over in this video, so reach out to us directly to check if it can work with your car too! Even if a model for your vehicle isnt currently available, we work closely with the manufacturer to provide feedback, and I am sure together we can provide a resolution for you.   
So whether you're looking for some additional peace of mind against theft for your high-performance Mopar, or just want a noticeable customizable driving enhancement for your pedal, Fluid MotorUnion and Tury have You Covered!
Foreign | Domestic | Performance
To book an appointment or find out more information, hit up our website or email/call:
📲 – (630) 305 3054
🎦 – Facebook.com/FMU