Corona Virus Car Care + FMU Update Newsletter
Corona Virus Car Care and New FMU Services
With uncertain times ahead, we at Fluid MotorUnion know how important having a dependable vehicle is when you have an emergency.
We have been watching world events pertaining to the COVID-19 outbreak since January and have been thinking of ways to ensure our customers have the transportation they need. The local cities including Naperville have asked businesses to find creative ways to minimalize contact to help slow the spread of Corona Virus. As a small family-owned mechanic business here are some ways we are adapting to help keep our customers, and employees safe.
New Shop Hours of Operation
Monday-Friday 8am-5pm
Saturday-Sunday Closed
The monetary decision between car repairs and other essential services with business closures and people temporarily out of work is a very difficult decision to make. We want to keep you safe, so as your mechanic we are offering creative financing on vehicle repairs for those who need it. We can work with you to keep your vehicle running and starting every time you need it. We just ask if you may need financial assistance, that you notify us prior to any vehicle repairs being made.
Employees' health and wellness will be closely monitored in order to protect against the possibility of passing on the illness. Employees have been also instructed on the best methods for disinfecting contact points and surfaces within the vehicle and the shop. We have an ample supply of disposable gloves and surgical masks on hand, which will be worn when working inside the vehicle.
We are working closely with our next-door neighbor Brighton Auto Detailing and can offer a sanitation service using MICROBAN as well, more details of which can be found a few paragraphs below.
We are now offering pickup and dropoff service that will minimize contact and observe social distancing. Once your vehicle is here we will send you a digital inspection which includes pictures directly to your mobile device that will show you what issues your vehicle has and our prioritized recommendations will highlight which repairs are most important right now, and which ones you can wait on in order to keep money in your pocket. You can also pay by phone and stay in the comfort of your own home. Our drivers are licensed and insured to drive exotic vehicles and will wear appropriate equipment to minimize exposure in the vehicle.
Small Businesses will be tested in the coming months so we will do our best to continually improve our services but we wouldn't be able to stay in business without support from our customers.
Let us know how we can help and we will do our best to accommodate.
In light of this, we recognize that not everyone is a mechanic so here is some insider information on how to keep your vehicle safe and sanitary during the Corona Virus outbreak.
What does Corona Virus have to do with car care?
We don't think about it often but our cars can be a breeding ground for germs and bacteria. Door handles, steering wheels, shift knobs, climate controls, and radio controls are all something we touch practically every day often multiple times. During flu season in general – but especially during the recent outbreak of COVID-19 we highly recommend cleaning all these surfaces as the virus can live on them for up to two weeks. Corona Virus is also transmissible through the air. If you haven't recently replaced your cabin air filter, then every time the fan is turned on harmful spores and bacteria are blown into the air you and your passengers breathe. Besides this, it is more important now than ever to make sure you have a dependable vehicle that can get you where you need to go. That is why we are rolling out our new Corona Virus car care services!
How we can keep your vehicle sanitary during the outbreak
Starting now we are offering a one-stop solution to help keep your car remain sanitary and safe with the recent COVID outbreak. Courtesy of our neighbors at Brighton Auto Detailing here in Naperville, who have all the supplies and skills to commercially clean and sanitize your vehicle. Brighton Auto Detailing uses Microban, a hospital-grade cleaner used to disinfect operating rooms before surgery. It is fragrant free, safer to use than Clorox, and does not leave any kind of film behind. Microban is a broad spectrum disinfectant effective against all bacteria including gram-negative bacteria, fungus, mold, mildew, and more. Brighton is also offering a MiST air treatment which is a fog application that cleans and sanitizes every surface in a vehicle, including inside the ventilation system. This treatment requires the removal and replacement of the HEPA air filter which removes dust, pollen, and contaminants out of the air traveling into your vehicle's cabin. We will replace it with a sterile filter treated with Microban to ensure no airborne contamination is possible We are also happy to replace your cabin air filter at any time, even without the full interior treatment service.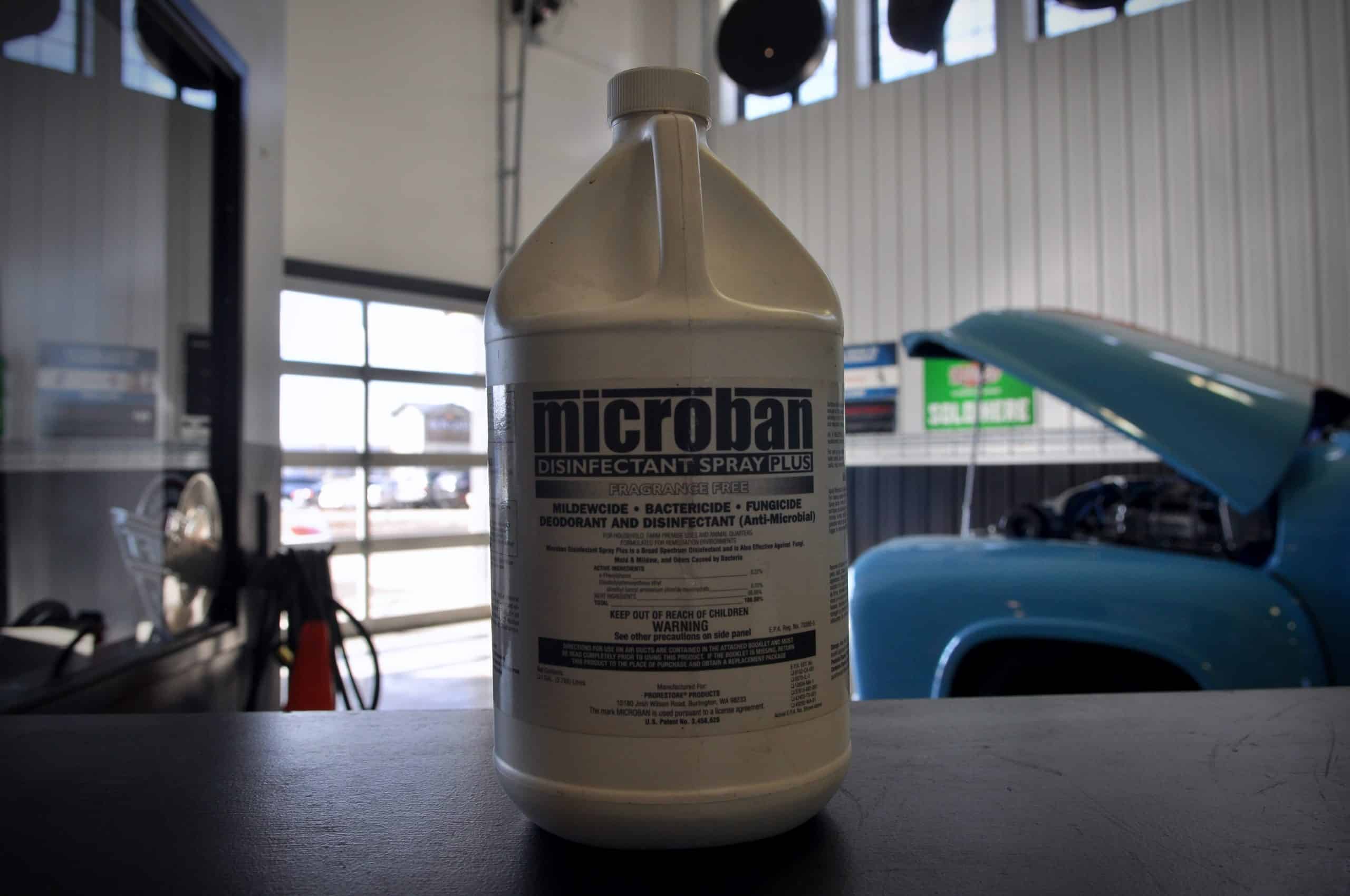 Microban is already sold out in most stores and online markets so hurry in for the treatment while supplies are available.
Check out the video below for all the details!

If you are interested in any of these services please reach out to us at blog@fluidmotorunion.com or 630-305-3054. We are located near RT59 and i88 in Naperville and can provide car repairs and sanitization services on any make and model. check out our Facebook page