19 Jan

Bodies At Rest…

…tend to stay at rest. Which is what all the (car) bodies in these pictures are doing — resting. It's too cold for action shots.

The best part is that it's not even technically "cold" by Chicago's standards. Currently, it's 9 degrees Fahrenheit, with a windchill of -3. Certainly not the worst it's been in our lifetimes, but cold enough to where it almost feels like molecular activity is starting to seriously slow down. Either way, let's move inside into the body shop to take a look at the final front-end shots of Al's bumper. The color looks great, and everything looks like it just rolled out of the factory. The salt spray on the bottom of the bumper was from a quick trip around the block to check out a suspension noise, but otherwise she's gorgeous and all ready to head home.

The same goes for the Jetta, which has been restored to its OEM glory and will be leaving our hallowed halls soon, as well.

Running quickly across the parking lot to fabrication, here's what Tom's been up to today. He has to change the entry and exit angles of the radiator, so he set about cutting off the tubes and realigning them to work with our current setup. After all, the flow of coolant is somewhat important when it comes to motor longevity, and we don't want to muck that up.

Speaking of Tom being a giant douche, check out his stellar park job when he returned from lunch. That little dark speck in-between his truck and the garage? Oh, don't worry about that, that's just my car.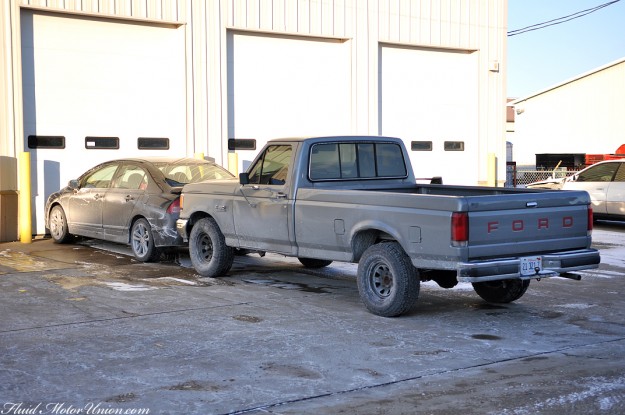 Your intrepid blogger must give Tom credit, though; not only did he manage to move my car up an inclined part of the concrete without the keys, but he also managed to get me pretty damn well wedged in there. My parallel parking skills are for naught in this scenario.
As an act of revenge, I've chosen not to blur out his license plate. That'll teach him. Steal away!